Denis Marie: CEO, SATS India
Leading people through crises
With his background in security forces and no-nonsense demeanour, SATS India CEO, Denis Marie may cut an intimidating figure on paper.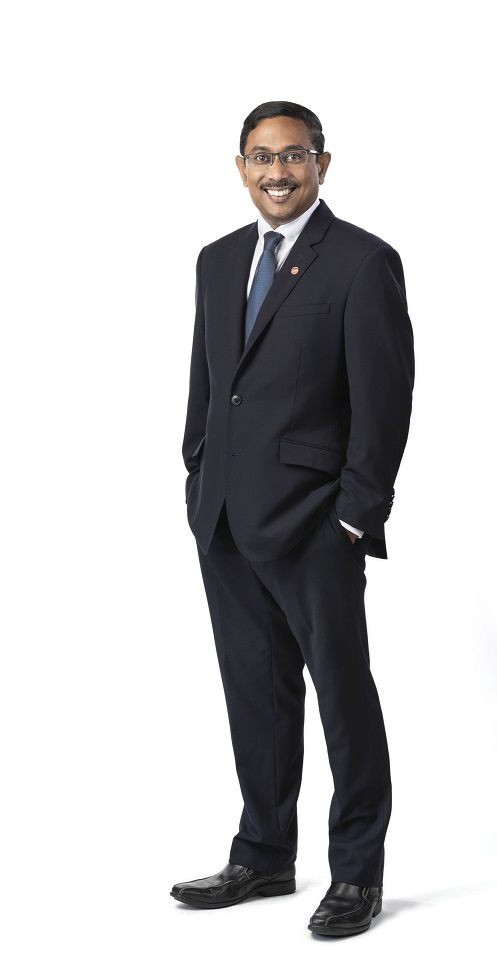 In person, the jovial conversationalist kept an audience of about 188 people riveted with bite-sized anecdotes and insights from his 20-year career in SATS during his In Conversation With Senior Management webinar.
Before moving to India, where he is responsible for operational planning and new business opportunities, Denis held various management positions including Senior Vice President of Apron and Passenger Services. Today, apart from managing operations in India, he concurrently oversees the operations of SATS Security Services Pte Ltd in Singapore.
Looking back, Denis shared that even the best-laid plans can sometimes be thrown into disarray.
"You can make plans but life will throw you curveballs. When I joined SATS in 2001, I was tasked to take over Security Services in the aftermath of the September 11 attacks. Overnight, the airport changed from a very peaceful environment to a very chaotic one," he recalled.
"What I learnt from experience is that in SATS, you don't have to always be the domain expert. When I first moved to Passenger Services years ago, I had little knowledge of it and there were people like Goh Siang Han, who was the Vice President of Passenger Services then, who helped me carry the show."
Different cultures, different challenges
Even for the business veteran, being immersed in India for 1.5 years was an eye-opener.
"People in India are super friendly. It's a challenging yet enjoyable place to be in. At the same time, it helps that the Singapore brand carries a lot of weight – it represents efficiency and anti-corruptibility."
However, when operating in environments where things are not just black and white, Denis observed that it calls for a balanced approach and to always be mindful of our values as an organisation.
For those who are looking for overseas opportunities to enhance their resumes, Denis' advice is to keep an open mind to "accept new experiences while working away from home, and adapt to different cultures and ways of living."
"If you have a desire to go overseas, become an expert in what you currently do, so that you can add value," he added.
On travelling during COVID-19
On travelling in the era of COVID-19, Denis is ambivalent and cautiously optimistic. While ground handling remains an enabler, the focus is on air cargo and food solutions beyond aviation with high levels of productivity and automation as our edge.
"My guess is as good as anyone's but for now, people are not comfortable with travelling and countries are not open to accepting travellers. Governments are trying their best to form green corridors and travel bubbles. The nature of travel has also changed and food served is going to be different, with contactless service becoming essential.
"If we don't adapt to these changes for a new way of travelling, it will be difficult to catch up. For instance, Bangalore's airport is now one of the most contactless in the region."
Look for the nuggets of good
On the subject of role models, Denis thinks everyone has their good and bad points. "I think the answer is to not look for a mentor or role model but rather, to look for the 'nuggets' of good to take from each person you interact with and see if you can learn from it."
Having served close to 40 years across two organisations including SATS, Denis is well-placed to answer the question on how to evaluate one's career trajectory.
"I've been reasonably happy with the progress I've made in my career, and I'm not the type of person who looks to role models for guidance. We expect so much from our bosses, but bosses are human and just as imperfect as all of us", he shared.
When asked how he survived tough moments at work, Denis posed a question in return - "What is it that you need to do to be happy at your job?"
"I would also say, keep the faith, as all businesses operate in cycles, just as in life. Consider if the factors stopping you from doing well are within your control. If they are, then you can evaluate your options. If they are not, you have to ride out the wave, strategise, and change direction.
"Whatever decision you make, don't regret it."