Lilian Tan: Chief Human Capital Officer, SATS
Make your dreams a reality
When overcoming obstacles towards your goals, the power of visualisation and self-talk is as important as a determined spirit, says Lilian.
As Lilian fondly reminisced her growing up years in our interview, one gets the feeling that the head of SATS Human Capital's childhood memories are much like a treasure trove of cherished gems.
She recalls early mornings spent either packing products at her father's business or serving customers at her grandparents' coffee shop near the Cashin's house between a bus terminal and a kelong in Lim Chu Kang. These character building years formed the foundation of her own tireless work ethics.
"This experience taught me that working hard, having determination and perseverance, as well as relationship building are the key factors for business success," she says.
Balance business with play
At the coffee shop, she watched her grandmother manage the household like a tight ship. Every morning at 5:00am, her grandmother would wake her seven uncles, two aunties and the grandchildren up to prepare for business and the adults would be back only after midnight.
Despite being only five years old, Lilian realised that building good relationships with customers was one of the key success factors of running a business. She observed that this was a critical element which their competitor, a neighbouring coffee shop, could not copy and was not good at.
However, life was not all work and no play. Growing up by the seaside, the kelong was like a beach resort. She would wake up to the sound of waves and admire the sunset as the children raced along the boardwalks leading to the Cashin's House. The Cashin's House was a place of admiration for her. However, guarded by large dogs, the children never managed to venture close to the house and were warned not to disturb its occupants.
Honing entrepreneurial instincts from young
As a child, Lilian would observe her aunties and imitate their behaviour. One of her aunties took on Menard's beauty product distribution business, and she would watch and follow her daily facial routine.
The style maven attributes her love for beautiful clothes to her mother, who would sew patchwork dresses for her. "Apart from running, shopping is one of my favourite ways of de-stressing!" she enthuses. Taking it a step further, this entrepreneurial girl would then trace similar designs and gather orders from her classmates. She would also get her friends to help with the sale of paper napkins that were stocked in the storeroom. Not only did her initiative help clear up some space, it also contributed to the household income, much to her parents' delight.
Dream big, work hard, and make it happen
Leading a department with a staff strength of nearly 100 is no walk in the park, as Lilian would attest.
"When my managers come to me for advice, I will tell them to dream big. When you have big dreams, you set high standards for your life, and set the bar high for yourself. And I work hard, because that's the only way to success. I make things happen, otherwise it will just be wishful thinking and dreaming."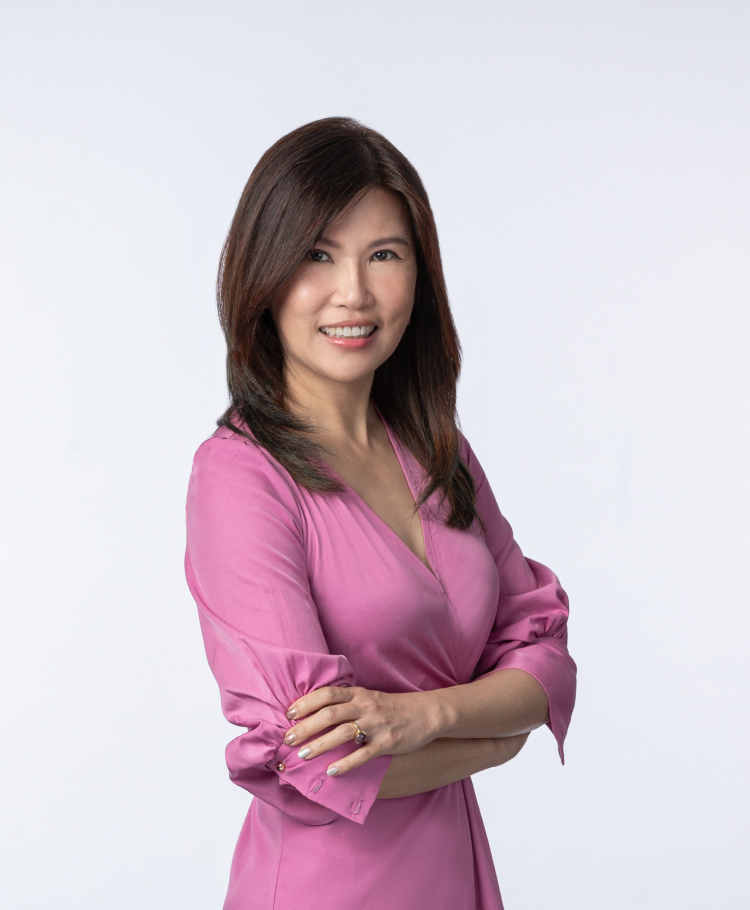 "Dreaming big means empowering my mind to think and plan what I want to do in life, and stopping myself from coming up with all the excuses why I can't make it into a reality."
On the path to achieving success, obstacles would sometimes inevitably present themselves. To overcome mental hurdles, Lilian shares her secret for staying on track.
"For example, if I set myself a target to run 10km on that day, although I may be very tired or lack stamina, I would tell myself that if I didn't complete that 10km, I might not be able to conquer a particular challenge I am facing at work. But after I complete that run, I know I can overcome any difficult situation. So far, it's proven to be a fail-proof way for me to manage any challenge," she shares.
For job seekers, she has a simple yet evergreen tip. "I don't hire someone who doesn't smile. A smile is a pleasant and encouraging body language. It improves your mood and is contagious. It shows that this person is a self-motivator, and someone who encourages. Then of course, I look out for the right skills/experiences this candidate has for the job as well as the culture fit."