My job at SATS: From Director in the F&B industry to Security Officer at SATS Security Services
Ever learnt how to tactically disarm and apprehend an assailant? Or been certified to operate an X-ray imaging machine? Alex Ting, the latest addition to SATS Security Services (SSS), never thought he would.
Armed with a jovial and lively personality, Alex's first love is customer service. But after 30 years in the F&B industry, working his way up from waiter to director of banquet operations, he was ready for something new.
His children were grown and independent, and the "revenue-focused" nature of the F&B industry had started to wear down his passion. "I realised it was the right time to slow down," Alex shares, "and reflect on what kind of job I wanted as my next step."
Eventually, Alex landed on becoming a Security Officer and, specifically, he wanted to join the SATS team.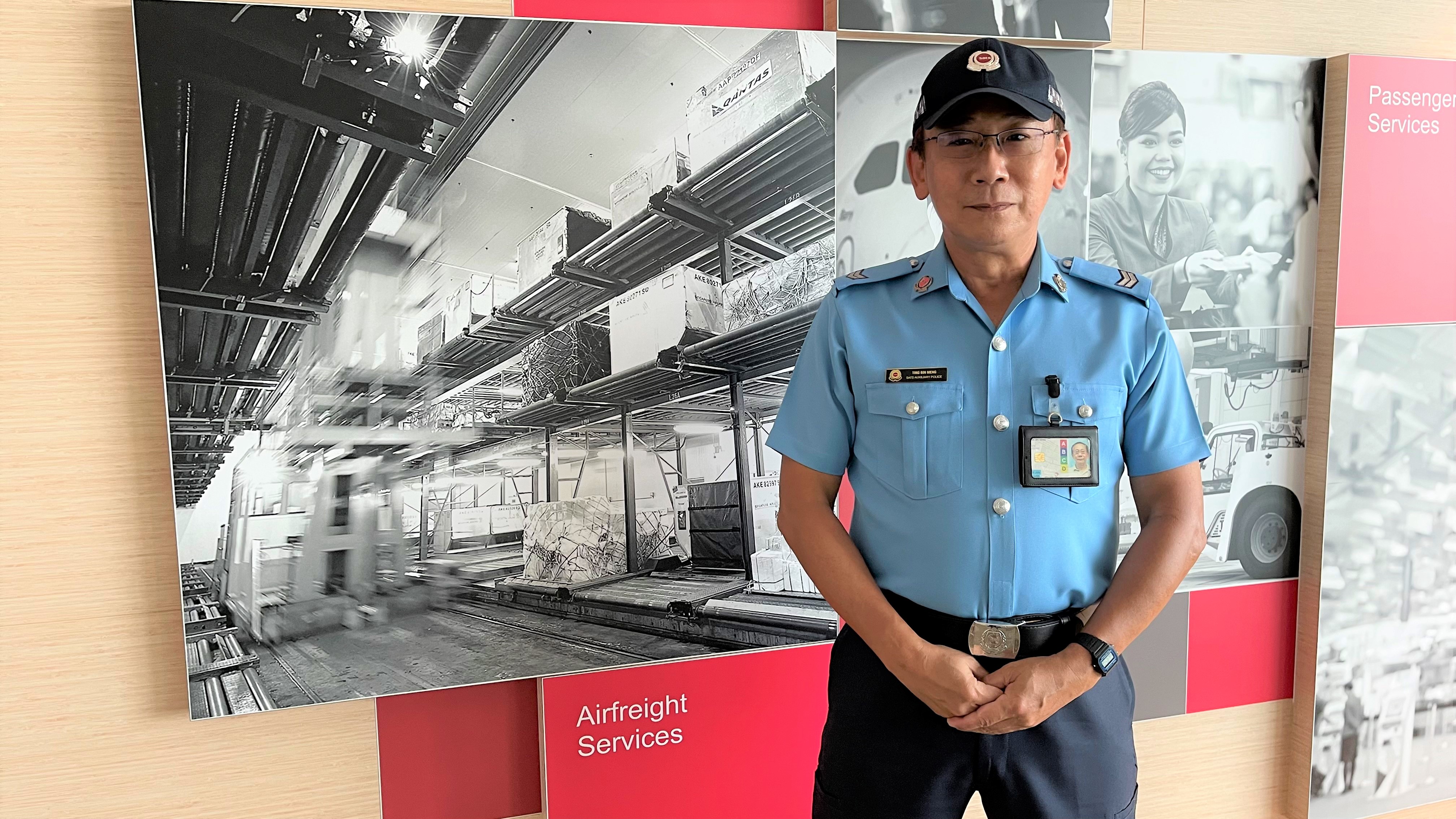 The advantages of joining SSS
"You must always do your research when you make a mid-career switch," Alex advises.
Speaking to various people within the security industry, whom he had worked with previously in F&B, he was struck by the many great reports he heard about working at SATS.
He liked the fact that SATS is a "reputable company that is diverse in terms of industry and people", which meant it could offer a "stable" employment package, including getting a full salary during the three months it would take to complete SSS training at the SATS Academy.
SATS is also home to the longest-running auxiliary police force in Singapore, which made Alex hopeful that training would be professional and well-organised. It did not disappoint and was "very structured and well-paced" for a new recruit like himself, who had no prior experience.
If his enthusiasm is any indicator, joining SSS is not a decision Alex regrets. "People think that Security Officers don't have work-life balance," he says, "but that's not true." Alex and his colleagues are on a five-day work week rotation, with weekends off every three to four weeks.
SATS also encourages them to move around to different posts and work towards career advancement, a culture that Alex appreciates tremendously.
He is currently at a government facility doing access control, where he does guard and patrol duty and gets to use undercarriage devices and other technologies. Down the road, he could opt for a different location, an airport terminal for example, where he will have different responsibilities and can acquire new knowledge and skills.
Customer-oriented approach to security
But what makes SSS stand out most, is its emphasis on customer service.
Alex remembers being taught at the Academy that SATS Security Officers are not just engaged to safeguard people and places like they are "doing a task", but they also have to delight customers as well.
This was coming full circle for Alex. He was able to rekindle his passion for customer service and bring his previous F&B experience to his new role. Once, a colleague even teased him about how much he enjoys greeting every single person that passes through his access control point.
"It creates a good experience," Alex chuckles, "When people feel comfortable with you, they are better able to trust you."
Building trust is central to the SATS spirit. Security checks are more pleasant so they can proceed smoothly and whenever urgent action is needed, like getting a crowd to stand back while Security Officers attend to someone who needs medical attention, people are more willing to cooperate.
Respect, excitement and a higher purpose
Alex is quick to add that being "people-oriented" filters down from the top.
From the instructors at the SATS Academy to the supervisors he works with, his superiors always speak respectfully to them, are willing to listen to suggestions and encourage them to help one another. "It's a good working environment," Alex muses, "because we work together as a team."
Another plus? Fun experiences unique to the job of course. Alex fondly recalls practising tactical manoeuvres in the Academy carpark and, like all his colleagues in SSS, looking forward to their annual shooting practices at the range.
He does want everyone to know though, that there is nothing "senang" (Malay for "easy" or "simple") about the job as stereotypes often suggest. Alex will proudly tell you that it takes thorough training and passing necessary certifications to become a full-fledged SSS officer.
Vigilance is also a responsibility he takes very seriously because becoming a Security Officer is what has given him a higher purpose "to guard and protect" people.
Advice for potential recruits
Alex says to come into SSS, one needs to be customer-oriented. That is what makes SATS different from any other security service.
And if there's someone out there thinking of making a mid-career switch? Don't be intimidated, he says encouragingly.
The training is professional and SATS is a team-oriented place. "All you need to do is come with an open mind and be willing to learn."
Find out more about SATS Security Services Recruitment here