My job at SATS: I'm a Dietitian who helps plan the meals you eat in hospitals
Tiffany Cheong, Senior Dietitian, spends majority of her time at Sengkang General Hospital (SKH). She is a SATS employee who is part of the SKH team creating meals for both patients and staff.
Tiffany shares more about her job below and the hard work that goes into ensuring that patients get delicious and nutritious meals: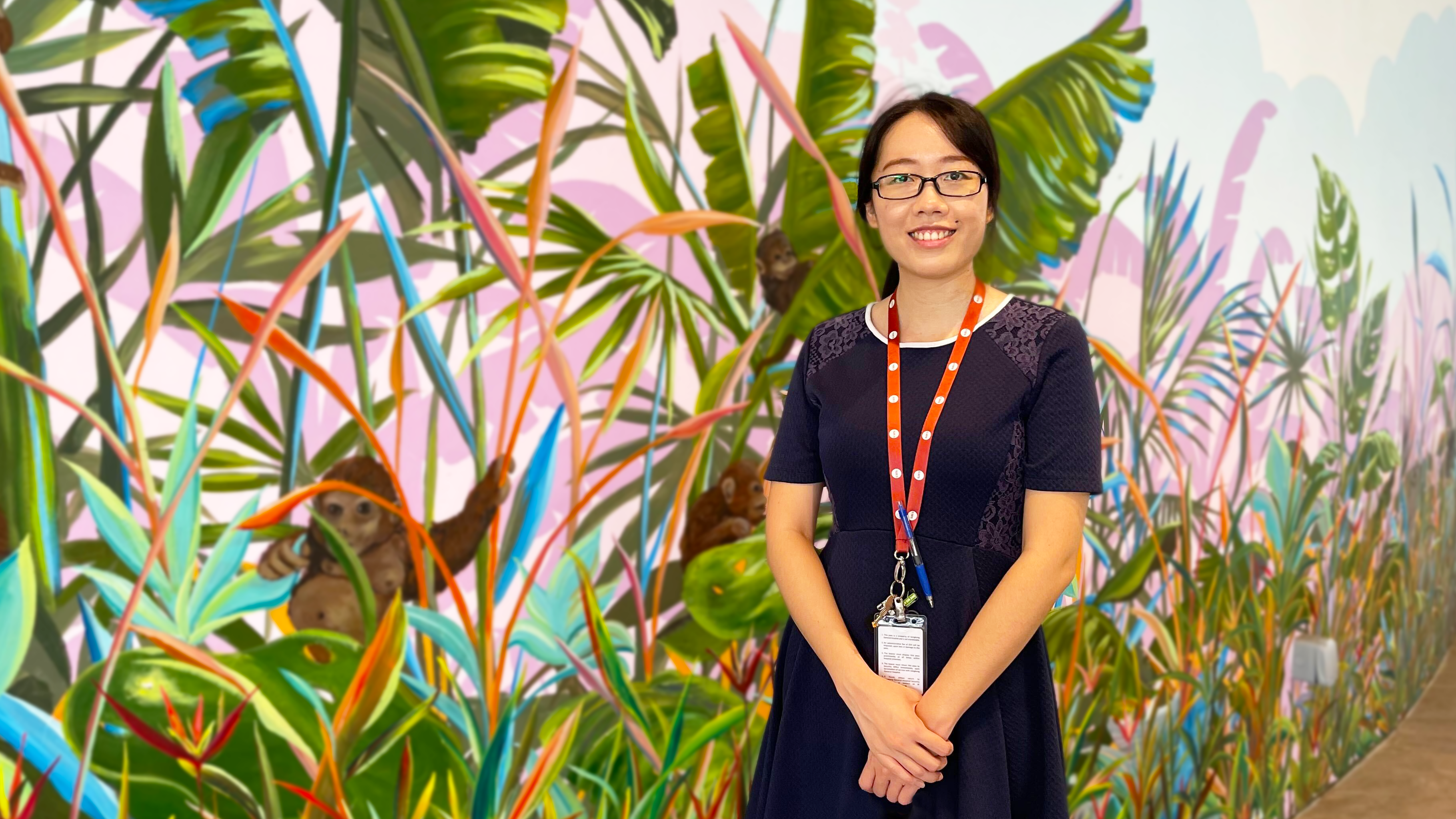 What exactly does a Dietitian do?
Well, the entire team oversees both patient and staff meals in the hospital. My primary role is to conduct daily checks of patient meals. In the hospital we have a variety of therapeutic diets, so portions, and even texture of the food have to be checked constantly. Part of my routine also includes food tasting where I check the texture of food made specifically for modified diets. Things like soft, chopped, minced and pureed food have to be cooked to certain specifications.
So… you get to taste a lot of food?
There's a lot more to it! As a Dietitian, it's crucial for me to balance the needs of both the hospital and the chefs – food should taste good, but they also must take the health needs of the patients into consideration.
So aside from menu planning with the chefs, I also oversee the control room where patient meal slips are delivered for review before being sent to the kitchen, as well as the electronic meal ordering system (eMOS) which allows me to deliver changes to the menu across the hospital. Control room staff can come to me to clarify certain instructions or can call me for a consultation on special diet requests.
My job also requires me to do a fair bit of training for kitchen staff, control room staff and even diet aides. For example, I'll train kitchen staff on how to prepare food for people with different dietary needs - teaching them how to adjust portions for patients on a weight management programme, or the different ways to modify the texture of food. At SKH we offer regular, soft, chopped, minced and pureed diet, all of which have to be done to certain specifications. Diet aides and control room staff learn the different terms to help them better understand the needs of their patients. All this is important as food plays a key role in a patient's recovery.
What kind of food is served in a hospital?
We try to offer a wide variety, so patients get to choose from 10 different menus during each meal. They have choice of Malay, Indian, Indian Vegetarian, Western, Chinese, Chinese Vegetarian and more. There are also chef's specials and four different options for light meals, such as noodle soup and congee. Patients of a higher ward class or who have opted for a more expensive meal ticket get access to an additional menu. We also recently introduced burgers, hawker fare, double-boiled soup and some SATS signature dishes such as Eight-Treasure Roasted Chicken, Chicken Rendang with Sayur Lodeh, Mutton Dalcha with Briyani and more.
We want patients to have a pleasant stay at the hospital and food is such a big part of that. We try to get as much feedback from the patients as well so that we can tweak menu items to suit their palates.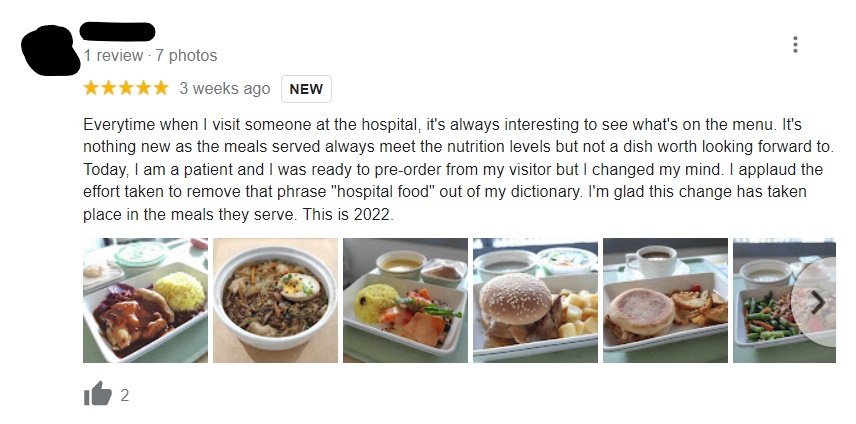 Review from a happy patient at Sengkang General Hospital
What is the biggest difference between the food we have when we dine out and the food served in hospitals?
Generally, hospital food is lower in salt, fat and sugar. There are more stringent health guidelines set by the hospital, so portions are tailored to a patients' diet. But this also means our chefs go the extra mile to mimick the flavours of the original dish. Part of what a Dietitian does is to find alternatives to less healthy ingredients, which is especially important for patients with food allergies. We want patients to be able to enjoy their dishes.
What do you like about your job?
I love what I've been doing for the past 6 years! Translating my dietetics knowledge into the delivery of actual meals that help patient recovery feels very rewarding. Also, working at SATS is very different from being a nutritionist or dietitian elsewhere. Here, I have the opportunity to be involved in the planning of operations. I get the opportunity to work with departments outside my scope such as the purchasing or quality assurance teams. I am very proud of our team and the work we've done so far.
Do you have advice for someone looking to join SATS as a Dietitian?
Be open-minded as you'll be given a lot of opportunities to learn new skills outside of dietetics. And love food! We develop new menus for better dining experiences for patients so we should also appreciate a wide variety of food.
If you're interested in a rewarding career like Tiffany, click below to find out what job opportunities are available at SATS today.