My Job in SATS: I'm an Airline Relations Manager who works closely with airline partners
A lifelong desire to work at the airport led this bubbly Airline Relations Manager (ARM) to build a career at SATS. Wang Siyuan, who works closely with airline partners to create a seamless travel experience for passengers, shares more about her work and how she stays relevant in an evolving workforce.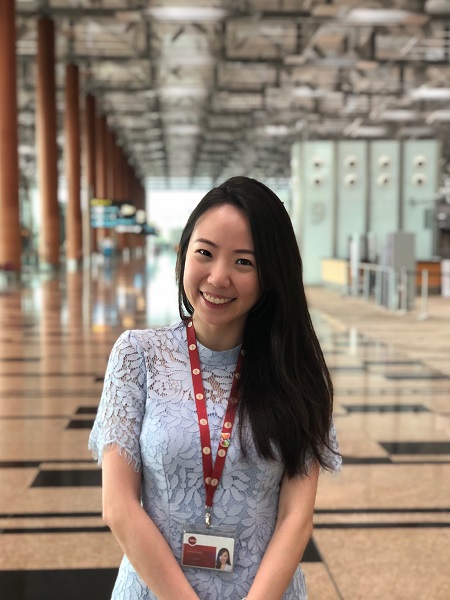 What does your work as an airline relations manager entail?
I am the account manager for several airlines. My role basically entails acting as the key liaison between SATS and our aviation clients. My job includes fulfilling and managing the needs and expectations of airlines. At the same time, I work closely with people on the ground at the airport. This includes the passenger services team, air cargo team, security, apron team and more.
Which aspects of your work do you enjoy?
I get to work with people from all walks of life! Also, I have first-hand experience with what goes on behind the scenes at the airport. There's always something new to discover!
I am also given various opportunities to take on other responsibilities outside what an ARM has. Such as representing SATS in the ONE Changi community. Today, I also assist with training.
Could you share some of the Interesting/memorable encounters you've had on the job?
I did my first big public presentation at our Global Connect business meeting in 2019. It was a nerve-wreaking experience! From curating the presentation content, memorising the script, right up to the moment before going on stage and finally presenting to hundreds of attendees, this was definitely a stressful but meaningful event that I will remember for life.
The ASEAN Summit 2018 was also very memorable. It truly was a classic example of teamwork at its best. Our entire team had to be stationed all over the airport. Some manned key touchpoints - I was deployed to the VIP complex. There I assisted the best I could and even helped fill in the immigration cards of visiting diplomats.

No matter what team you were from in SATS, everyone worked together to ensure the event went smoothly. It was a wonderful experience.
What is the best thing you have experienced in your career?
The friendships forged during my three years in SATS. People said true friendship cannot be found after graduating from school, but I am glad that this does not apply to me.
Could you share with us 3 tips on handling stressful situations at work?
Be respectful and do not jump to conclusions. Everyone has their own story, so listen to what they have to say before making assumptions.
Always put on a smile (if possible). I believe positive vibes spread among people.
Try to stay calm in every situation (which I am still trying to master), as a flustered mind will not help in any way.
Were your skills and experience in airline relations transferrable to your current work in training?
Definitely. With the few years of operational knowledge I have gathered, I understand what is necessary and the areas we can improve on. In addition, perks of being an Airline Relations Manager includes the conversations we have with on ground staff, which is an excellent way to gather and channel feedback.
How does learning help one to stay relevant in the workforce?
Change is the only constant, and this is especially true in this day and age.
Do you have a personal mantra or philosophy that keeps you going through tough times?
Everything happens for a reason, and believe that challenges will eventually come to an end as there is always a solution to every situation.
What is the best career advice you've received? Who was it from?
It's from my Dad - always offer the best you can.