Recipes with SATS: Learn from Chef Christophe Crot how to cook and plate a dish perfect for an airline's first class menu
Here's your chance to dine like a first class passenger on Singapore Airlines - Executive Sous Chef Christopher Crot from the SATS Food Solutions premier kitchen shares his recipe for 72-hr beef short ribs with creamy truffle polenta and teaches you how to plate it too. Cooked using a sous-vide method, you're guaranteed super tender beef short ribs.
Jump to the recipe for 72-hr Beef Short Ribs with Creamy Truffle Polenta here.
Part of SATS Food Solutions, the premier kitchen is where all first class and business class dishes begin. Here, Chef Christophe Crot and his team plan and prepare menus for SATS aviation catering clients such as Singapore Airlines and several other major airlines.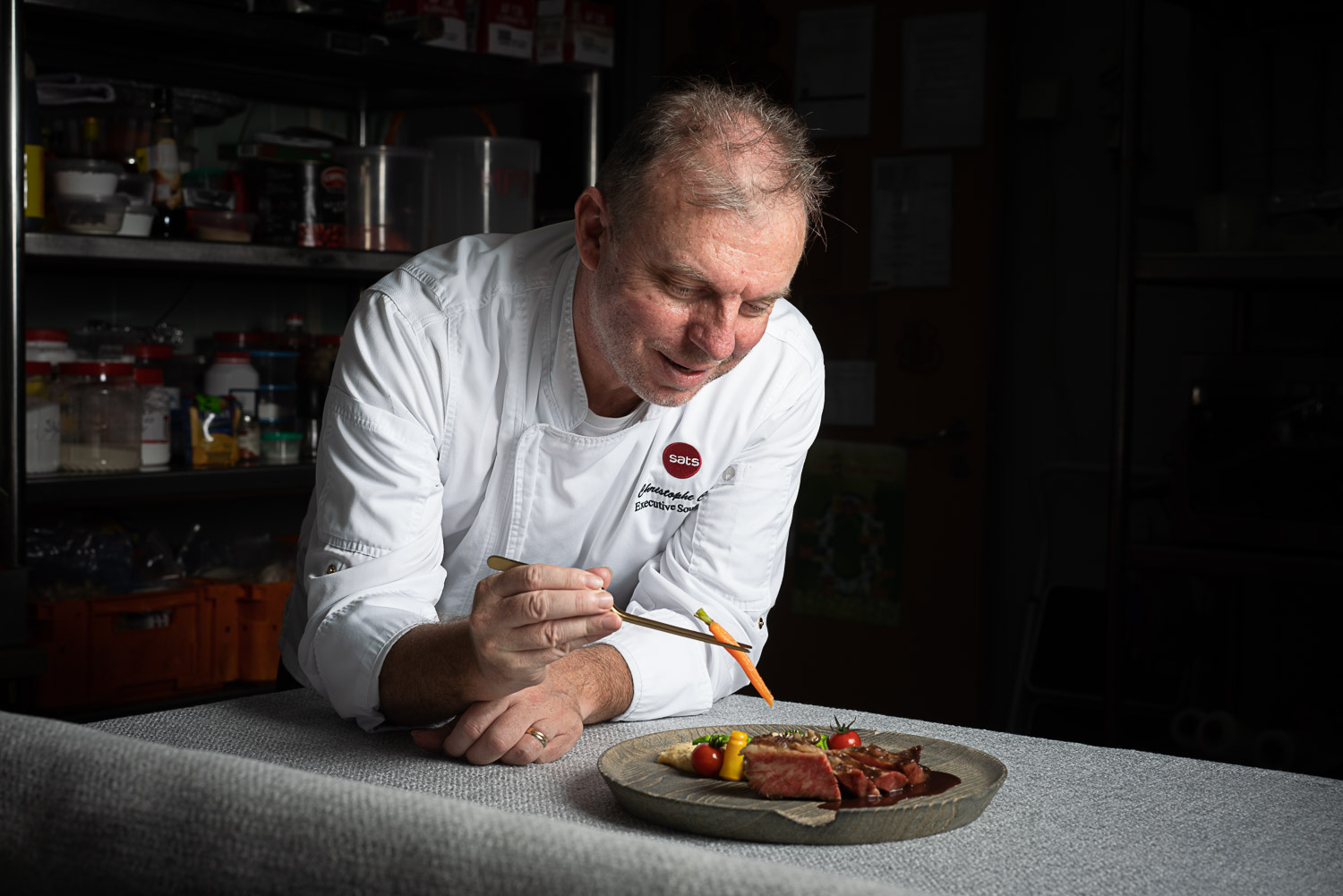 Chef Christophe Crot, a veteran in the restaurant industry, having worked in restaurants in Russia and running his own business in Singapore, shares that what sets first and business class meals apart from economy is not just unique recipes: "We use really high quality ingredients in the premier kitchen, and we have a wider variety of produce and meat to use as compared to the economy kitchen." When asked to elaborate, he pauses, "well, previously we used anything from scallops, lobsters, prime beef etcetera." He lets out a weak chuckle as he reminds us that there are more restrictions during this period of time.
Cooking for aviation catering is very different from cooking in restaurants, Chef explains. In restaurants, dishes are served "À la Minute" – where dishes are prepared to order; in aviation, they are prepped in advance and held for service. "Unfortunately, there are certain methods of cooking we just cannot do because the food will be chilled and reheated on board," Chef shares. "Certain vegetables cannot be reheated because they simply taste better immediately after cooking." This is where the chefs have to get creative with flavours and tweak recipes to ensure passengers get the best.
"We adjust the dish based on the restrictions, we also taste the food in the air-pressurised cabin." Going the extra mile to maintain high quality and robust flavours for dishes in the skies, SATS built an air-pressurised cabin at its Inflight Catering Centre where chefs can simulate the conditions of a flight. "There's less humidity in a cabin and our changes change a little bit so we don't really taste the salt. We tweak the recipe a little to bring out the flavours." Chef adds, "but not too much because we still want to keep it nutritional!"
Across different airlines that SATS serves, business and first class passengers are given the opportunity to opt for "Book The Cook", a unique service that provides a wider range of menu items for the different meal services onboard. The menu is decided a few times a year when a panel from the airline heads to SATS for a meal presentation of different dishes. Chef shares that that is the opportunity for the chefs to make recommendations and showcase new and exciting dishes to the airlines.
Dietary restrictions are also very common for the premier kitchen - here the chefs work individually with each request to ensure that the meal is customised to passenger needs.
On board, premier dishes aren't served on trays, but plated beautifully. Chef also takes this into consideration when planning recipes. "We have to think about how easy each dish is to eat and how easy it is to plate on board." Chef shares that cabin crew are taught to do simple plating and presentation for premier passengers, "three steps for business class and five steps for first class. They also must be very quick."
Check out Chef's plating tips for a First Class experience at home
Chef Christophe has been with SATS for nine years now and is looking forward to more years here. The French native shares that his time at SATS has been enjoyable, "I've got a good team and have a great relationship with everybody here." He also adds, "Unlike restaurants, the ESCs (Executive Sous Chefs) don't compete against each other. There's no backstabbing or politics – people work together here and if someone needs helps there's always somebody to assist."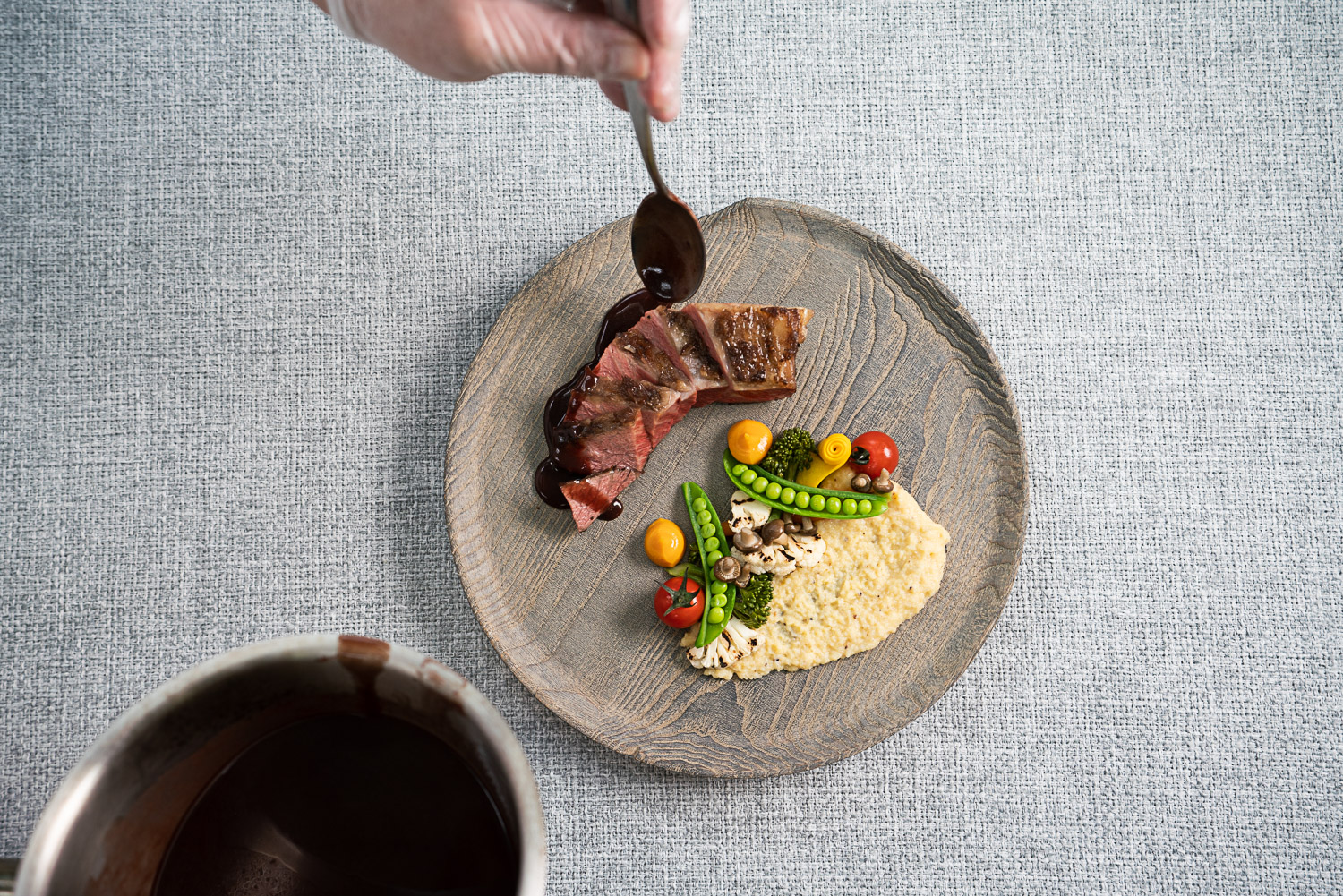 72-hr Beef Short Ribs with Creamy Truffle Polenta
Ingredients
Beef Short Rib:
600g beef short rib
15ml cooking oil
Dijon mustard
Thyme
Salt and pepper
Truffle Polenta:
200g polenta
1l chicken stock
10ml cream (optional)
Truffle oil (this can be replaced with 200g of mixed mushrooms such as button, swiss brown or others)
Parmesan cheese
Salt and pepper
Roasted Pumpkin Puree:
500g butternut pumpkin, peeled and diced
5gm thyme
Salt and pepper
Olive oil
Red Wine Sauce:
10ml cooking oil
50g shallots
100g short rib trimmings (trimmed off the beef short ribs)
15g flour
50ml port wine (optional)
1 bay leaf
5g thyme
10 black peppercorn
125ml red wine
350ml veal stock or beef stock
30g butter
Salt and pepper
Decorative Vegetables:
Baby Carrots Kale Broccolini Shimeji Mushrooms
Cherry Tomatoes Edamame Yellow Squash Cauliflower
s
Method:
Beef Short Rib:
Trim the short rib, remove excess fat and sinew. Save the trimmings for the sauce.
Season the meat with salt and pepper.
Sear the meat on all sides in oil.
SOUS VIDE METHOD
- While the meat is still warm, apply Dijon mustard all over the short rib. Place it in a bag with thyme. Vacuum seal the bag twice.
- Place the bag in the water bath at 60 deg C for 72 hours. The meat will be tender with a pink hue. For medium rare, reduce the temperature to 58 deg C.
- After 72 hours, place the bag in an ice bath and keep chilled in the fridge till needed.
- Reheat in a water bath at 55 to 65 deg C for 30 minutes.
Truffle Polenta:
In a saucepan, bring the chicken stock to a boil.
Then add a pinch of salt and sprinkle the semolina into the boiling liquid and whisk constantly as it thickens.
Simmer for 5 minutes, stirring often. Reduce the heat to low and cover the saucepan and let cook for about 30 more minutes. Again stirring every 5 minutes. If it appears dry or too thick, add a bit more chicken stock. Finally add the cream right at the end and stir well.
Once cooked, remove from the heat, add truffles, truffle oil (or the mushrooms), Parmesan cheese and taste. Set aside and keep warm.
Roasted Pumpkin Puree:
Set the oven for 160 deg C.
Season the diced pumpkin with salt, pepper and half the olive oil.
Place the pumpkin on an oven tray. Cover with aluminium foil and bake for 40 minutes.
Once cooked through, use a blender to mix till it becomes a fine puree. Add the remaining olive oil, season to taste.
Place it in a piping bag and set aside.
Red Wine Sauce:
Saute sliced shallots in oil till just softened, then add the beef trimmings.
When it has browned for a few minutes, remove excess oil and sprinkle with flour. Mix the flour in then deglaze with port wine (or red wine).
Add herbs and peppercorns and reduce the mixture to almost dry.
Pour in the red wine and reduce by half.
Add in the veal stock and simmer for 30 to 45 minutes until it reaches the consistency of sauce.
Strain into another saucepan and whisk in melted butter. Taste and add salt and pepper as needed.
Plating: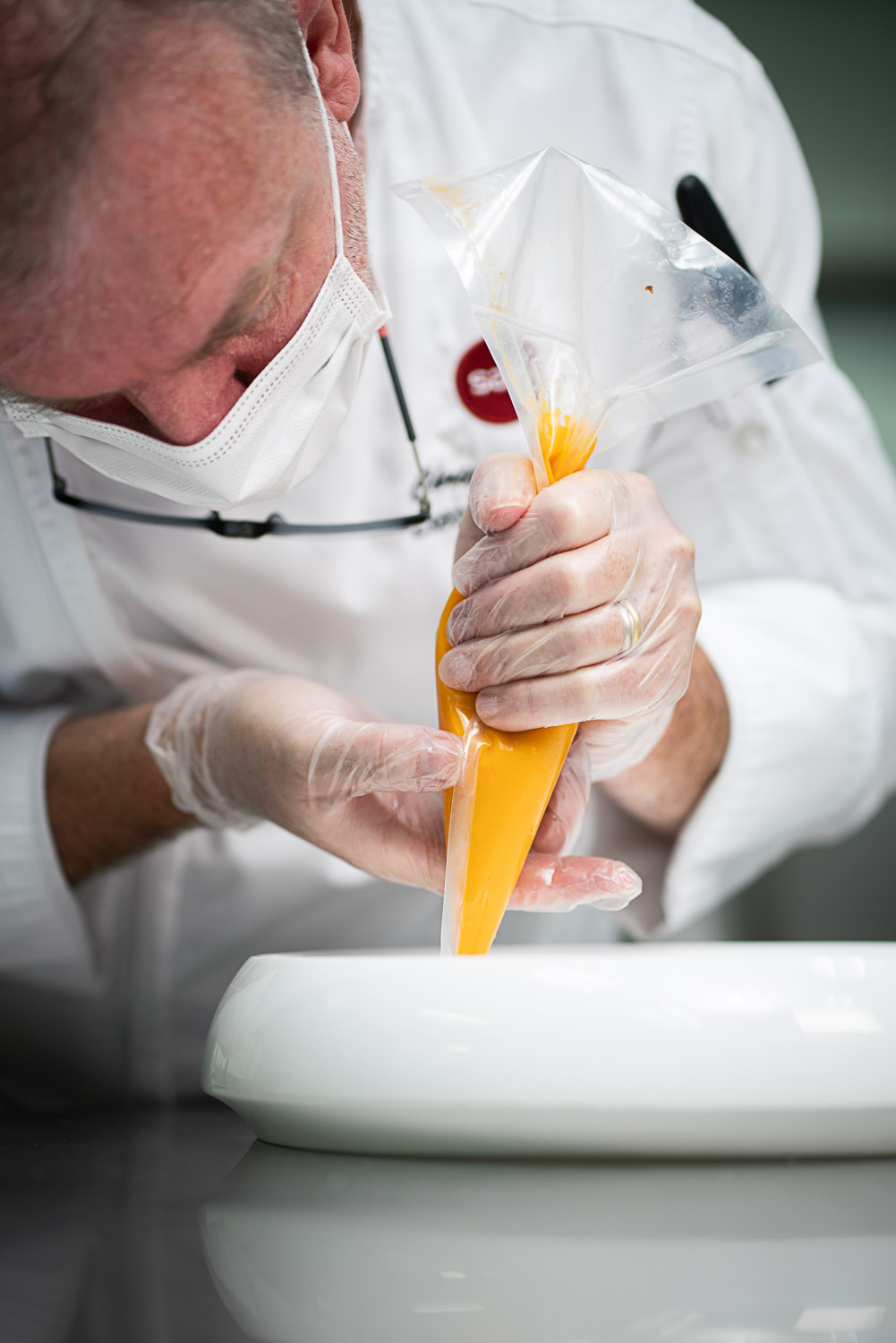 Cut and slice your decorating vegetables into small pieces
Have each of the different elements around your plate.
Start by placing a generous scoop of warm polenta on the plate. Press down and drag slightly with the back of your spoon to create a "drag" effect.
Above the polenta, arrange your decorative vegetables balancing colour and quantity.
Dot your plate with little dots of the pumpkin puree
After gently warming the beef short ribs, cut into thick slices and lay on the plate.
Gentle spoon some red wine juice around the beef.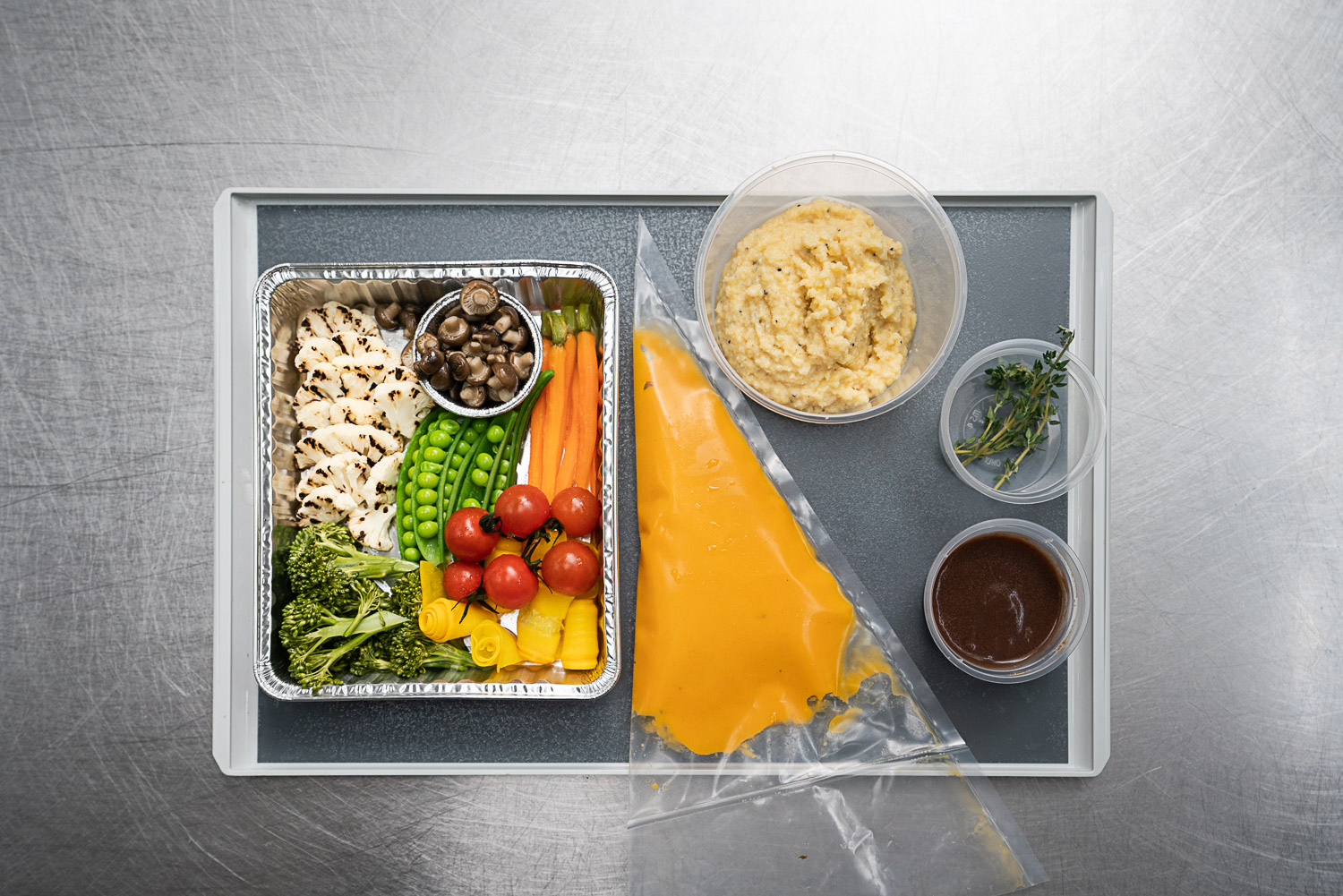 Just be creative and do what you like, but remember sometimes less is more.
You don't have to use the whole plate.
For that First Class look, never pour jus or sauce over your beef as that hides the colour of the meat.
Wet the spoon before you spread mashed potatoes or polenta onto a plate to prevent it from sticking to the utensil.
If you're plating fish, always place it skin-side up if the skin has been fried. But if the fish has been skinned, place it skin-side down.