Duty Manager Syed Umar Bahki shares how the Changi Airport community came together to help a passenger in need
There is no problem too big for the Changi Airport community. Passenger Services Duty Manager, Syed Umar Bahki is a firm believer of that and has found that in his 30 years at Changi Airport, his fellow colleagues have rarely, if not never, let him down.
"I'm a friendly guy," he laughs, "with my job, I'm usually working with people from different departments and I try to make friends everywhere." His jovial, easy-going nature has made work a pleasant experience for both himself and the people around him and that in turn trickles down to passengers.
You will find that when faced with a problem at the airport, there will always be someone willing to take time out of their schedule to help you.
This thoughtfulness and willingness to go the extra mile made a particularly big impact on a passenger back in 2018.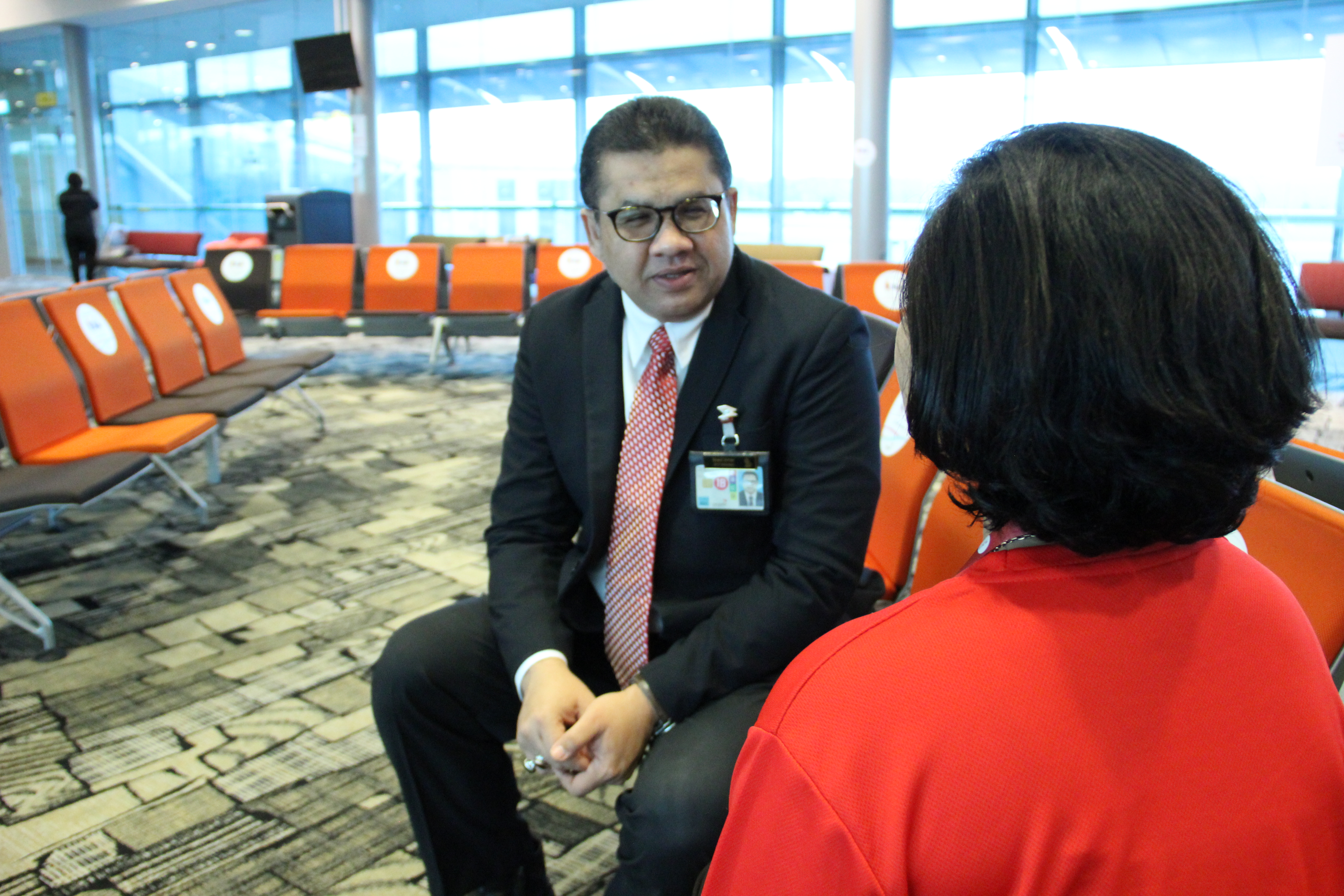 Syed remembers it happened during the California wildfires: "One of my colleagues saw her crying on a bench and flagged it out to me," Syed explains, "I asked her if she was alright, but she kept sobbing. So I gave her a bottle of water, told her that she could come speak to me at my counter whenever she was ready." In tears, the passenger explained that she had missed her flight to Los Angeles International Airport (LAX).
Working his magic, Syed helped rebook her flight, and with a few strategic calls to the Singapore Airlines station manager ("he's a good guy," Syed says approvingly) the airlines agreed to waive her rebooking fees. Just as he sent her on her way, she thanked him and revealed, still in tears, that she was heading to Los Angeles to pick up her daughter's ashes.
"It was very sad," Syed shares, "I think we were quite shocked as well." As the plane left the tarmac, Syed made the decision to call his counterpart in LAX to ensure the passenger had a pleasant arrival. He wanted to ensure that the passenger was treated with the utmost respect and compassion.
A couple of weeks later, Syed chanced upon her name in the manifest of the incoming flight. Recognising it, he enlisted the help of his colleague and friend at the lost and found counter to place her baggage on a trolley before she arrived. "We just wanted to make things easier for her," he explains. He then met her at the gate and escorted her through immigration as well. "The person at the counter is also my friend so after I explained the situation they let us through," Syed explains, "everyone is very understanding and we will do what we can to make a passenger's life easier." After picking up the pre-loaded luggage from the baggage area, Syed continued to escort the passenger to the taxi stand.
Though lauded for how he cared for this passenger and awarded with the "Service Personality of the Year" prize, Syed is quick to remind that it was a team effort and that it was with the help of his friends all over the airport that this passenger got the care she deserved.
Ingrained in the SATS culture
Going the extra mile for passengers is not something extraordinary, according to Syed. "I was brought up with the belief that you should treat everyone with compassion, and when I started at SATS, I realised that everyone here feels the same way."
With that in mind, as a Duty Manager, he's confident that his team is competent enough to manage problems on their own, but he's also assured that more senior colleagues are ready to provide guidance should younger team members need help.
Syed shares that at SATS, he is reminded every day of his favourite football team's motto: "you will never walk alone." The Liverpool fan proudly proclaims that SATS is a family. "People here, we are like brothers and sisters, working together with the same goals," he says, "there is a sense of camaraderie and an understanding to do what we can to serve passengers or anyone in Changi Airport."
With a strong united front provided by SATS Passenger Services' teams, passengers and people in Changi Airport are provided with the best service at all times.