We continually review our sustainable business strategy to improve stewardship and reporting format.
Building a sustainable business requires a collective, coordinated effort across all levels of the organisation, from leaders to employees. Our Chief Sustainability Officer has formed a Sustainability Council comprising representatives from relevant parts of the SATS group.
What matters to us and our stakeholders
ESG Material issues
We recognise the importance of reviewing our business strategy regularly, with inputs from our stakeholders, in order to identify the most pertinent risks and opportunities.
Re-examining and reprioritising our material issues is an essential step for us to adapt to the 'new normal' and thrive in a post-pandemic world.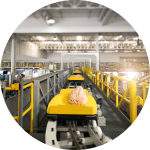 Develop Smart Infrastructure
Materials Waste
Energy Efficiency & Transformation
Carbon Emissions
Resource Scarcity
Changing Sustainability Regulations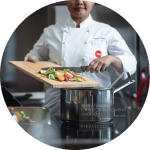 Reduce Food and Packaging Waste
Food waste
Food Security & Food
Resource Scarcity
Health and Well-being of Consumer
Sustainable Sourcing and Transparency in Supply Chains
Food Innovation & Technology
Changing Sustainability Regulations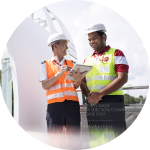 Nurturing Skills for the Future
Skilled Labour
Cybersecurity
Changing Aviation Markets
Geopolitical Instability
Changing Sustainability Regulations
Our Sustainability Framework
Our unwavering commitment to Sustainability