How to manage stressful situations: Tips from a Transit Holding Area Officer assisting transit passengers at Changi Airport
"There's always something different to learn at SATS," shared Carlson Tan with a grin. "You feel this buzz of energy and excitement every day!"
The Transit Holding Area Officer had just celebrated his 25th year at SATS as a Traffic Liaison Officer before the pandemic. Then, he assisted with the aircraft pre-departure procedures, coordinating between business units such as Catering, Aircraft Interior Cleaning (AIC), Apron and Security. But with recent events, Carlson was redeployed and given a new portfolio: assisting with the newly-created transit holding areas at Changi Airport.
There, Carlson's excellent coordination and people skills are put to use for a specific group of passengers: those arriving in Singapore awaiting their transit flights.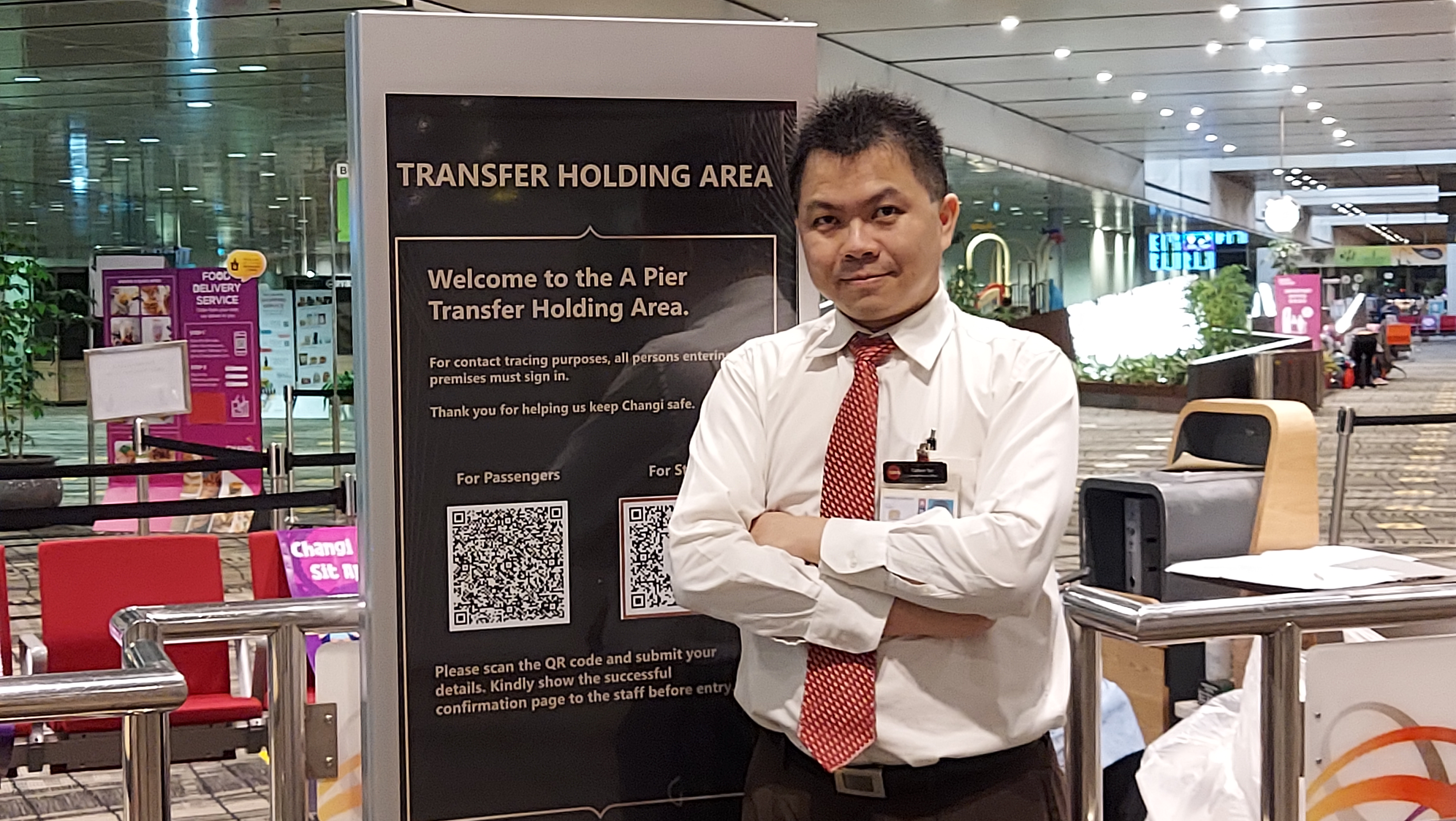 Decked out in full PPE for safety
After passengers disembark from their planes, they are escorted by Carlson and his colleagues to the Transit Holding Area (THA). There, the team helps passengers navigate new transit procedures and assists in reducing minor inconveniences while making them as comfortable as possible.
The journey to the THA is no leisurely stroll through the airport. Passengers are ushered past gleaming shops in an orderly fashion by Carlson and his colleagues into the THA to keep everyone safe. As a precaution, every THA Officer is also decked out in full personal protective equipment (PPE). That means gowns, gloves, face shields and of course, masks. "While most passengers understand these new measures and are happy to comply, others feel that it is restrictive." Carlson shared "but there must be an understanding that this global issue requires us all to work together to win the fight."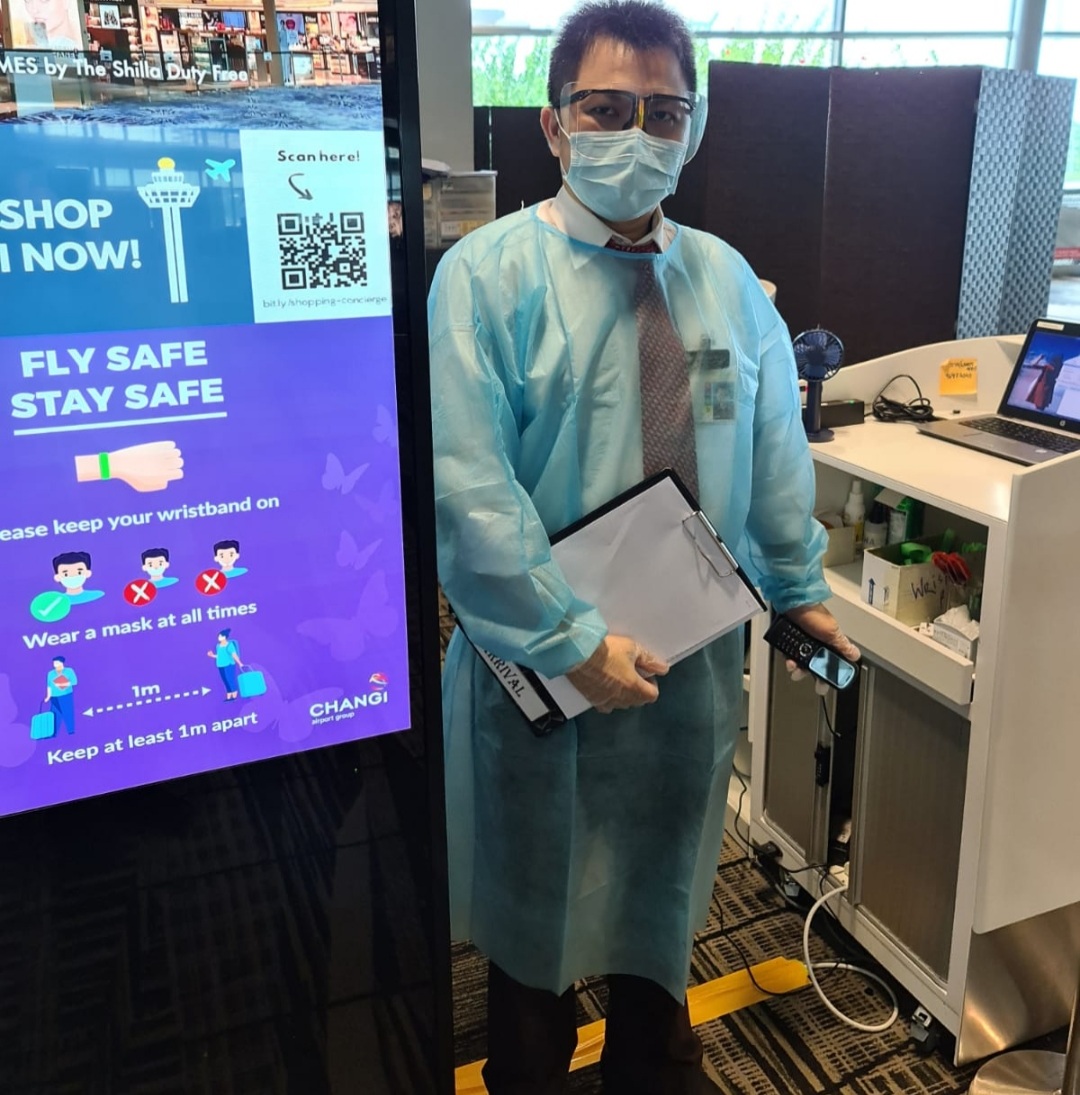 Carlson in full PPE as he welcomes passengers into the Transit Holding Area.
That said, Carlson and his fellow THA Officers do what they can to make passengers more comfortable. "Online shopping is available from the comfort of the waiting area and we help to attend and assist passengers with any inquiries they might have."
Some ways the team assists transit passengers is by helping with flight coordination, changes in flight itineraries, organising food delivery orders, arranging transit hotel accommodations, and ensuring their travel documents are all in order for their next destination. An important aspect of a THA Officer's work is how he or she works as a liaison between the many organisations involved in servicing these passengers.
Carlson shared that one of his most memorable experiences was helping a passenger send a gift to his wife back in his home country: "He'd just returned from USA and was transiting through Singapore to Penang. He had to be quarantined for a week, which unfortunately coincided with the date of his wedding anniversary. So he asked if I would be able to help him post a gift to his wife, and if it would be possible for it to arrive on a specific date." He grinned, "It arrived the exact day he had planned!"
Beaming with pleasure, Carlson elaborated about the process, sharing that there were multiple challenges within a very short time frame. But he was rewarded with the passenger's gratitude.
Another incident that stuck to his mind was when an elderly couple had to be told to disembark from a flight. "They were on their way to a new life in a different country, but because they had insufficient travel documents, they were told that they had to be repatriated back to their country of origin."
"It was really sad, they told us that they had sold away their properties back home so they were going back to nothing." Carlson then shared that the team had done their best to make them comfortable and to put them on the earliest flight so they wouldn't have to wait in transit for too long.
The many people he has met has made Carlson's job a lot more colourful: "This role has allowed me to meet passengers from all around the world," he said, "I've found that I really like serving people and helping them solve their difficulties."
Handling stressful situations skillfully
Carlson's new job scope brought plenty of excitement but also more challenging situations: "It can get overwhelming when we have a mix of both arrival and departure passengers stuck at the small THA entrance. So we manage by handlings passengers from one flight at a time," he explained that he leans on his SATS training on how to handle difficult situations. "I try my best to be very calm, give clear instructions and use a pleasant tone of voice.
Carlson also mentioned that he and his team had to be kept up to date on the latest changes to safety regulations and the like by various governing agencies.
He shared, "I have to find a balance between listening to different points of view and being firm. It takes a lot of communication and coordination skills!"
Carlson's career is guided by his late father's sound advice: "No situation is too huge or difficult to overcome. As long as you are willing to put in the effort, you can overcome any obstacle." He shared three practical tips to employ when faced with a stressful situation:
Always remember to take a breather – pace yourself, sit down with a cold drink, and take a break. You'll feel refreshed and ready to start again.
Take a step back – look over the situation objectively and process your thoughts there. It might help you think calmly and clearly.
Talk to someone – Be sure to talk to someone you can trust and process your day with them. Share what you're feeling, what you think you could have done better. You might feel better after talking about it!