Lessons in Leadership: Ranjiv Ramanathan, SVP of Apron Services discusses the importance of stepping out of your comfort zone and more
Ranjiv Ramanathan, Senior Vice President of Apron Services has been a dedicated leader with SATS for close to three decades. In his initial years he played a key role in the development of Airfreight Terminals 5 and 6.
Below, Ranjiv talks about his background and what first attracted him to the aviation industry. He shares more about how he grew in his career at SATS, both professional and personally.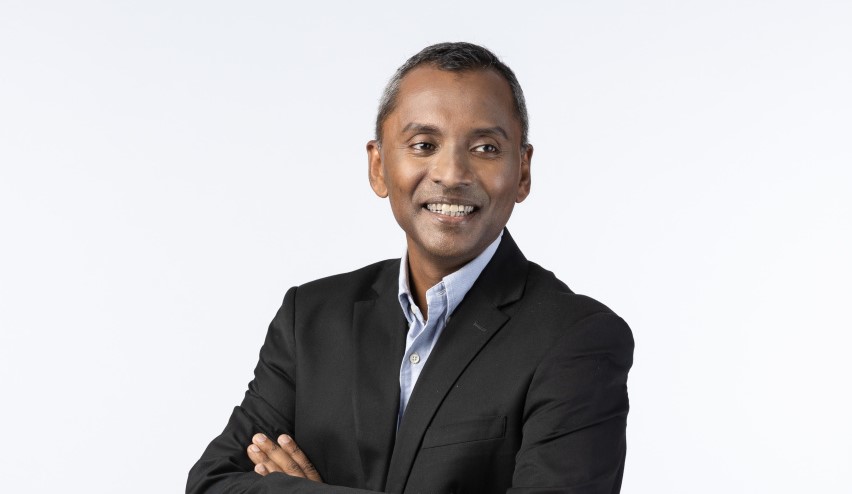 1. Why SATS?
Since my schooling days, I often came to study at the airport and was intrigued by how the airport operates. Just as I graduated, both SIA and SATS had placed for advertisements looking for fresh graduates. I attended both interviews; SATS got back to me first and that's how I started in this organisation.
2. How was your career at SATS?
I started my career in SATS with Cargo, as an engineer. The next couple of years would be very fulfilling as I was involved in the building of AFTs 5 and 6. I was glad to have played a large part in the implementation of the material handling systems (MHS) and inventory control systems in both terminals.
After 8 years in Cargo, I was posted to several business units including Ramp, Load Control (and the newly formed department of Flight Operations) and to Catering Technical Systems.
My first overseas posting was to Bangalore for 2 years. After Bangalore, I returned to SATS Business Development for 1.5 years before setting out again to Mumbai in 2011 to head the operations in AISATS. However, within a year there, I was asked to move to our Catering joint venture (JV) – TajSATS.
Switching between ground and catering operations may seem tough, but my earlier years in Catering prepared me for this stint as COO, TajSATS, where I remained for 3 years.
In 2015, I returned to Singapore to head Asia Pacific Star (APS) for 3 years before being posted out again to Indonesia (PTJAS) in 2018 for almost 2 years. Thereafter, I returned to Singapore in March 2020, just at the onset of the Covid-19 pandemic, as SVP Apron Services.
My humble advice for younger colleagues, if you are offered the opportunity to move across departments/business units or even take up an overseas posting, embrace it and take it on as a challenge. It will help you grow in your career within the organisation.
3. What is the most challenging decision you've made in your life?
The most challenging decision I've made has to do with my first overseas posting which required a lot of sacrifices. On the personal front, my wife had to leave her job, my children had to stop their schooling and get used to a different school system abroad. It also meant seeing my elderly parents less frequently.
4. What are some of the most memorable experience you've had at SATS?
My most memorable experience has to be my first overseas posting to SATS' first ground handling JV in India (with Air India) and I was the project director responsible for the construction of our cargo terminal in the greenfield Bangalore airport.
It was a rewarding experience professionally and culturally as I got to work with partners, vendors, airport authorities and regulatory bodies which were very different from Singapore.
The entire project from conceptualisation, design, building, approvals and operationalisation, was such an enriching experience that made me realised that perseverance will bring one success.
In fact, since that overseas posting, my subsequent roles in SATS and even other overseas postings, were easier to adapt because I've already stepped out of my comfort zone.
5. What advice would you give to those considering for an overseas posting?
One very important question to ask if you are considering an overseas posting is "What can you bring to the table"?
For example, when I was in Indonesia, the team and I started to conceptualise and design an integrated operation control centre to monitor our operations across 13 stations. It would be important for the head office in Jakarta to have real-time visibility of the operations across all the stations.
Similarly, for the cargo terminal in Bangalore, we were the first in the pan-India aviation community to introduce an automated storage retrieval system (ASRS) in a cargo terminal for storage of bulk cargo.
We need to bear in mind that when posted overseas, we have partners who are an equally professional organisation that can also run the business. If you are representing SATS, you must value-add to the joint venture, amongst other things.
6. What is your leadership style?
I try not to micromanage.
My philosophy is that if you have a good team who are committed and can get things done, you have won half the battle in leading a business unit. When we empower our employees and let them make decisions, with some guidance along the way, chances are they will be more collaborative, more open to sharing ideas and finding solutions with you.
As an example, when the Covid-19 airport cluster was recently identified, 45% of our freighter ramp staff were served with quarantined orders.
Despite the "mini-crisis", our senior staff came together to find solutions to keep the operations going. In addition, they helped to monitor operations across the various shifts over 15 days and kept the airline customers updated. They even planned for the welfare of our staff by providing all three meals for them from SATS Catering. It was a good demonstration on how everyone came together to help.
7. What are the most important values that you live by?
Safety – whenever you are assigned to do a task, do it properly and make no mistakes.