Teamwork was key to successfully coordinating mass vaccination efforts at Changi Airport T4 shares Passenger Services Assistant Manager Diana Lee
"It is during such a crisis that you know Pax (Passenger Services) staff have your back come rain or shine," Diana Lee said brightly, despite the exhaustion of coordination efforts for the SATS mass vaccination exercise - just one of the many situations Diana and her colleagues have faced since the start of the pandemic.

During the pandemic, Pax Services staff were redeployed to other business units and external agencies to support areas with higher levels of activity. The Pax Services Management team was re-organised to engage staff, manage these deployments, and manage unpredictable situations that arose during the pandemic. Most recently, they formed the core team of the Vaccination Command Centre (VCC), tasked with scheduling and organising the mass vaccination of all SATS employees in the aviation side of the business.

The team saw individuals, such as Diana, from different departments in Passenger Services coming together to help SATS push through the crisis.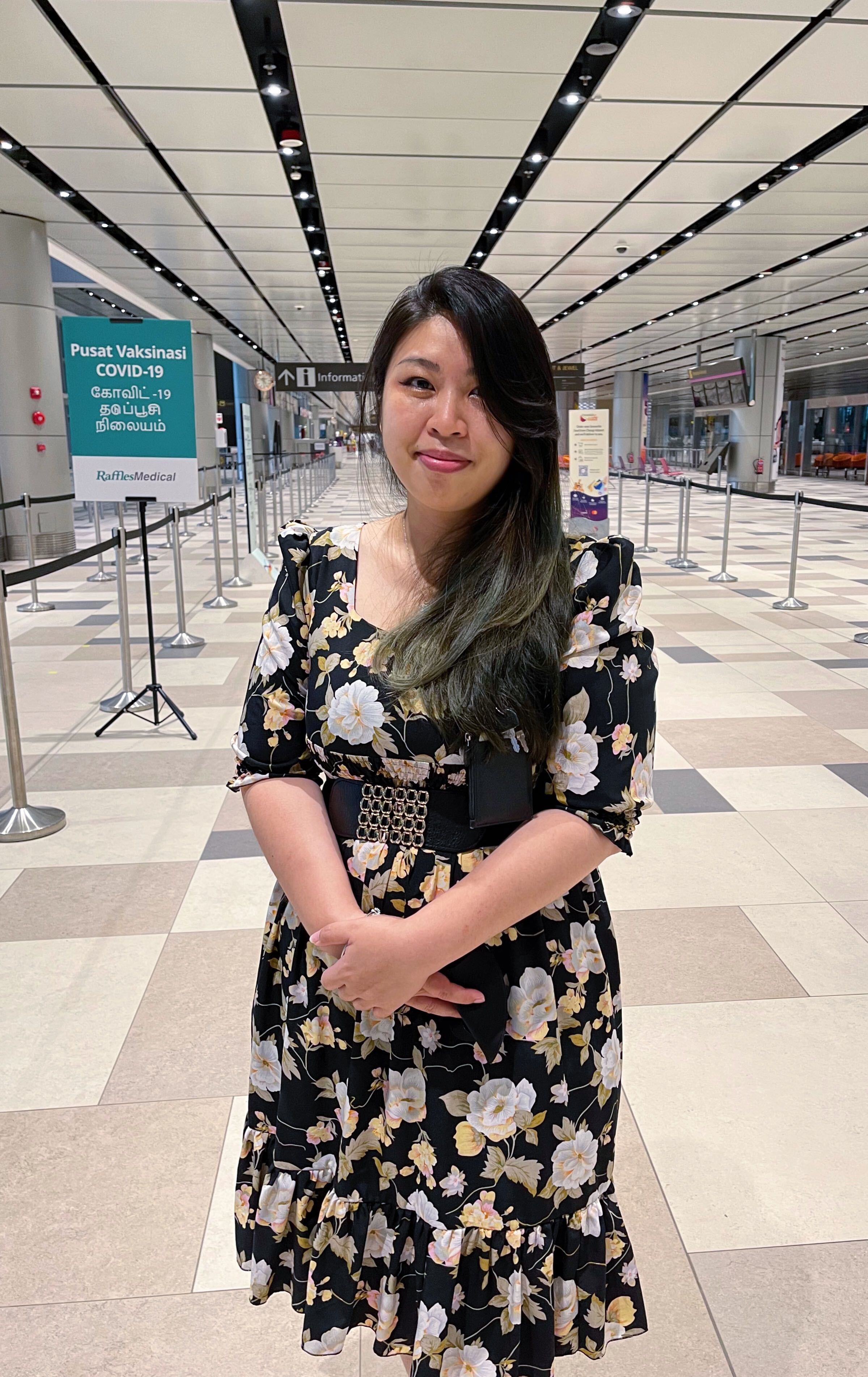 Diana's actual job scope involves managing employee experience and company culture development for Passenger Services. Her role also includes handling reward and recognition efforts for staff as the lead for the PAX quality management system, as well as executive support for the stay-home-notice (SHN) command centre, amongst other special projects. But with the arrival of COVID-19, Diana, and the rest of the team's daily routine pivoted sharply and they moved into "crisis" mode.
This is not the first time PAX has come together. The team also had to face other crises such as the closing of the runway in 2018, the closure of a terminal due to a fire in 2017, and the SARS pandemic. But as with all crises, quick reactionary time and all the organisational skills this rag-tag band of individuals have in their arsenal had to be deployed with full force.
"This was no solo project, it is such a massive undertaking that it truly takes all hands on deck to function together." Diana emphasised in a serious tone. "Honestly, I'm very thankful to have everyone across the different business units come together and adapt so quickly to the new changes and roles."
The project began with just over 900 people: "Ue Tsz my colleague, was the first to be assigned to the VCC. At first, it was to manage the vaccination of just PAX employees. But in under 48 hours, we received notification that the team had to be extended to include myself, my colleagues Jane and Wendy, as well as Lee Peijoo, AVP of customer experiences as our advisor, because we were now going to support the whole of SATS." Diana shared, "that was about 7,000 people in total!"
Led by Sachi Bala VP of operations, the team dived into the deep end. "We worked day and night, most times even through the weekends to coordinate the project. We needed to provide accurate information to stakeholders from different organisations such as MOH and our point-of-contacts for each SATS business unit before 9am each day." Diana explained. This also included balancing schedules and available spots for SATS employees as the vaccine centre was shared with other aviation organisations such as Changi Airport Group and Singapore Airlines. This meant sharing the space with thousands of people every day.
The team also had to battle the ongoing barrage of misinformation from social media and push out communications to encourage more employees to voluntarily pick up the optional vaccine.
The success of the entire operation, Diana shared, depended on the full cooperation and collaboration among teams in SATS: "Despite boundaries, such as personal differences and past conflicts between individuals, differences in rank, or the unfamiliarity of coming from different business units, everyone focused on one purpose, which was to overcome the situation."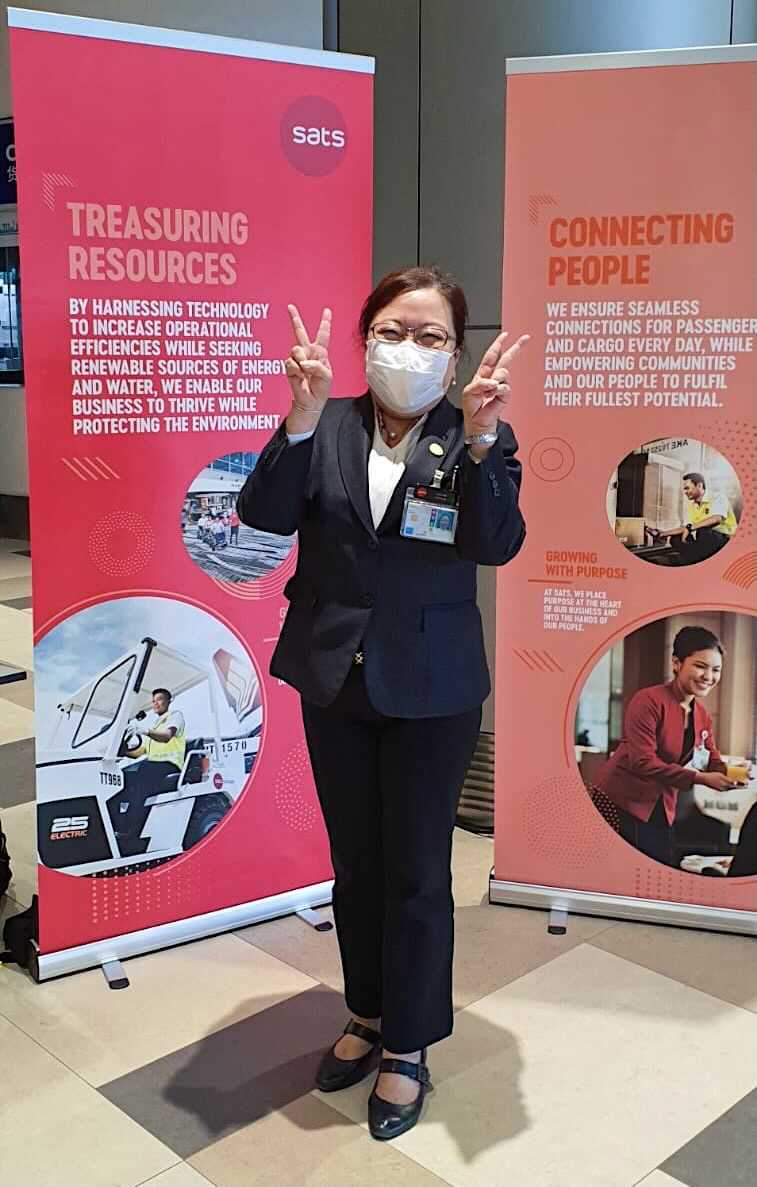 Lena Ho, T4 Vaccination Centre Ambassador, Passenger Services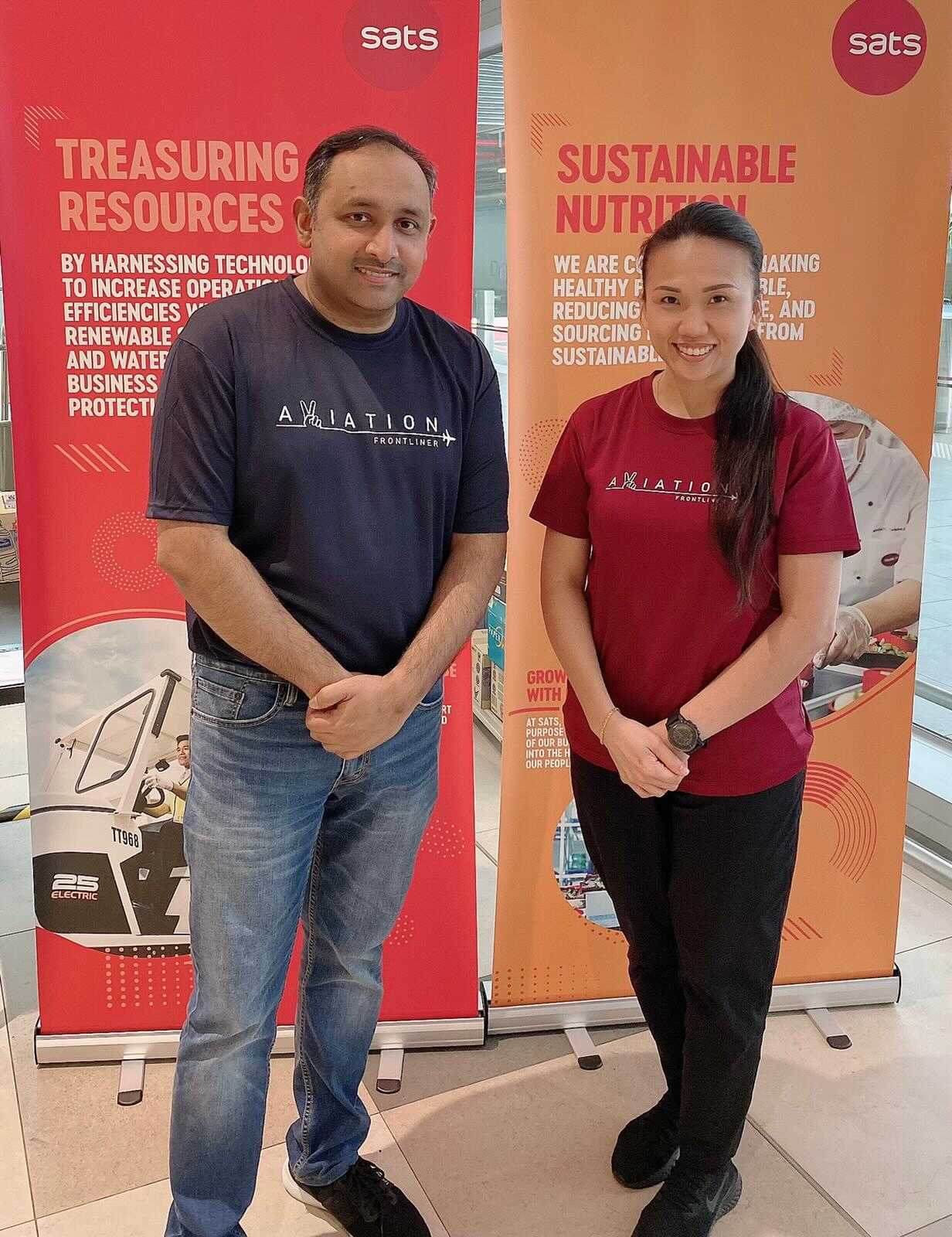 Ivy Khoo and Ravintharan, T4 Vaccination Centre Ambassadors, Passenger Services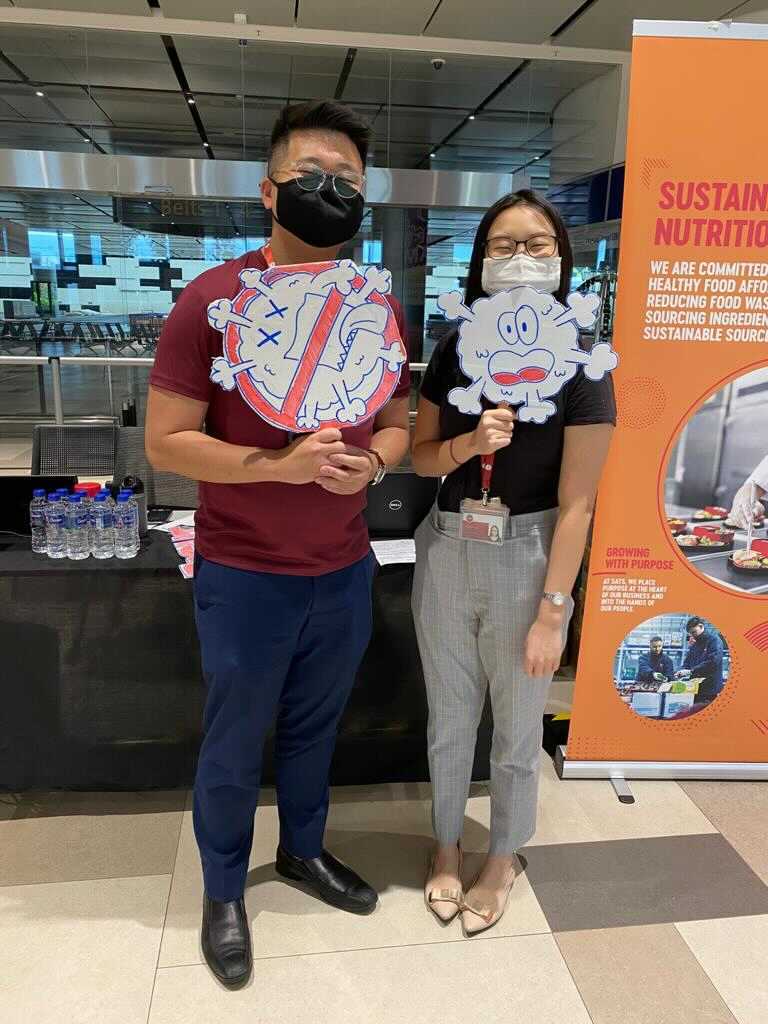 James Tan, Resource Planner, Ue Tsz Vaccination Command Centre, both from Passenger Services
Diana also attributes the success of the vaccination exercise to the BUPOCs (business unit point of contacts), pax ambassadors led by Fairoz, the command centre ICs, SATS security team and many others who had worked tirelessly to troubleshoot various investigations and help smooth the process. "This really was a team effort," she reiterated.
The hard work and late nights paid off, and in just two months, about 90% of SATS staff have been vaccinated.
Diana quietly admitted that it was really difficult for the whole team and many people had picked up the habit of catastrophising. To keep herself from feeling down, she had to constantly motivate herself. "I choose to believe in the goodness of people, it's my way of respecting myself and others. She adds, "one must always count their blessings - we must be thankful and grateful to those who offer their understanding, assistance and support."
At the heart of any crisis, is a strong sense of teamwork. Diana shared a philosophy she lives by at work: "come together in the beginning, stay together in the process, celebrate the success!"