Jeffrey, Equipment Operator, now knows why his father enjoys an airport job
Jeffrey Loh Wei Liang followed in his father's footsteps, leading him to a career as an airport ground handling staff at Changi Airport.
His father joined SATS as a Ramp Serviceman in 1998. Seeing his father prepare for work every day for more than 20 years made Jeffrey curious about what working at the airport felt like.
In 2019, Jeffrey joined SATS as an Equipment Operator. He tried to explore working in a different industry in 2020, but less than a year later, Jeffrey was back at the airport. This time, he knew he was no longer just following in his father's footsteps; he was following his heart.
"I like my job. I'm comfortable doing it every day," Jeffrey confesses.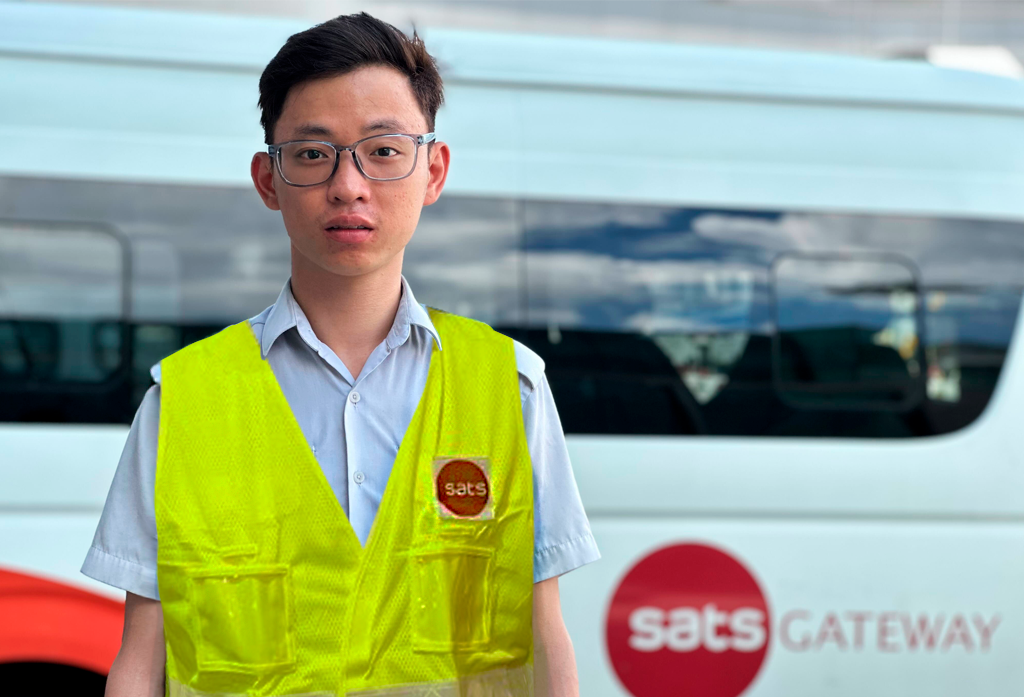 Jeffrey Loh Wei Liang, Equipment Operator at SATS
Being an airport ground staff
Jeffrey is part of the apron services team, working alongside the ramp loading officer and ramp servicemen. Together, they make sure all mail, baggage, and cargo are either loaded onto or unloaded from the plane.
See also: What does a ramp serviceman do?
As an Equipment Operator, Jeffrey is mainly responsible for transporting baggage, mail, and cargo. He does this by driving a tractor truck pulling a group of cargo dollies or baggage carts.
His job starts way before a plane is set to leave or land at Changi Airport. At least 60 minutes before his assigned flight, Jeffrey starts to set up the bay.
Jeffrey must clear the apron servicing area of any unnecessary equipment, vehicles, or containers. He then tows all dollies, big and small, needed to unload arrival cargo or load new departing cargo.
Typically, Jeffrey prepares 10 to 12 dollies for a regular arrival flight to ensure there are enough carts to carry the baggage and cargo.
The moment ground servicing starts, Jeffrey will be hard at work, driving to and from the apron to tow baggage, followed by mail, and then finally cargo.
Getting everyone's support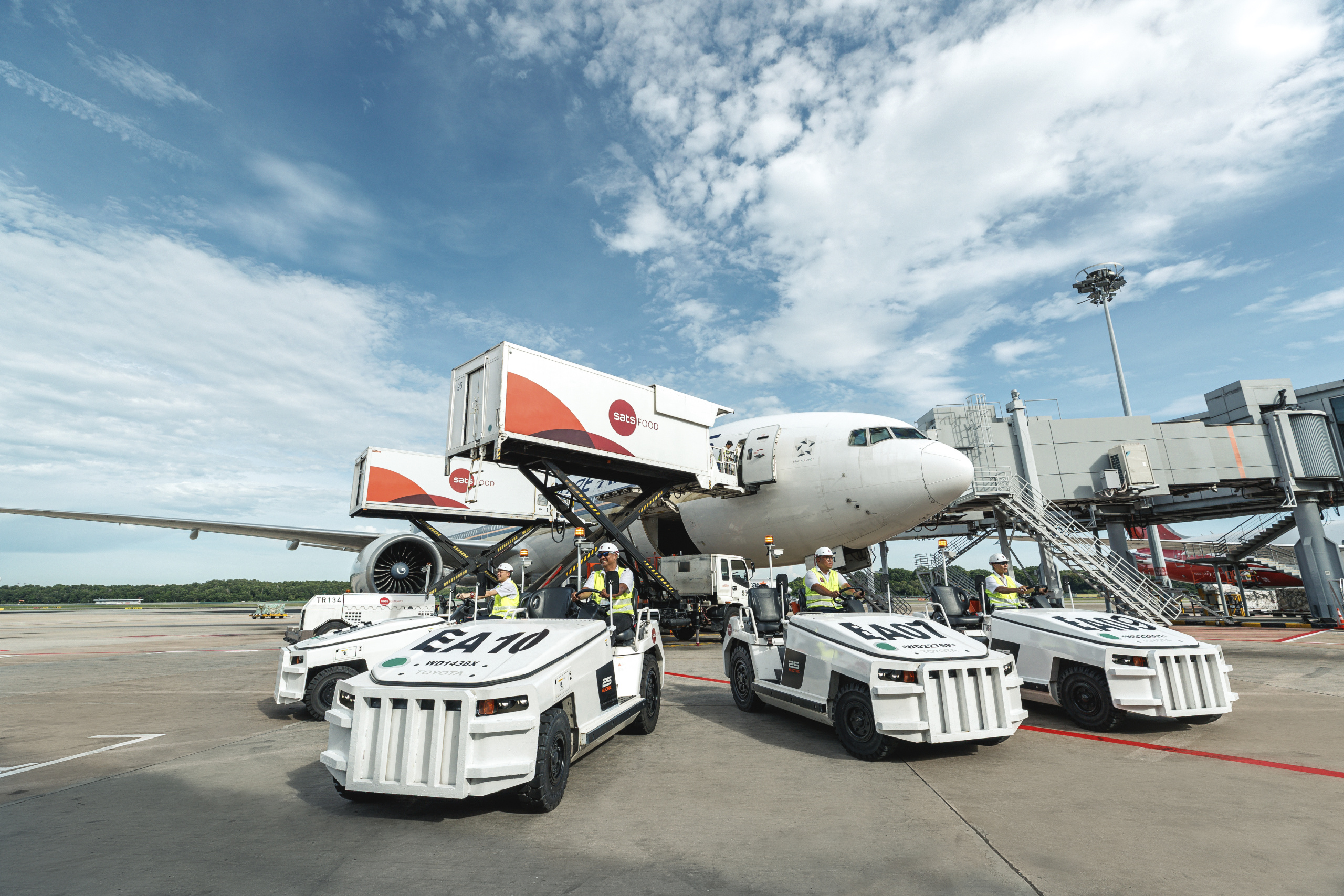 A group of SATS equipment operators
Working at the airport is always a team effort. "When you work at the apron, you understand teamwork better," he explains and continues to describe situations where their well-coordinated teamwork helps get the job done.
In the apron, everyone has the same goal in mind: fast and efficient ground servicing without compromising safety. Because they work towards one aim, they have each other's back. When someone in the team feels overwhelmed, the team does not hesitate to step in.
"Everyone knows what they need to do," Jeffrey adds. As he drives to the baggage unit, he knows that the ramp servicemen will load the remaining cargo containers onto the dollies.
They might not be able to hear one another while working, but they have special hand signals to still communicate effectively. Not only does this special code help them get their jobs done, but it also promotes safety while they're surrounded by huge plane engines.
Driving and working safely
The tractor is Jeffrey's main equipment to carry out his responsibilities. Every time he starts his shift, he first goes to check the tractor he will be using.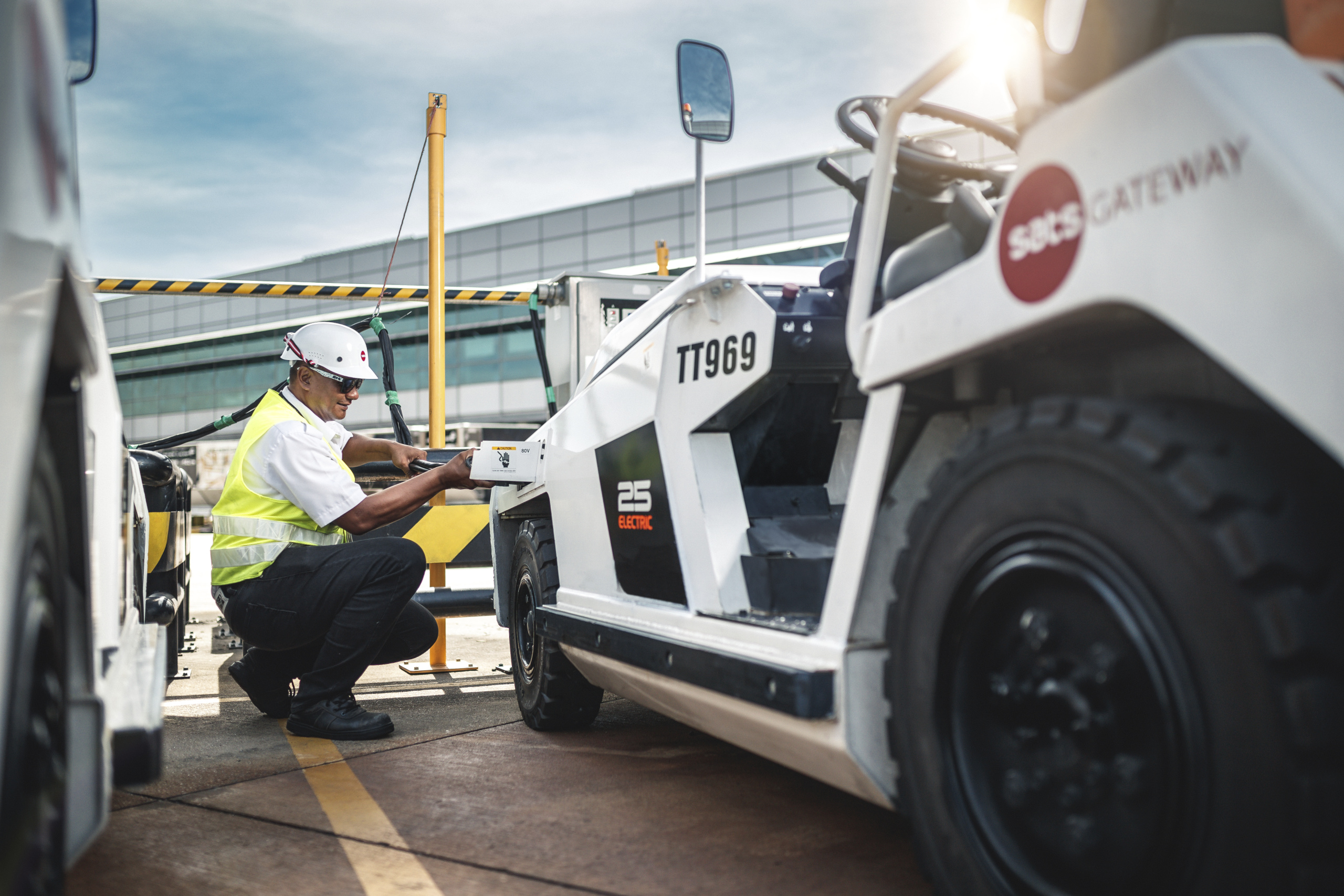 An airport ground staff charging an electric tractor
He makes sure it is fully charged as SATS Gateway now uses electric tractors instead of diesel-powered ones. He checks for any damage and the validity of its airside vehicle licence, and ensures that there is a functional fire extinguisher on hand.
Once he knows the tractor truck is safe for use, he gears up for his personal safety. He wears his safety shoes, a vest, and earplugs. Finally, he is ready to do the job he has become comfortable doing.
Jeffrey's job as an equipment operator requires both physical and mental aptitude. While it involves a lot of driving, it also requires Jeffrey to do efficient preparation and time management. He must know how to properly plan his tasks so that everything is completed within a given time.
After three years of working at the apron, Jeffrey can confidently say he finally knows why his father has been enjoying his job for 25 years already. The reason is simple: "This is a happy workplace!"
SATS Gateway is recruiting. Explore our vacancies here.
Join Us