My Job at SATS: I'm the second pair of eyes at the ramp
One rainy day at Changi Airport in 2020, the apron services team at SATS was waiting at a covered shelter on the airside. They were supposed to load cargo for a departing flight to Christchurch International Airport, but safety protocol necessitated a halt in all ground operations because of lightning activity.
Edwin, an air hub specialist (or a ramp serviceman or a ramp agent, as it is more popularly called), and his ramp loading officer (RLO) went through the cargo documents and noticed an item that requires special handling – a donor kidney.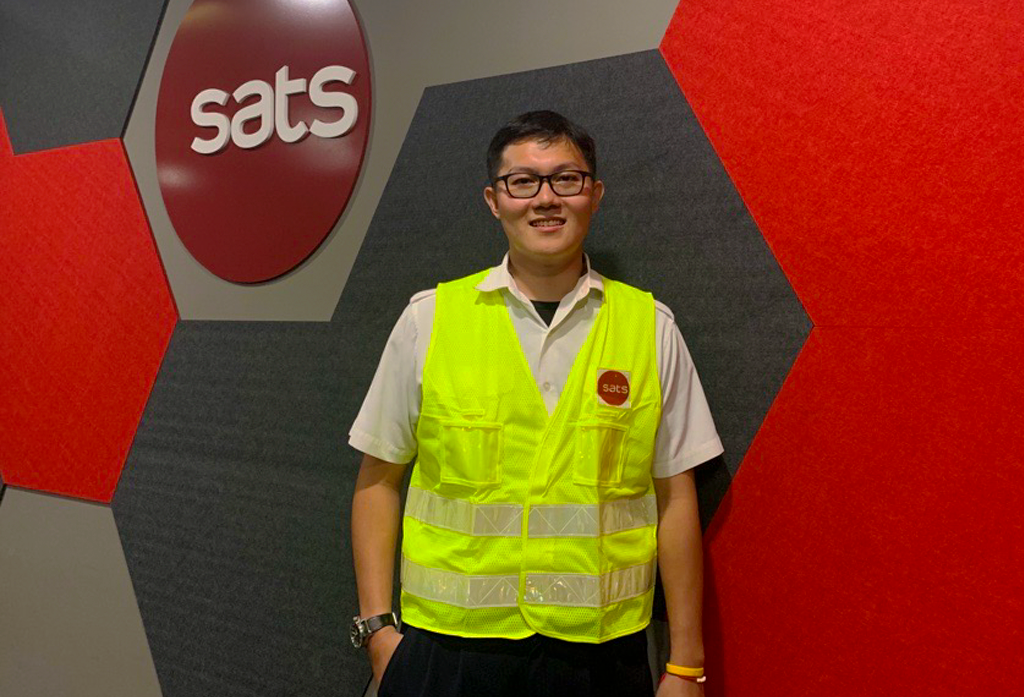 Edwin Tan, Air Hub Specialist at SATS
A patient in New Zealand was scheduled for a kidney transplant and waiting for the donor organ. Edwin and his officer knew that every minute counts in this medical situation, as an organ taken out of the human body can only be viable for transplant after a certain period.
Knowing this, the two of them decided to proceed with loading the aircraft, cautiously minding the organ's and their safety. Long story short, the organ was flown to its destination and saved a life. The flight crew even saluted Edwin and the team before taking off.
This story might easily be Edwin's favourite moment as a ramp agent. It is one of those times when he feels extremely proud of his chosen career.
Pride for a job well done
The apron services team, which consists of a ramp loading officer, equipment operator (EO), apron assistants (AAs), and ramp servicemen (RSM) like Edwin, begins to set up the aircraft's assigned parking bay twenty minutes before a flight's stipulated arrival at Changi Airport.
They prepare all equipment to be used for servicing, making sure everything is working properly. They review the cargo documents and loading instructions. They connect the passenger link bridge and test it out.
As soon as the aircraft engines are turned off, the apron (some people call it the tarmac), or the area where the plane is parked and serviced, gets extremely busy. On-ground operations are immediately carried out to ensure the next flight can depart on time and safely.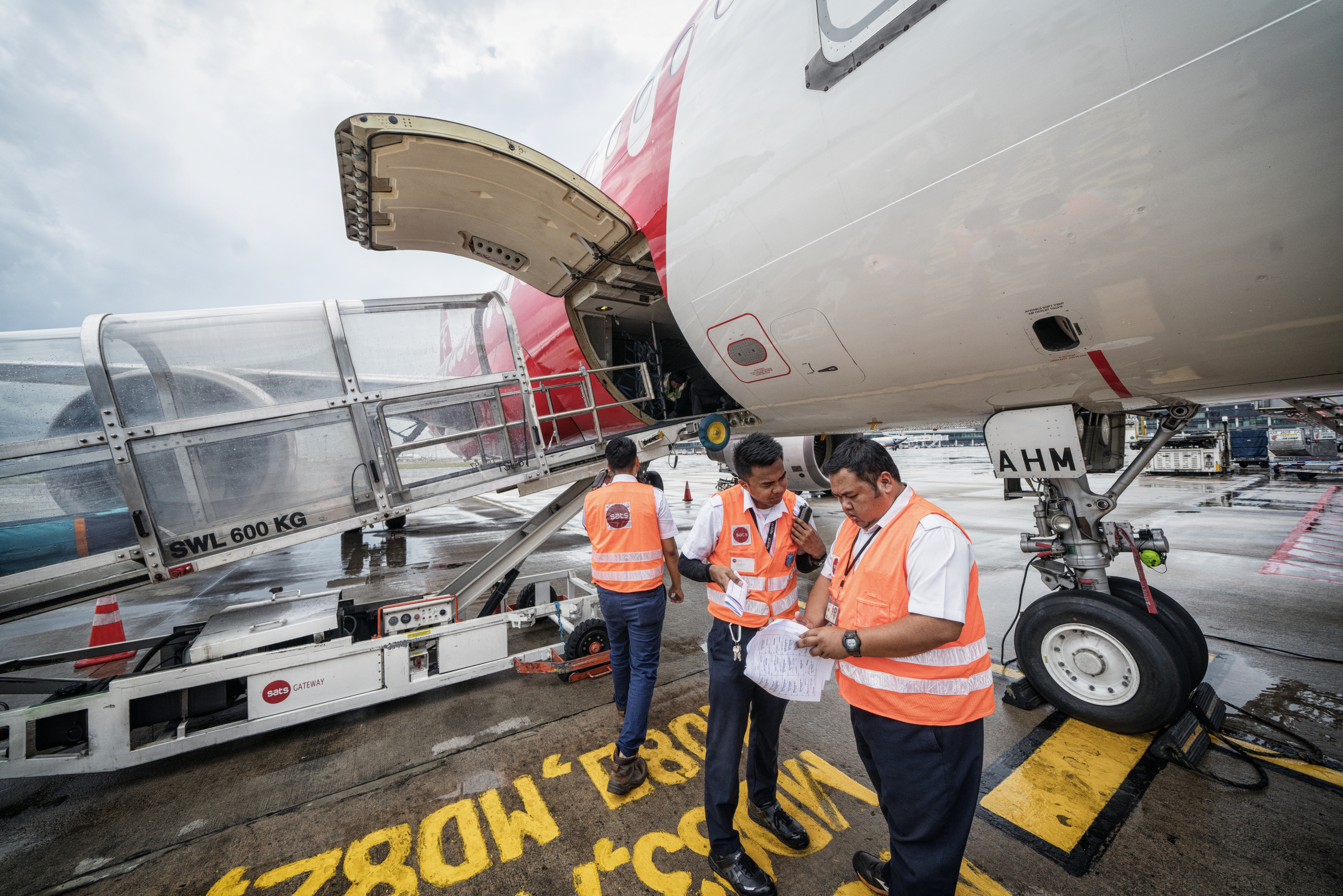 Apron services team conducting ground operations for an aircraft
Edwin's job as a ramp agent is to be the RLO's second pair of eyes. Safety is paramount in airport operations, and nothing must be overlooked. Edwin helps the RLO ensure that the apron services team carries out all necessary procedures efficiently and correctly.
"Any lapse on our end could be potentially risky for hundreds of passengers boarding the aircraft," Edwin earnestly explains. This is why he puts in one hundred percent on every flight he is assigned on.
As a ramp agent, Edwin can perform a lot of tasks. He climbs the cargo hole to re-check if the locks are secured. He drives the sky loader and reviews the in-flight systems. He helps wherever needed to complete all operations on time but thoroughly, knowing that his role as a ramp agent is crucial to keeping all passengers safe.
A fulfilling career
Edwin has been part of the apron services team for three years now. His passion for the inner workings of the airport stems from his interest in travel. When he was younger, Edwin dreamt of being a tour guide or a cabin crew member, hence, pursued hospitality and tourism at school. He just loves travelling.
But while he enjoyed the front-facing aspects of the aviation industry, what truly captivated Edwin was the behind-the-scenes operations. This ultimately led him to start his career at SATS.
Three years with the apron services team had been a fast, fun-filled journey, Edwin narrates. His love for travel did not go away, and in fact, it burns even brighter. Every day, he gets a sense of satisfaction thinking about the destination the aircraft will fly to. "It is as if I am travelling there myself, too," he says with a hearty laugh.
Apart from his passion, Edwin highlights how SATS has become a family he looks forward to bonding with each day. He is proud of how his team works together, despite the diverse background they have and the distinct roles they perform. "Now I know why a lot of my colleagues stay in this company for many years," Edwin reflects. To this day, he is still in awe of how they no longer need words to communicate, especially when working at the ramp.
An afterthought
Edwin admits that the ramp agent role is not for everyone. To be the RLO's second pair of eyes is a physically and mentally demanding job. To succeed, you must have excellent problem-solving skills and be disciplined enough to always put your full concentration into what you do.
If you're up for the challenge, however, Edwin assures you that being a ramp serviceman at SATS is a rewarding career. You make a real impact on the passengers' lives. "I can't be a hero every day," Edwin shares, "but by doing my work properly, I also save lives" – we couldn't agree more.
Join the apron services team. We are hiring!