My Job at SATS: I make sure your plane carries the right cargo
On sunny days, you might catch a glimpse of Jordan Tan, Air Hub Lead, at the loading ramp in Terminal 1, smiling and wearing a bright neon orange safety vest. On rainy days, he'll be the guy wearing a raincoat.
Rain or shine, expect Jordan to ensure your plane carries the right cargo.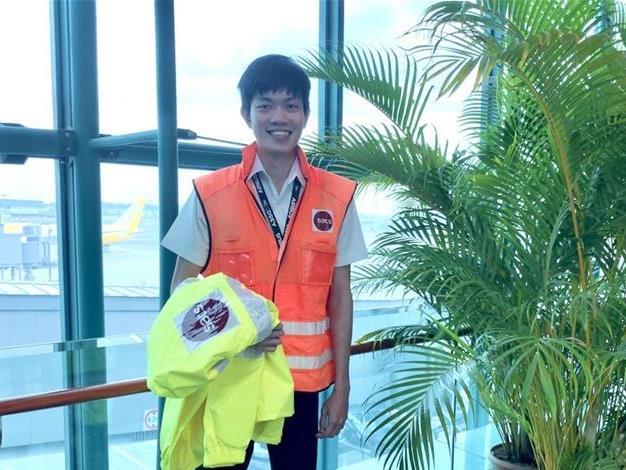 A day at the ramp
Jordan's day at the ramp starts with checking the flights his team of six is assigned to handle. Per shift, the team is typically rostered to handle five to eight flights. He then secures all necessary documents about the cargo of each flight.
Jordan confirms whether there are dangerous goods or perishable goods, organs and medical supplies that need special handling, unlisted cargo, and/or transfer cargo for connecting flights. Everything has to be listed and categorised to the highest degree of accuracy.
Once the aircraft arrives, the team starts the unloading and loading process.
What Jordan does may look easy or even unimportant. In reality, an air hub officer's role requires a specific level of mental and physical prowess crucial to protecting airline passengers' lives.
Protecting lives
Jordan joined SATS a year and a half ago as he has always been fascinated with how ground operations work. He treats each day as an opportunity to learn and serve passengers the best he can.
Because each aircraft can only carry an allowable weight – of passengers, their checked-in luggage, and cargo, Jordan makes sure that cargo is loaded correctly and safely and that the total weight is kept below the limit.
"I'm part of the team that makes sure these important things reach where they are needed, in proper condition," Jordan shares, his eyes lit with pride.
And if you ask him about his most unforgettable experience working as an air hub lead, he will tell you it was during the pandemic.
In 2021, the Changi Community sent 1,380 oxygen concentrators to Jakarta. He was part of the team that loaded the equipment on a Singapore Airlines flight.
The pride that comes with the job as an air hub lead is something that Jordan doesn't want to trade with anything. He feels proud to be able to help other people by doing his job excellently.
For him, a job done properly creates a domino effect that ensures a safe environment for both passengers and colleagues.
Everyone home safe
All is well at the ramp when the Singapore sky remains bright and calm, but when it pours, things can be quite challenging – not just for the flight crew and passengers, but also for ground personnel like Jordan.
Even when it pours, you'll see Jordan and his team doing their job. They load and unload cargo so your flight can take off smoothly and on time. The only difference is the additional bright green raincoats they wear over their orange personal protective equipment (PPE).
Working with SATS, he follows the "everyone home safe" priority. Hence, he always carries his ever-reliable raincoat with him: "I cannot get the passengers home safe if I am not safe, so it starts with me."
No baggage too heavy
Certain cargo may be bulky and heavy, but Jordan does not mind as he works with a team "who knows what they are expected to do."
With a thoughtful smile, Jordan compares his team to a family who "love what they do together". Rain or shine, the team, donned in PPE, loads cargo and does their utmost to get everyone home safe.
They bask under the sun together, brave the rain together, carry baggage together, and feel it become lighter. One obvious fact about Jordan Tan? He is happy where he is at, working hard to keep cargo, passengers and aircraft safe.
Looking for job opportunities with SATS?
.