Catching up with Kate Tan: How SATS Security remains unparalleled
Security, for Kate Tan, Head of Transformation, Sustainability and Support Services at SATS Security Services (SATS Security), is evergreen. It is continuously relevant – the same reason it is one of the most resilient industries and why Kate remains passionate about it.
As travel ramps up, Kate anticipates a new heightened demand for security. We sat down with her for a quick catch-up on how SATS remains agile and adapts to the changing security landscape in Singapore.
Here's what she has to say.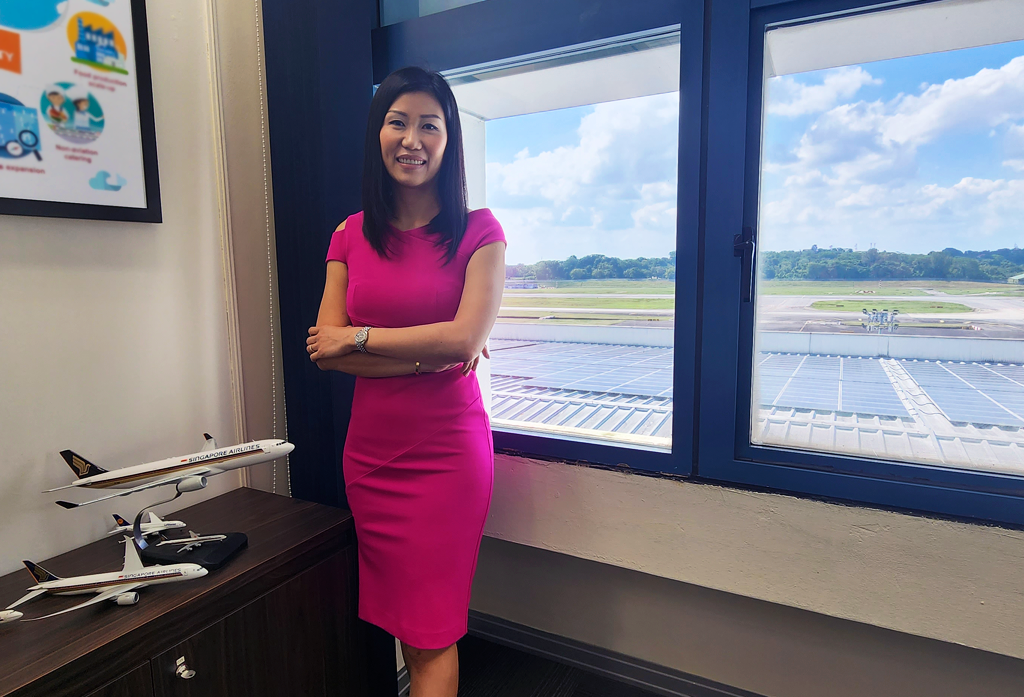 Kate Tan, Head of Transformation, Sustainability and Support Services at SATS Security
What has changed for SATS Security since our last conversation in 2021?
For one, our Outrider Unit has been seeing sturdy growth since we launched it in December 2021. We have officers deployed in areas outside the airport, for example, at major events in Singapore and during emergencies. We're so proud to have received compliments from our clients about our officers' professionalism and dedication.
SATS Security continues to expand. We are continuously recruiting officers to be part of our team. In fact, I'm happy to share that more women are choosing to become part of our ranks.
See also: I'm a female auxiliary officer who serves and protects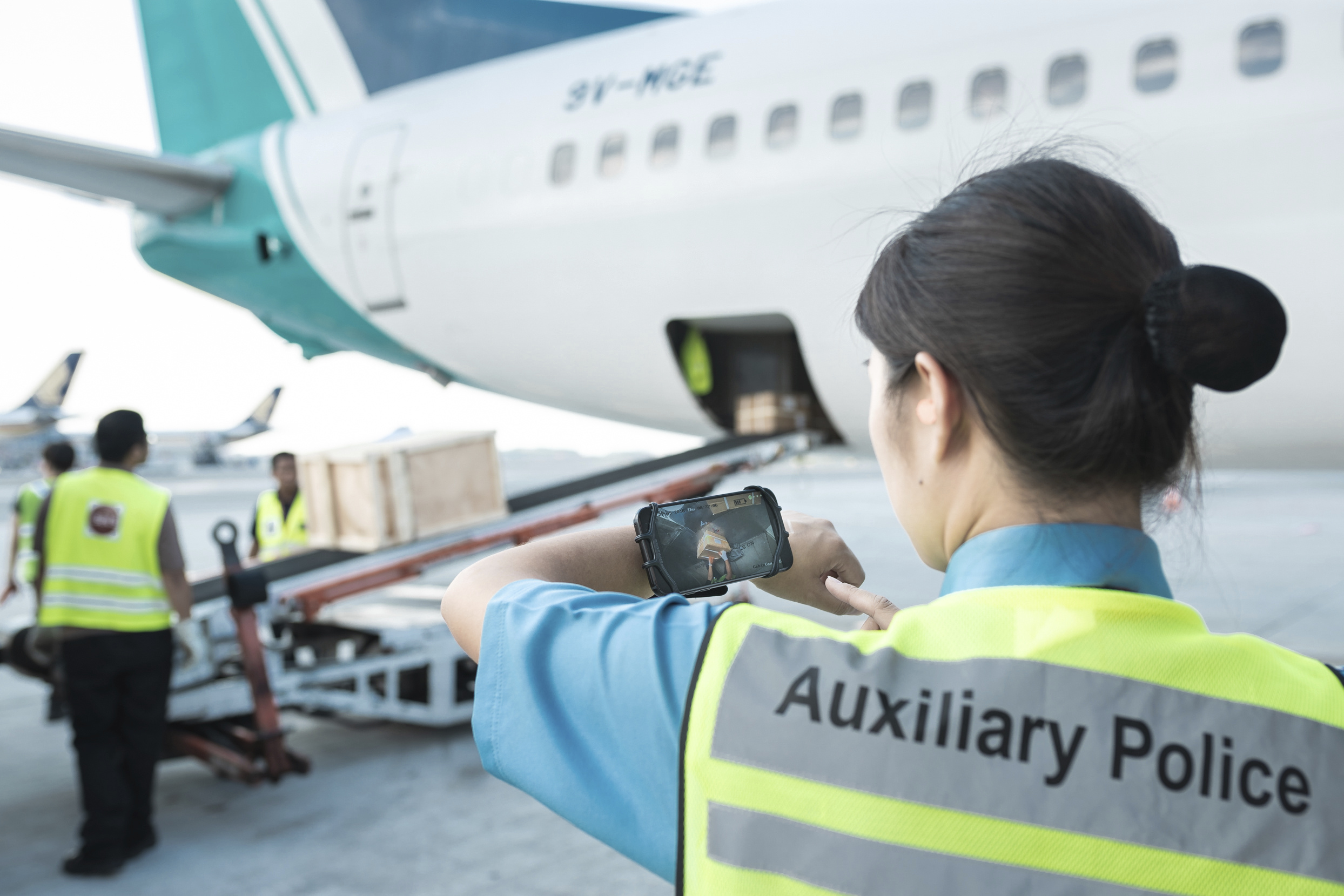 A female SATS auxiliary police officer conducting apron operations at the airside
We have also renewed our focus on sustainability, which has become a strong corporate imperative across industries. For SATS Security, sustainability is a must. We are in the midst of reviewing our use of electric vehicles and are fully committed in cooperating with company-wide sustainability initiatives. Since we are at the forefront, we are able to help our clients achieve their Science-Based Targets initiative (SBTi).
What opportunities await Security and Auxiliary Police Officers at SATS?
SATS, being the leading gateway services and food solutions provider in Asia, offers an incomparable experience for anyone who loves the aviation industry.
We are an accredited public training organisation (PTO), which means we can extend our expertise to internal staff, the public, and external agencies for consultancy, training, and technology.
When we say SATS Security, we not only refer to security per se. Our officers get to work with our colleagues from other business units, like Passenger Services, Cargo, and Catering. As a group, our goal is to bring a meritorious experience to all passengers at Changi Airport to uplift Singapore's Changi air hub status.
Aside from the aviation space, our officers also get the chance to connect with people of all walks of life and travel to various locations for deployment, through our overseas escort security services, for instance.
These are just a few of the many perks available to our auxiliary police and security officers. Ultimately, we ensure our officers find security a fulfilling profession at SATS.
On that note, how does career progression at SATS Security work?
We evaluate our auxiliary police and security officers based on meritocracy. It's not a matter of how long they have been in service. We have many officers who have been promoted in just under two years because of their exemplary work performance.
We give credit where it is due. Our officers are valued and rewarded for their noteworthy performance, commitment, and loyalty. We support aspiring officers in their career roadmap through comprehensive developmental programmes for those who are ready for leadership roles.
At SATS Security, we embrace continuous learning. We ensure our officers' skills stay relevant and on par with the rest of the industry. For niche courses in aviation, we see to it that officers are skillfully trained, and we engage trainers and subject-matter experts from around the world for this goal.
SATS is one of the largest employers in the region. This means we have enough roles for job rotation, so, our officers can best unveil their interests and potential.
We know officers who have been with SATS for more than 20 or 30 years. Why do you think our officers stay with SATS Security for a long time?
I have always believed that there are a lot of factors that form an ideal workplace. At SATS Security, we invest in our people. We have sterling human capital policies, including bonuses, incentives, salaries, and staff wellness, to retain talents. We are delighted to see that our officers are happy and stay with us for a long time.
See also: I've been an Auxiliary Police Officer at SATS Security for 37 years
SATS Security is looking for security officers and auxiliary police officers. What would you say are the top skills required to succeed in these roles?
Security officers and auxiliary police officers at SATS must have the right attitude and aptitude to learn. As I mentioned, we nurture our officers. We have a robust training framework for their professional development. With this, they must have the willingness to advance their skills as well as their technological knowledge, which will greatly help them execute their jobs seamlessly, communicate effectively, and work productively.
Is it safe to say, then, that technology is integral to SATS Security?
Yes. SATS Security is known to provide end-to-end solutions integrated with technology. We live up to that standard. We capitalise on innovative technologies to simplify tasks so that our officers can focus on priority matters. One example is our Cargo Security Control Centre (CSCC), a collaboration between Cargo and Security, which allows for better visibility and coordination during emergencies.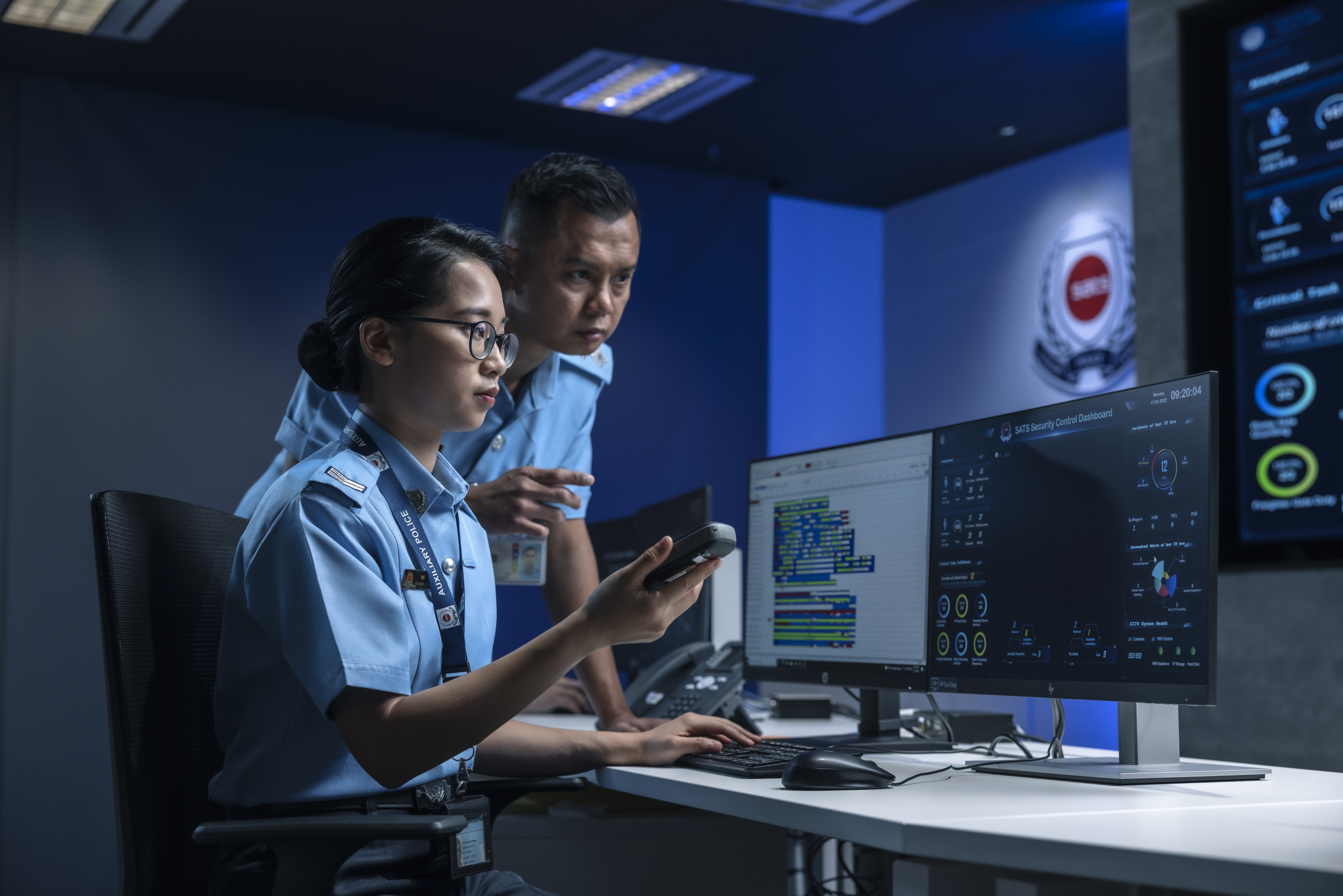 SATS Security Officers in action at the Cargo Security Centre
What else does SATS Security implement to maintain its high quality of service?
Besides the annual training courses, our officers also undergo systematic on-the-job training before deployment. We also have an Inspectorate Team who conducts daily audit and consultation with the officers. We focus and build on our officers' strengths and train them to attain their goals.
How crucial is the role of security officers and auxiliary police officers in aviation?
Security is extremely critical in aviation. In an airport, safety is paramount and there is zero tolerance for complacency. SATS Security, through our Auxiliary Police Officers and Security Officers, works towards providing a safe environment within the airport premises. We protect people, assets, and businesses from any potential threats.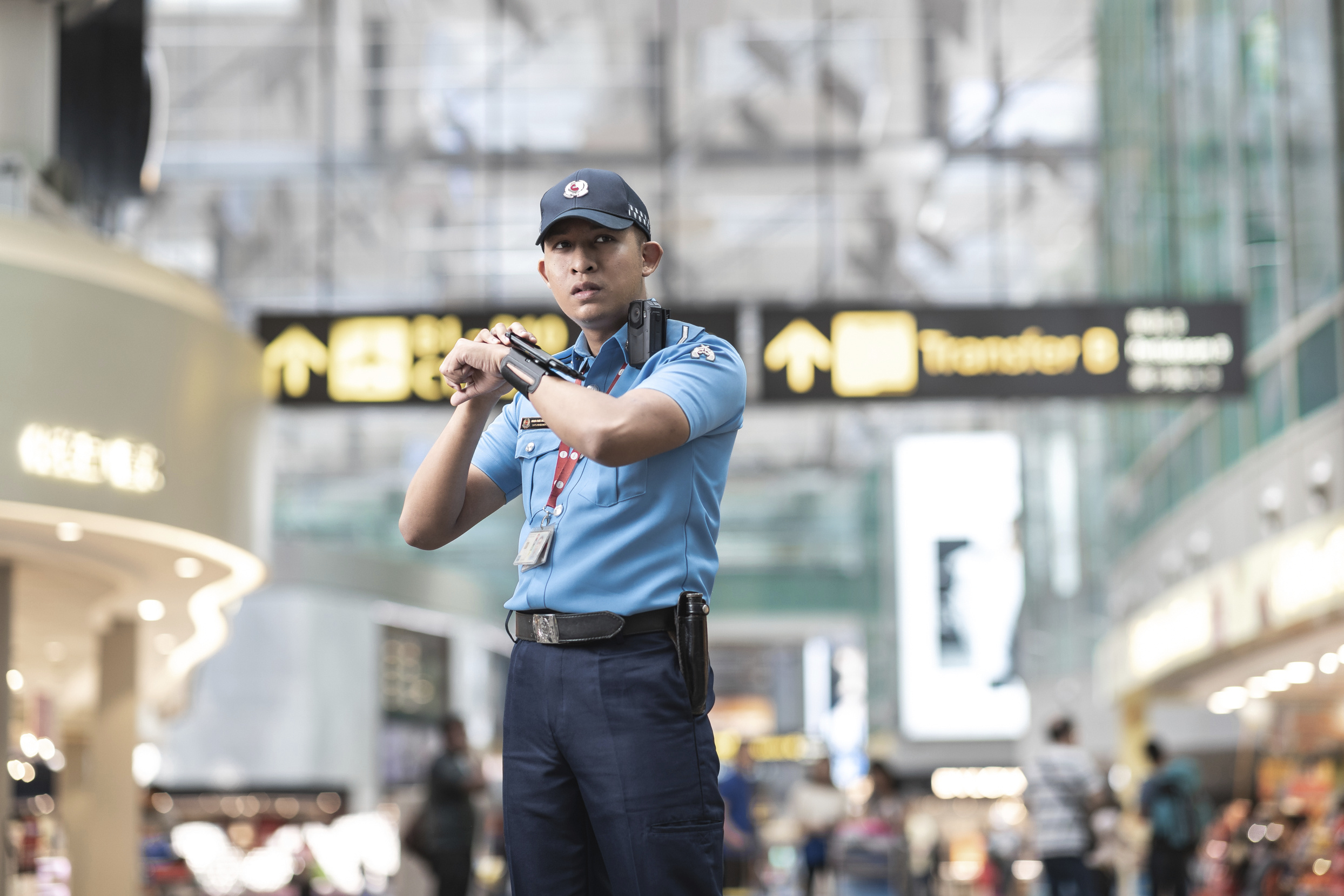 An officer working at Changi Airport
Why is SATS Security the ideal place for aspiring security and auxiliary police officers?
SATS has a rich heritage. We have opportunities for you that you will not find elsewhere. We are equipped with world-class expertise in both the aviation and security industries. Now that international borders have re-opened, we see a rising demand for security in airports.
We welcome those who are passionate about aviation and security to join our team as soon as possible. Not only will you be moulded into well-rounded and competent officers, but you will also enjoy attractive incentives and joining bonuses that are progressive with the market.
Ready to start your career with SATS Security Services?