I'm a female auxiliary police officer and I'm proud to be one
Hayatimah binte Baah ("Hayati" as her team fondly calls her), Auxiliary Police Officer at SATS Security Services (SATS Security), has seen the evolution of Singapore's security industry, having started her career as a female auxiliary police officer at a time when everything was still manual.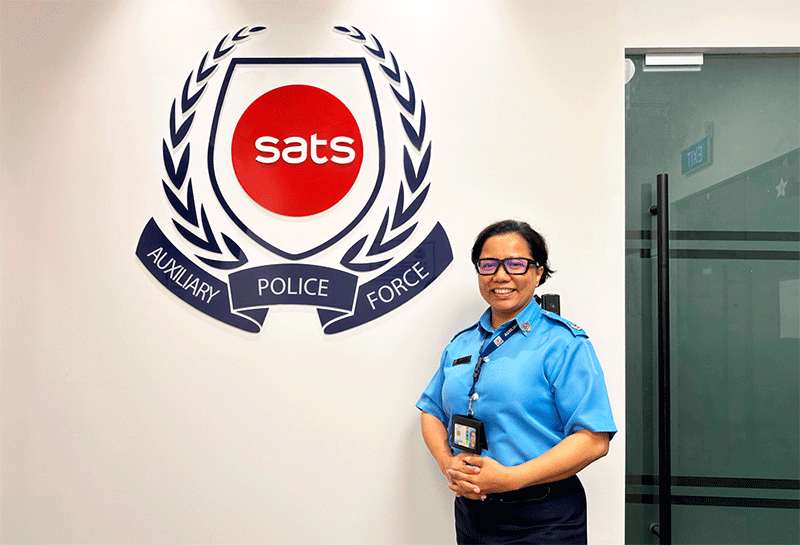 CPL (APF) Hayatimah binte Baah from SATS Security
She remembers the day she joined SATS. It was 11th September 1995. Hayati was 20 years old, fresh from school, and extremely passionate about building a career in policing.
Initially, Hayati was assigned to manual passenger screening in Changi Airport's departure halls. Later, with the implementation of new security technology, she was moved to apron operations, where she was part of a team responsible for ensuring the safety of crew and passengers on departing aircraft.
Regardless of the place of deployment, be it in direct contact with passengers or with the flight crew, Hayati is content to work in an environment surrounded by the excitement of travel.
A win-win deal
Hayati always had a penchant for traditionally male-oriented pursuits. She is enthusiastic about sports and is often the first to sign up for marathons. Contrary to how most of her peers react, Hayati eagerly anticipates the mandatory annual shooting course. She longed to wear a uniform as a female police officer.
Hayati's interest in policing goes beyond just any job. She is specifically drawn to airport policing, as she loves travelling and is always excited to fly to new places. Thus, when presented with the opportunity to work at the leading gateway services provider, she jumped at it.
"My luck is here," Hayati would say, recalling her happiness when she landed the job. Her career at SATS Security as a female auxiliary police officer has not only been fulfilling but has also been the source of some of her most cherished memories.
Warm fellowship
Almost three decades of policing at the airport and Hayati still unabashedly declares "I enjoy my job!"
Being in the security industry demands long work hours, she admits, but she is able to manage because of the camaraderie they have in the team.
Hayati's team is diverse, with officers of different age, gender, and race. Despite the differences, they work together to ensure the safety of passengers and the entire Changi Airport.
She works with people she considers as "family" – one who goes to flight assignments together, takes breaks together, "makan" together, and even travels together. Such teamwork and bonds are the reasons why most of them have been with SATS Security for decades and counting.
See also: Kate Tan, DGM at SATS Security on career progression for officers
No exceptions
When Hayati joined SATS Security in 1995, there were five female officers in her batch. Today, the number of female auxiliary police officers in the team has increased, much to Hayati's delight.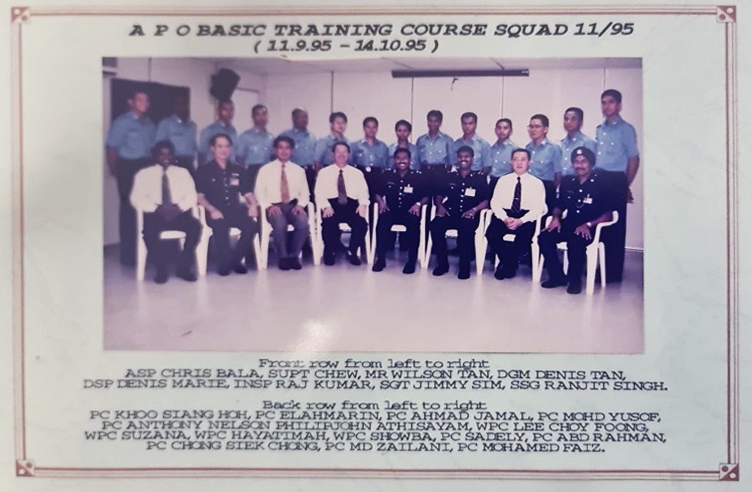 Squad photo of Hayati's batch when she first joined SATS Security in 1995
In a primarily male-dominated field, femininity is often perceived as a hindrance. Hayati disagrees. For her, male and female officers should be held to the same standards. "I don't need any special treatment just because I am a woman," she highlights.
At SATS Security, both genders are expected to fulfil the same responsibilities – which Hayati believes is only fair.
Being an auxiliary police officer, for Hayati, is not about one's gender, age, or race, but rather about one's ability and passion. "If you like the job, then go for it," she shares, exemplifying two of her colleagues, a male and female officer, who are both over 60 years old and still actively involved in apron operations.
A wealth of experience
Hayati currently does administrative work for a team of almost 300 officers. She mentors them and teaches them the ropes of the job.
For Hayati, even the most unpredictable security incidents are opportunities for growth and learning. Whether it be escorting inadmissible passengers overseas or responding to bomb threats or plane accidents – all of which Hayati has encountered – she sees these as chances to make a positive impact.
With her extensive experience, Hayati continues to be a valuable member of the auxiliary police force and a mentor for her younger colleagues. She's more than glad to see more women showing interest in the profession, especially if it aligns with their passions.
Hayati has seen the policing role evolve over the years, having joined SATS Security at 20 years old and eventually building her own family. Through the years, Hayati can say one thing about her passion for her job: "It remains the same," she says with a tone of finality.
We are hiring security officers and auxiliary police officers.