50-Year Long Service Awardees: Celebrating half a century of dedication at SATS
Imagine dedicating five decades to a singular purpose, a single place. It's rare in today's fast-paced world, but within SATS, it's a reality.
This 2023, SATS honours 315 Long Service Award recipients, who have stood by the company for 25 years or more. Amongst them, a group from Apron Services stands out: Foo Hee Koon (Ramp Training Officer), Goh Wah Kwee (Operations Assistant), Liew Yiat Kim (Ramp Loading Officer), Soon Chin Meng (Operations Assistant), and Poh Ah Kow (Ramp Training Officer). They are not just celebrating 25 years; they are raising the roof for an incredible 50-year journey with SATS.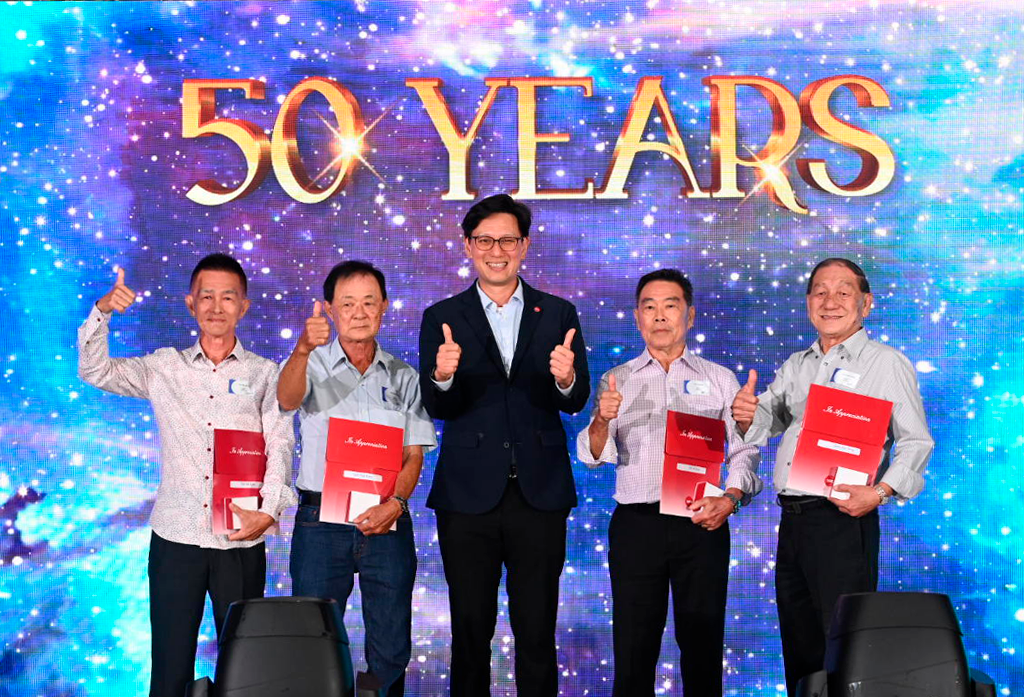 50-Year SATS Long Service Award Recipients for 2023 Foo Hee Koon, Goh Wah Kwee, Poh Ah Kow, Soon Chin Meng, all from Apron Services, pose for a photo with SATS President and CEO Kerry Mok
Building a path in history
Picture the year 1972. Smartphones were not yet existent, and the internet was a distant dream. The aviation industry was on the cusp of transformation. A group of individuals, initially strangers, stepped into SATS, a place that would become their second home for the next five decades.
Hee Koon, Wah Kwee, Yiat Kim, Chin Meng, and Ah Kow began their journey as young recruits with simple roles. Over the years, they have seen it all — from changes in technology to evolving company dynamics. These strangers from diverse backgrounds blossomed into friends, more like family. They witnessed SATS' history unfold; but they were not just observers, they were active contributors.
As they mark their 50-year milestone, let's shine the spotlight on their stories – stories that are more than just tales of work, but also of resilience, friendship, growth, and gratitude.
A journey of constant evolution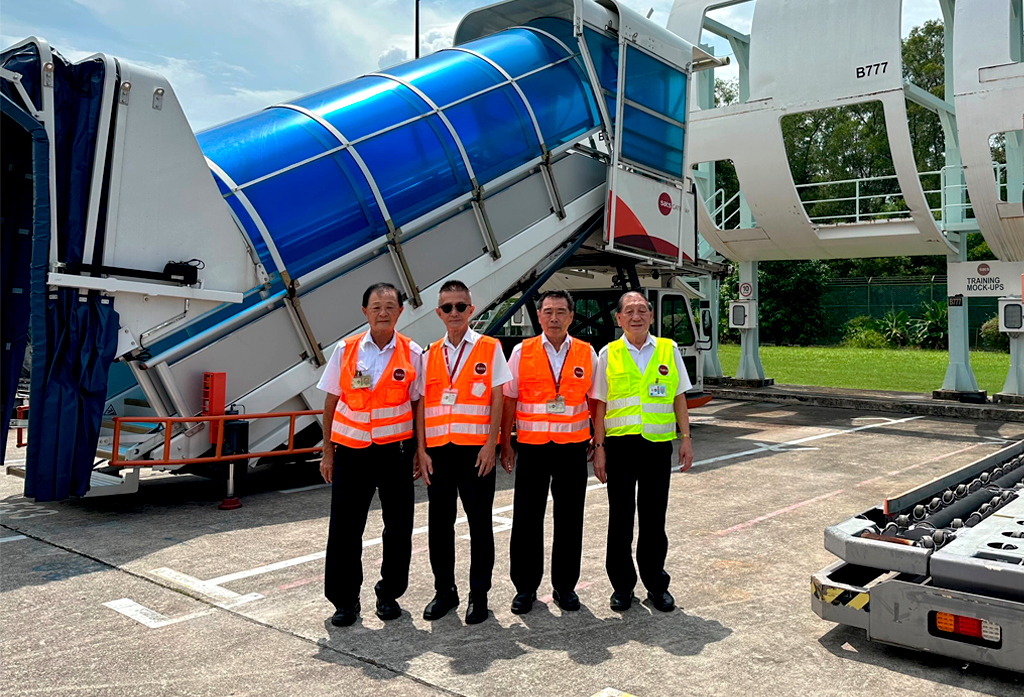 Goh Wah Kwee, Foo Hee Koon, Poh Ah Kow, and Soon Chin Meng have been working at the ramp for five decades
Change has been the gentlemen's constant companion throughout their journey at SATS. The aviation industry transformed, and so did they.
Amidst the changes, one thing became clear — adaptability is the key. As Hee Koon aptly states, "You can't stay still when everything around you is moving."
Chin Meng jumps in, "When I joined, there were no computers yet, but I taught myself computer skills to do my job." Yiat Kim nods in agreement, sharing his journey from in-flight catering to apron services: "Switching from the kitchen to the ramp was a world of difference, but I embraced the challenge and quickly adapted."
Read also: I have been working at the SATS kitchen since 1978
Now ramp training officers, Ah Kow and Hee Koon look back fondly on their early days at SATS. They were jacks of all trades, tackling various tasks on the ramp, including loading, unloading, and driving airside vehicles. Chin Meng, a man with a ready smile, reflects on his journey: "I kept on upgrading myself to reach this 50-year milestone."
These veteran ramp team members have seen the transition from diesel-powered tractors to electric vehicles, from pen-and-paper to digital systems, and even survived two pandemics, Covid-19 and SARS. They have tackled it all, proving that age is just a number when it comes to learning.
A company that cares
Beyond the mechanics of their job, these gentlemen have found something special that has kept them rooted at SATS for half a century. SATS is more than a workplace; it is woven into the fabric of their lives.
Wah Kwee, for instance, happily recounts how SATS supported his children's education through bursary awards, a gesture that speaks volumes about the company's character. Meanwhile, Ah Kow echoes a statement that rings true to many, describing their team as an extended family. "Without supportive colleagues and a great team, we wouldn't stick around for 50 years."
The face of Ramp Training Officer Hee Koon lights up as he shares the heartwarming tales of recognition from former trainees with a cheerful "Hi, Uncle!" These trainees have grown into seasoned ramp servicemen and equipment operators, and seeing them excel fills him with pride akin to watching his own children flourish. Such moments make SATS not just a workplace, but also a place where lasting relationships are nurtured.
Read also: I am a Ramp Serviceman, the second pair of eyes at the ramp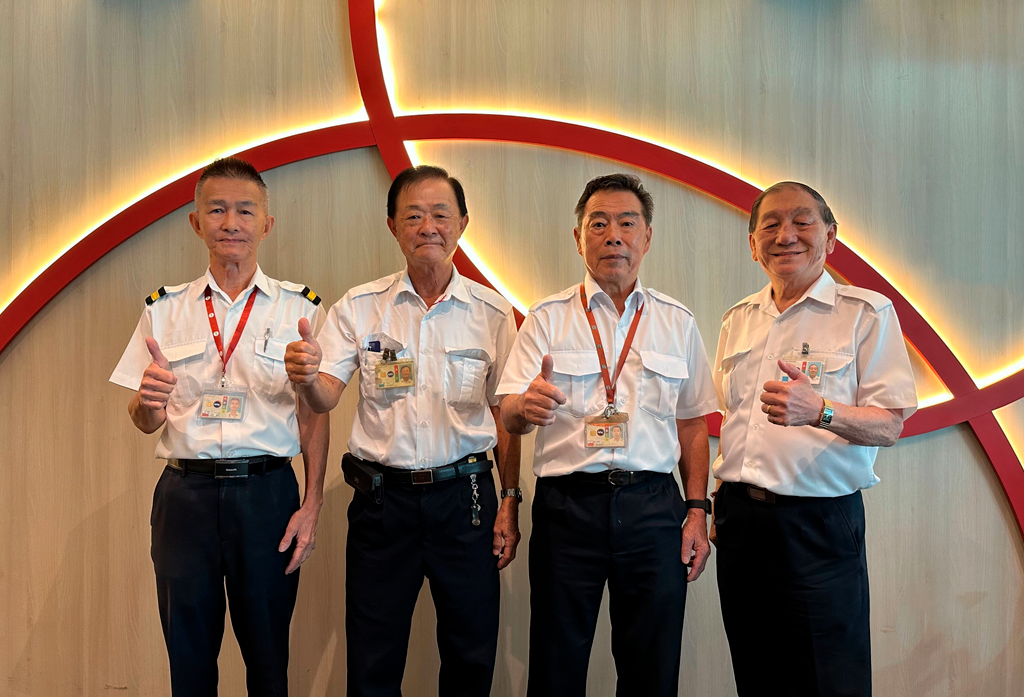 50-Year Long Service Awardees Foo Hee Koon, Goh Wah Kwee, Poh Ah Kow, and Soon Chin Meng
Voices of wisdom
The aviation industry has transformed significantly over five decades. Despite these changes, Ah Kow, Chin Meng, Hee Koon, Wah Kwee, and Yiat Kim have remained steadfast, proving that commitment and camaraderie form an indelible part of any company's legacy. They remind us that being loyal is not about being stagnant; it is about growing together.
Their collective wisdom is simple – embrace change, be patient, and appreciate the value of time. As Chin Meng puts it, "Just upgrade yourself and be willing to learn."
Committing half a century to a single purpose is no small feat. Our 50-Year Long Service Award recipients did just that, and their stories are our inspiration. From the simplicity of the past to the complexities of the present, they have seen it all, and more importantly, they have thrived.
Here's to fifty years of unwavering commitment, and friendship!
A Fulfilling Career With SATS Starts Here