Embracing a new career path with Country Foods Pte Ltd
How can a leap of faith into a new career path lead to a remarkable journey?
Meet Chia Hui Liew, one of the newer members of Country Foods Pte Ltd (Country Foods), who has fearlessly transitioned from interior design to becoming part of the food industry in Singapore. Let's get to know her story of transformation and discovery.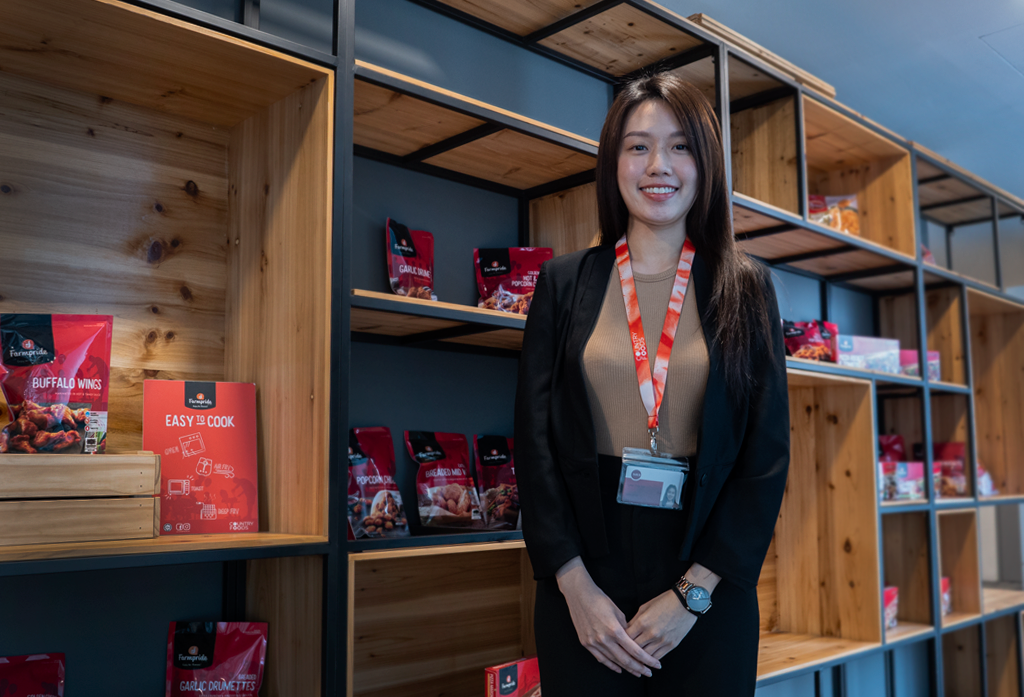 Chia Hui Liew, Management Support Executive at Country Foods Pte Ltd
A career switch and new horizons
Chia Hui's stint with a Japanese interior design firm was concentrated on sales and marketing, honing her perfect blend of creativity and business acumen. For five years, Chia Hui worked to help clients create spaces that reflect their dreams and personalities.
Curious about what it was like to spread her wings in a completely different field, Chia Hui stumbled upon the Management Support Executive role at Country Foods. At first, she had a lot of apprehensions, having zero experience in the food industry. But her thirst for constant learning overpowered the anxieties. "It's a different industry, that's what made it more thrilling for me," she underscores.
Discovering the fact that Country Foods is affiliated with SATS, Chia Hui got the nudge she needed. "I couldn't pass the chance to broaden my horizons," she recalls, fully aware of the extensive network SATS offers.
Fast forward nine months, Chia Hui warmly welcomes us to her new home at Country Foods, eager to share what she has learnt about the company and how the journey has been thus far.
Read also: From Director in the F&B industry to Security Officer at SATS
The journey with Country Foods
Chia Hui immediately dispels the misconception that Country Foods is merely a food distributor in Singapore. "It's actually a one-stop provider for all your food needs," Chia Hui points out.
A wholly owned subsidiary of SATS, Country Foods is one of Singapore's largest food importers, distributors, and manufacturers. Surprisingly, many people are unaware that they consume Country Foods' products in various forms.
If you've ever savoured frozen ready-to-heat buffalo wings or chicken drumsticks from the supermarket or dined at a popular fast food chain, chances are you've indulged in Country Foods' offerings, through the processed food products and ingredients supplied to supermarkets and restaurants.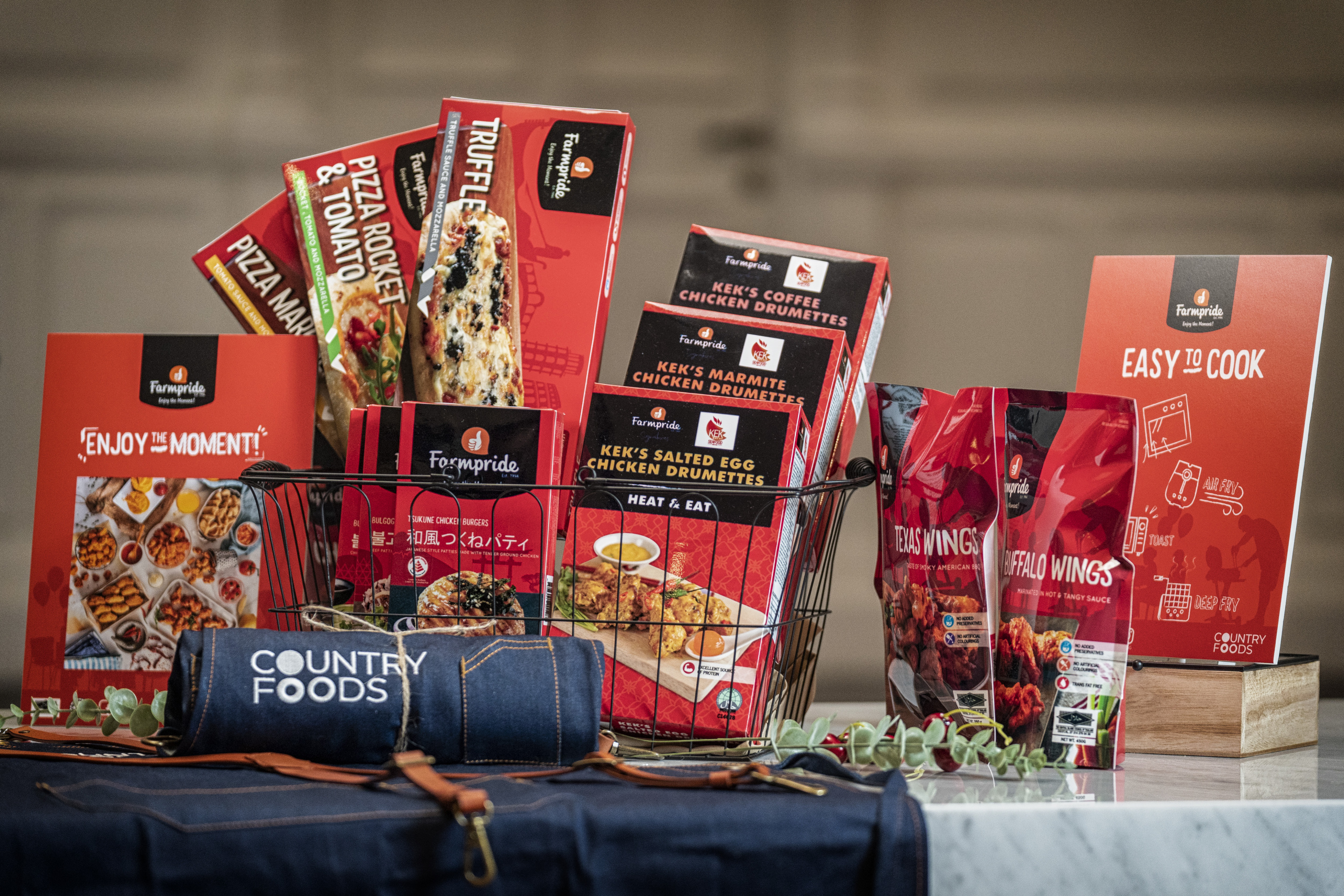 Farmpride products by Country Foods
Farmpride has taken the spotlight in its impressive brand portfolio. It is Country Foods' flagship brand with a strong presence in local supermarkets for almost three decades. A household name in Singapore, Farmpride offers an array of mealtime delights and party snacks.
Similarly, there's Amir's, a brand of halal frozen protein options, like minced chicken, stir fry beef, and beef shabu shabu, exclusively available at NTUC FairPrice stores. Country Foods has also expanded its portfolio to include Butcher's Ridge, an extension of Amir's that appeals to a wider retail market, and Kuro, which specialises in pork products available through e-commerce platforms.
Chia Hui also excitedly shares a sneak peek of their upcoming brand, Fishermen's Cuts, set to launch this 2023, to offer a range of ready-to-heat seafood and fish products.
A culture of innovation, passion, and sustainability
Chia Hui believes Country Foods' success lies in its unwavering commitment to innovation and passion to delight customers. With teams that study the ever-evolving consumer demands, the company continuously explores new avenues to develop products and services to meet those needs. "I believe this dedication to staying ahead of the curve sets us apart from other food distributors in Singapore," she shares with pride.
In addition to its brand portfolio, Country Foods provides value-added products and services to clients. As a trusted go-to-market partner in Singapore, it has forged partnerships with businesses seeking innovative and sustainable food solutions.
For instance, Country Foods has collaborated with companies that specialise in alternative proteins, such as Impossible Foods, v2, Happiee, and First Pride. Chia Hui adds, "This highlights the company's commitment to meeting the increasing demand for plant-based and sustainable food choices."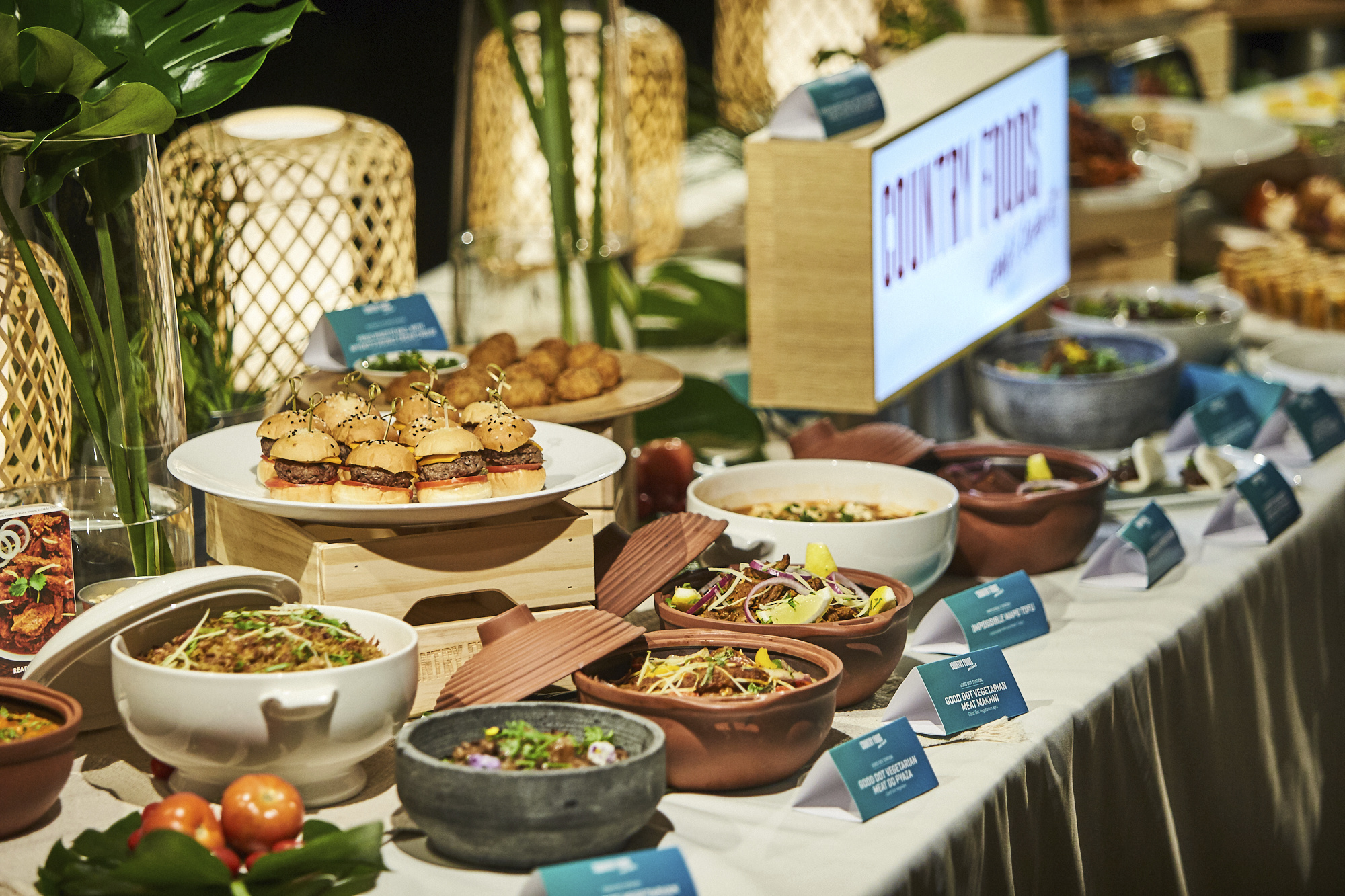 A showcase of plant-based proteins by Country Foods
Country Foods takes its commitment to sustainability to new heights, going beyond its operations and extending to its partnerships with suppliers. "We believe in starting from the source, so we work hand in hand with farmers and vendors as we take a holistic approach to sustainability," Chia Hui explains.
Beyond an innovative and sustainable approach, it is the passionate team behind the company that truly drives its success. Recognised as one of Singapore's Best Employers in 2023, Country Foods is fuelled by a collective passion of around 400 professionals spanning various departments to deliver quality products.
Reflecting on the camaraderie amongst her colleagues, Chia Hui acknowledges, "They are so selfless in sharing their knowledge and expertise with someone like me who comes from a very different industry." Hence, even though the learning curve is steep, Chia Hui regards her career transition to the food industry as highly rewarding.
Crossovers and new frontiers
Our conversation with Chia Hui takes us on a road of discovery about Country Foods and the vibrant journey of a career switch. We find her as someone who has wholeheartedly embraced the new industry she's in, with nothing but profound gratitude for her past experiences and how they fuse seamlessly with her present role.
As a Management Support Executive, Chia Hui does a lot of coordination and administration. She orchestrates project timelines and ensures all tasks are kept on schedule.
Interestingly, Chia Hui discovers some surprising similarities that bridge the distinct industries of design and food manufacturing. "Both industries require a keen eye for detail," she reveals. Although their products differ, the essence remains unchanged—delivering results that cater to customers' unique needs.
Managing timelines is another skill she finds crucial in both industries. "They share a common thread," Chia Hui enthuses, "where I get to guide the seamless execution of projects, ensuring that they materialise as envisioned, punctually and precisely."
One of Country Foods' trucks ready to deliver quality products to customers
Looking towards the future, Country Foods is gearing up to expand its reach beyond Singapore. With significant strides already made in recent years, the company has its sights set on establishing a strong presence in international markets.
Chia Hui finds all these opportunities exciting. As someone who always seeks constant learning, she finds Country Foods the perfect environment for her professional growth. "It's the kind of company that aligns with my aspirations," she concludes.
Chia Hui's journey showcases the limitless possibilities when one embraces change. With Chia Hui and the rest of the team's dedication to providing quality, innovative, and sustainable products and services to meet consumer demands, we eagerly anticipate the next successful chapter in Country Foods' story.
We eagerly seek brilliant talents to grace our team at Country Foods.
Click below to learn about the roles we have at SATS.