Cooking for the army: Introducing the chef who's been at it for 20+ years
When you meet Junior Sous Chef Jamilah Binte Yahya for the first time, you'll immediately notice her friendly face and her warm smile.
Spend a few minutes talking to her and you'll understand why she is adored by those around her, especially the people she cooks army food for.
Known affectionately as "Mummy Gem" by servicemen at her camp, Jamilah is a passionate Junior Sous Chef who embodies one of SATS's core values – passion to delight.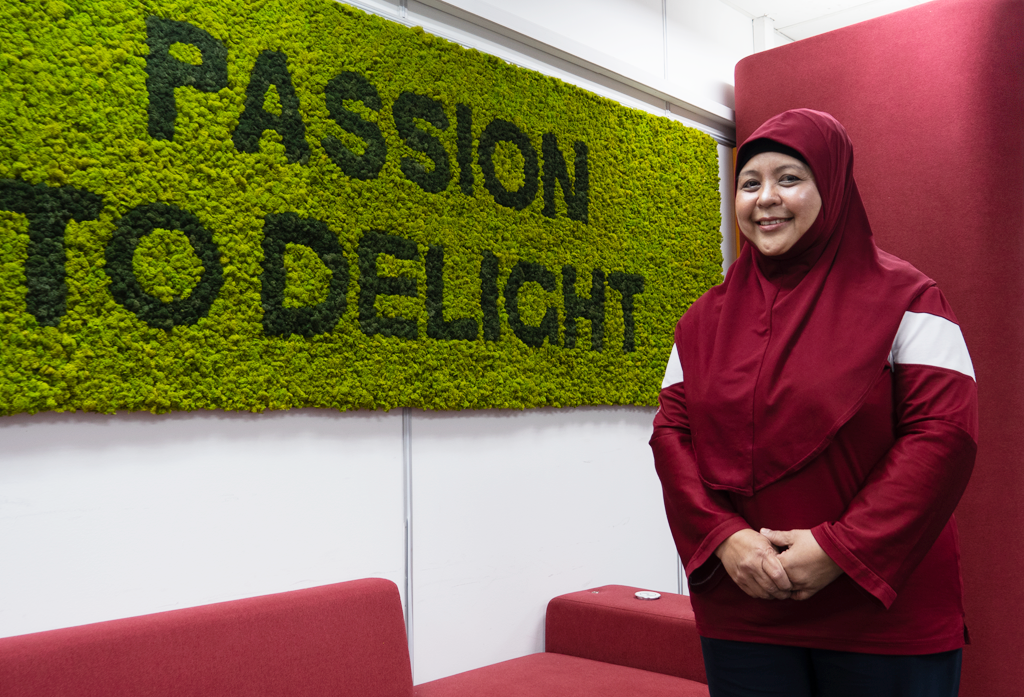 Jamilah Binte Yahya, Junior Sous Chef, SATS Food Services
She didn't start her career in the food and beverage industry, having worked elsewhere before joining SATS Food Services in 2002. While she had little experience in high-volume production cooking, Jamilah's innate love of food and feeding people inspired her to enter the culinary field.
Fast forward twenty-one years and Jamilah is now a Junior Sous Chef responsible for overseeing an army cookhouse. Her dedication and passion for cooking have made her an integral part of the team.
Cooking food for the army
Jamilah runs a tight ship. Feeding hundreds, and sometimes thousands, of servicemen is no mean feat, and everything must be done with utmost efficiency and to the highest standards.
Her day kicks off as early as four o'clock in the morning. She starts by conducting routine checks on the cookhouse equipment and ensuring the kitchen is spotlessly clean before her team prepares breakfast.
By 5:30 in the morning, the cookhouse is ready to serve the first meal of the day. With Jamilah leading the charge behind the counter, the troops are not only treated to a hearty meal but also a singing Junior Sous Chef making sure everyone starts their day on a happy note.
"I love to sing. I sing when I cook and when I serve. I want to wake them up and brighten their morning," Jamilah shares enthusiastically, bursting into a few lines of her favourite song.
When Jamilah clocks out after lunch, another team takes over, but she's already looking forward to coming back to work the next day.
A passion that lasts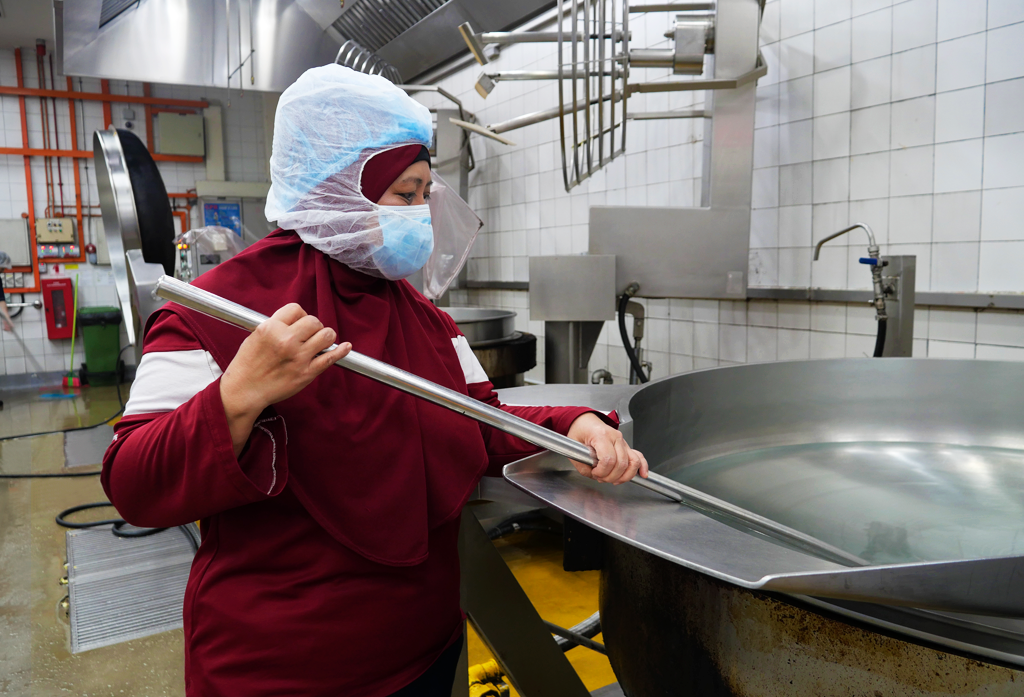 Junior Sous Chef Jamilah at the kitchen
Jamilah has been cooking army food for more than two decades and has seen the cookhouse evolve over the years. When she first started as an assistant cook, everything was done manually. "We had to chop everything one by one," she recounts.
As time went by, innovative technologies were introduced, making tasks easier and faster. While the changes initially intimidated her, Jamilah was quick to adapt and learn the new tools of the trade. "I don't mind adapting to these changes. All I know is I'm in love with my job," she asserts.
The workplace may have shifted. Yet, Jamilah's comfort zone in the presence of her coworkers and the servicemen remains unchanged. She still looks forward to going to the cookhouse every day, working with the same team, and serving the hungry troops.
"I am surrounded by lovely people," she says of her workplace. She appreciates the support of her superiors, the camaraderie within their team, and the friendships she has built with the men in the camp.
Happy to be serving
Jamilah's greatest joy is to see people around her satisfied with food. As a parent herself, she understands that the troops need nutritious meals to fuel their activities throughout the day. She wants to make sure they feel at home despite being away from their families.
The servicemen approach Jamilah like a parent figure in the army camp. This, coupled with her infectious energy and nurturing personality, earned her the nickname "Mummy Gem" among the servicemen.
Jamilah's dedication has not gone unnoticed. Over the years, she has received different awards from the Singapore Armed Forces and her employer, SATS.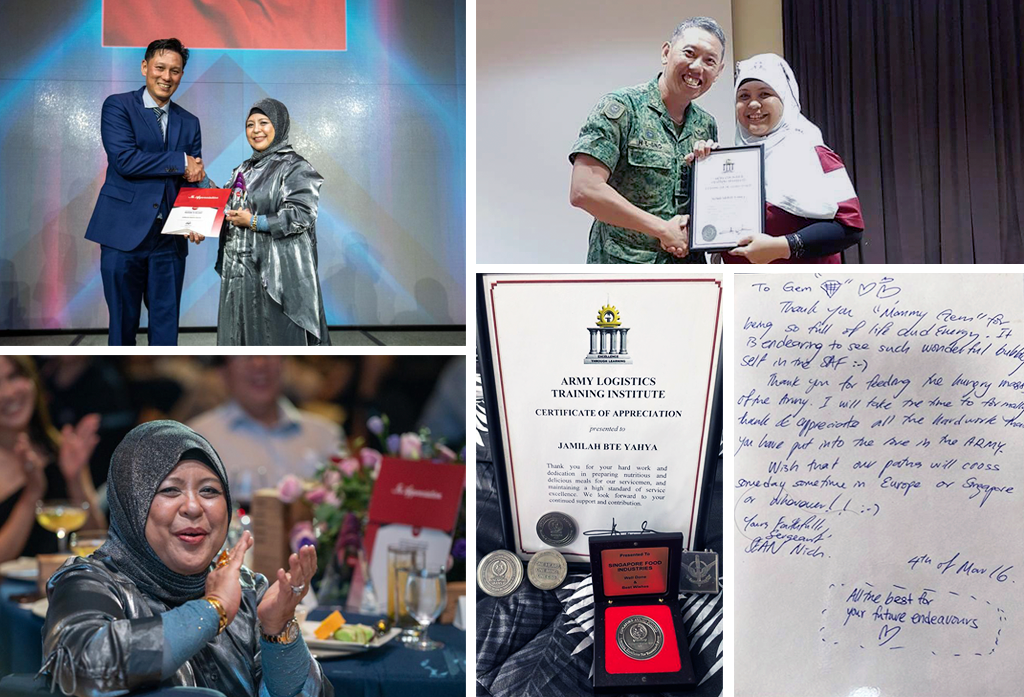 A few of the awards and letters received by Jamilah from the army and SATS
But what makes Jamilah's heart melt are the handwritten letters of appreciation passed to her by the troops. Up until today, many officers and servicemen, some of them already based in other countries, keep in touch with their Mummy Gem.
For Jamilah, food is more than just sustenance. It is a way to bring people together and create lasting relationships. As they say, "cooking is love made visible," and Jamilah proves it's true.