Enforcing the law as a police outrider
INSP (APF) Charmine Kee loves seeking new adventures.
If you meet her for the very first time, you can easily see beneath her bright smile a passionate auxiliary police officer. Spend a few minutes talking to her and you'll know her passion is about three things: law enforcement, travelling, and riding.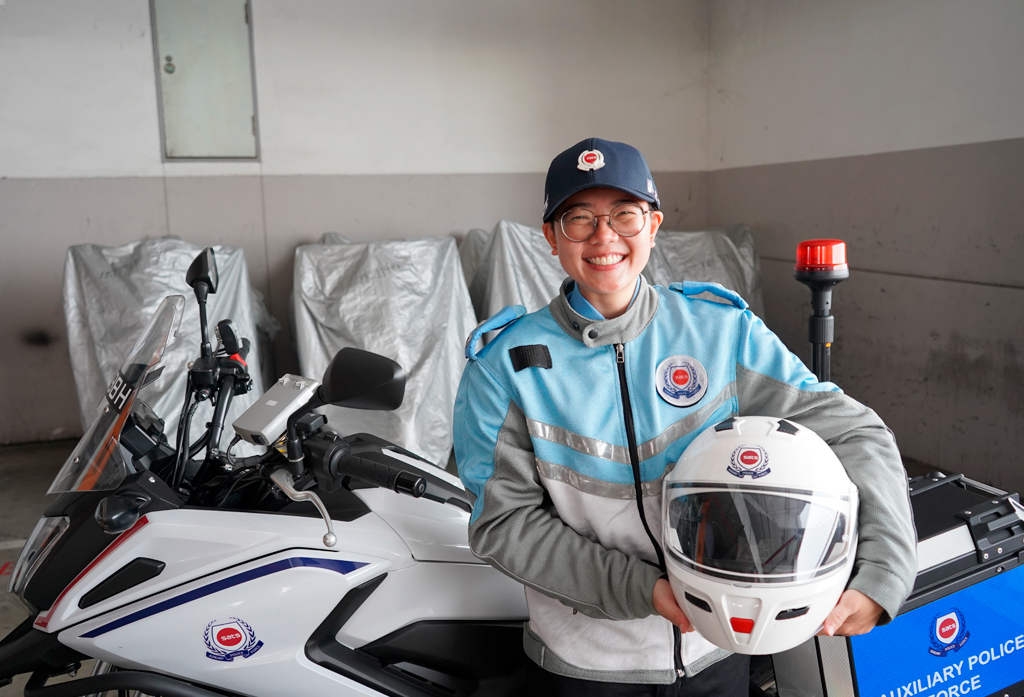 INSP (APF) Charmine Kee, Officer in Command (Airlines) & Police Outrider, SATS Security Services
As a kid, Charmine had already set her sights on wearing the blue police uniform. She would role-play as a police officer, run around, and shout "Police!"
Growing up, her dedication to joining the security force in Singapore grew stronger. She graduated from university with a degree in Criminology and Security and landed a career as an Auxiliary Police Officer (APO).
See also: What I Do as a SATS Auxiliary Police Officer
Charmine has been living her dream to work in law enforcement for eight years now. Unsurprisingly, she is still excited to report to work each waking day.
Currently the Officer in Command for airlines at SATS Security Services (SATS Security), Charmine is mainly responsible for ensuring smooth security apron operations. Every day, she works together with airline clients and troubleshoots issues that may arise at the airside.
Apart from enjoying a rewarding career in her dream job, Charmine also has another role with SATS Security. She is part of the Outrider Unit, an additional job that she volunteered for because it allows her to explore law enforcement work outside of the airport.
Being a police outrider at SATS
SATS Security is known for helping maintain safety at Changi Airport and Marina Bay Cruise Centre Singapore. However, security officers and auxiliary police officers at SATS are not limited to deployments in just these two locations. They can be assigned to events, premises guarding, and traffic management, among other responsibilities.
See also: A Security Officer's Rewarding Job at SATS
In 2021, SATS launched its very own fleet of outriders. At the outset, the outriders were mainly tasked to facilitate cargo transfers from Changi Airport, as oversized cargos require police escorts who will ensure safety and efficiency.
The role eventually expanded to include traffic control and crowd management. This is why you sometimes chance upon a SATS police outrider helping to regulate road traffic during major events, such as the National Day Parade and May Day Rally.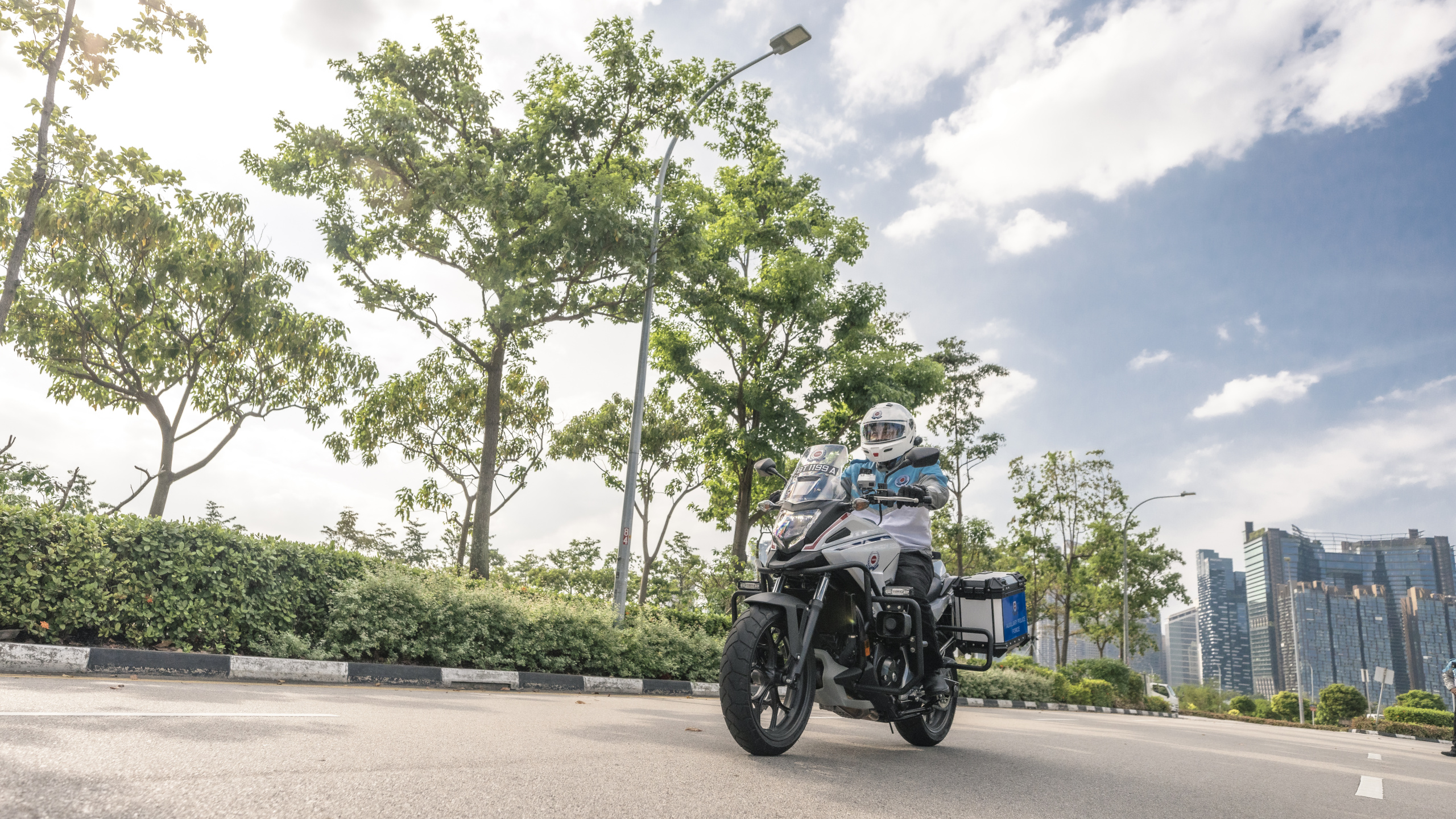 A SATS Police Outrider ready for deployment
Getting deployed to events is always met with glee by outriders. "I love riding, and it's an opportunity to gain new experiences," Charmine confirms.
However, regardless of where she is working, Charmine has one priority – to keep the communities safe. In doing so, she must also ensure her safety while on the road.
SATS Security requires police outriders to ride in pairs. This is one way to ensure they are safe while performing their duties.
Outriders are provided with anti-skid and padded jackets for safety purposes. They must also wear a helmet equipped with Bluetooth technology for hands-free communication with the command centre and with other riders.
SATS Outrider Unit is continuously expanding. Auxiliary police officers with a valid class 2 driving license are sent to attend a special four-day training to properly equip them for the job.
A unique sense of achievement
Charmine takes immense pride in her work. After all, it's what she worked tirelessly for.
Nothing compares to the satisfaction she feels when someone throws them a smile or a quick "thank you" while doing their job. Knowing that she plays an active role in ensuring the public's safety is enough for Charmine to confirm that she has zero regrets about pursuing a career in law enforcement.
She has a deep admiration for their fleet of outriders and loves to recall instances when the team went above and beyond their responsibilities to assist those in need.
One instance was when a team of outriders came across an accident on a slip road while returning to the office from an assignment. Realising that another mishap could happen if the flow of vehicles was not regulated, the team took the lead in managing the traffic while the relevant authorities were still on their way.
"It's like a heroic act," Charmine recalls proudly. "I wasn't one of the outriders in that team, but it felt good to hear stories like this." Not only does it give her a deep sense of satisfaction, but it also allows her to gain new experiences each day.
As someone who loves a good adventure, Charmine looks forward to the excitement that comes with each new day at work and new assignments as an outrider.
Start your career with SATS Security