From making music to painting smiles: Mostafah's journey as a Customer Service Agent
Sometimes life takes unexpected turns, leading us to remarkable destinations. Meet Mostafah bin Lamit, the man who went from playing the drums to being a dedicated Customer Service Agent at SATS.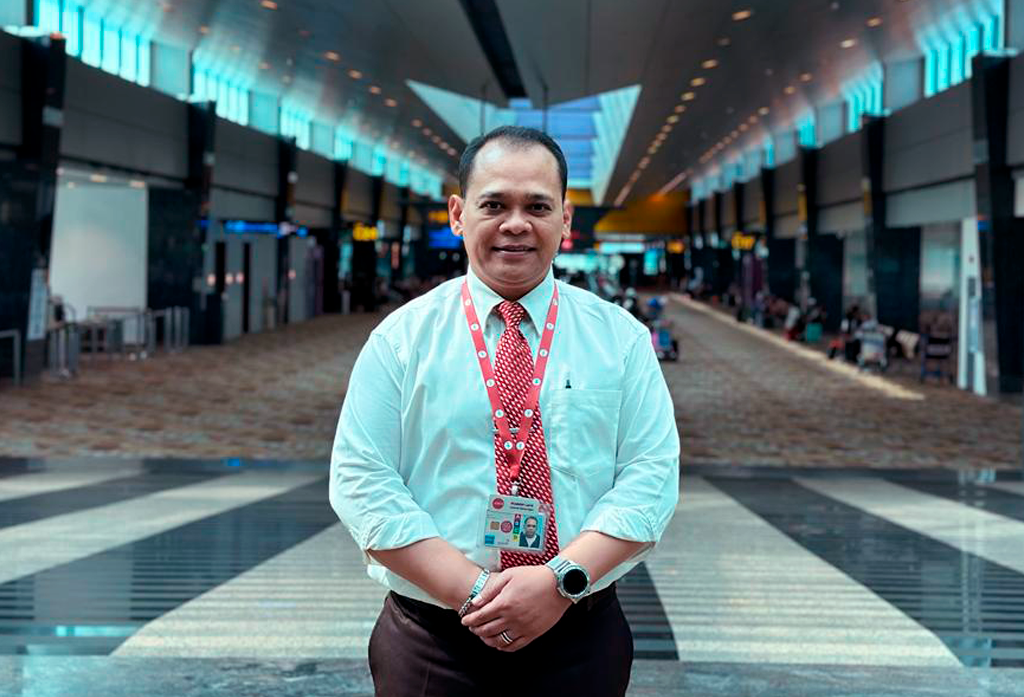 Mostafah bin Lamit, Customer Service Agent at SATS Passenger Shared Services
For 17 years, Mostafah immersed himself in the world of music, playing the drums with the Tokyo Square band, bringing joy to audiences in Singapore and Japan. But as much as he loved making music, Mostafah had a deep desire to touch people's lives beyond the stage.
It was in 2000 when Mostafah decided to change gears and explore a new path. Intrigued by the idea of working at the airport, he joined SATS as a Customer Service Agent.
Pride in being a Customer Service Agent
Being a customer service agent is more than just ticking off tasks, this is what Mostafah realised after working for more than two decades at SATS Passenger Shared Services.
The team is dedicated to assisting passengers with special needs, including those with disabilities or reduced mobility. Beyond the usual tasks of preparing wheelchairs and ensuring timely connections for these guests, Mostafah and the team are ready to lend a helping hand, even in the most unexpected situations.
See also: I'm a Customer Service Agent who assists passengers transiting across different airlines at Changi Airport
Mostafah vividly recalls a recent incident when he didn't hesitate to respond to a mother whose baby had a sudden medical emergency. He was driving a few passengers to their gates when he heard cries for help. Mostafah rushed to their aid and ensured the baby received immediate medical attention at the clinic.
There was also a memorable time when Mostafah, along with four other employees at Changi Airport, took care of a stranded 74-year-old passenger for a gruelling 32 long hours. They emptied his urine drainage bag, charged his phone, and even made a makeshift bed for him. Such moments remind him of the important role he plays and the impact he can have on passengers' lives.
See also: This Duty Manager shares why she would gladly provide room and board for a stranded passenger again
In their shared mission to delight passengers, Mostafah and his team have received several recognitions and awards. But for Mostafah, the real reward lies in knowing that he is part of a team of like-minded individuals who are equally passionate about putting smiles on people's faces.
"The gratitude in a passenger's eyes, the heartfelt thank-you notes, the genuine appreciation from families," Mostafah shares, "those are the ultimate rewards of being a Customer Service Agent at Changi Airport."
It's not a one-man show
Mostafah still enjoys playing the drums on his rest days. Surprisingly, the worlds of music and customer service are related in some ways.
During his years as a drummer, Mostafah learnt firsthand the importance of collaborating effectively with his bandmates to create harmony. In the same way, his work as a Customer Service Agent involves a lot of coordination with other teams.
He works with the wheelchair staff to prioritise the list of passengers on tight connecting flights. "We sort out and plan," Mostafah describes how they manage guests with special needs.
He also maintains a strong working relationship with the in-house medical staff at the airport, whom he works with in case of medical emergencies. "I even find myself running alongside doctors and nurses carrying oxygen tanks," he shares with a laugh.
While some might find the demands of the job exhausting, Mostafah thrives in the dynamic nature of the job. He cherishes the opportunity to create memorable experiences and brighten a passenger's day.
Conquering challenges, spreading smiles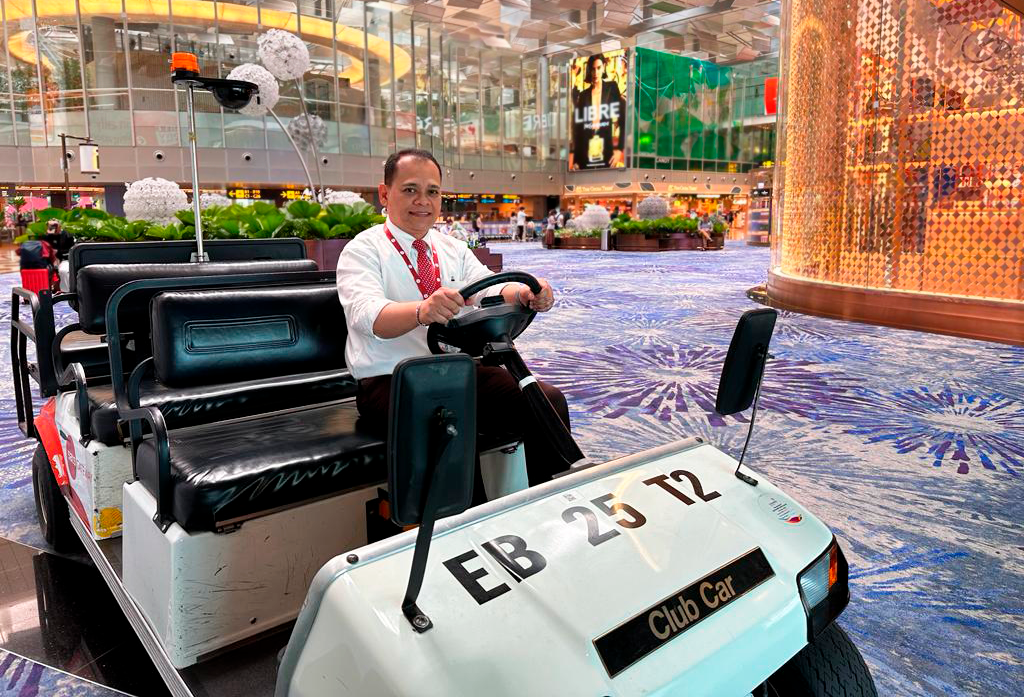 Mostafah on his way to assist passengers with special needs
There are challenges to the job, particularly the shift hours, Mostafah admits. As someone who used to be a night owl during his musician days, he took a bit of time to adjust to waking up early in the morning.
See also: Shift work is never boring when you're a Customer Service Agent at Changi Airport
But Mostafah believes it all comes down to discipline, understanding that the airport never sleeps. "If I can't wake up early, who will be there to help guests on a 5 am flight?" he says with a laugh, waving goodbye as he drives the buggy to the gate.
Although he may have left the performance stage behind, Mostafah's goal to make people smile remains intact, proving that taking a detour can be a rewarding choice.
While he used to make people happy through his music, today Mostafah accomplishes the same through passionate customer service at the world's best airport.
Ready to make a difference? Apply now and join our team in creating exceptional experiences for passengers.