My Job at SATS: Delivering meal carts to aircrafts, this Operations Assistant enjoys the freedom of working outdoors
Rain or shine, you are likely to find Operations Assistant Rosli Bin Ahmad out on the airport tarmac transporting meal carts from the SATS kitchen to airplanes, where they are ready to be served to Singapore Airlines passengers flying to destinations all around the world.
As he goes about his job, he also gets a unique opportunity to explore the inner workings of an airport, including catering facility access areas not available to others such as the holding rooms and SQ plane galleys.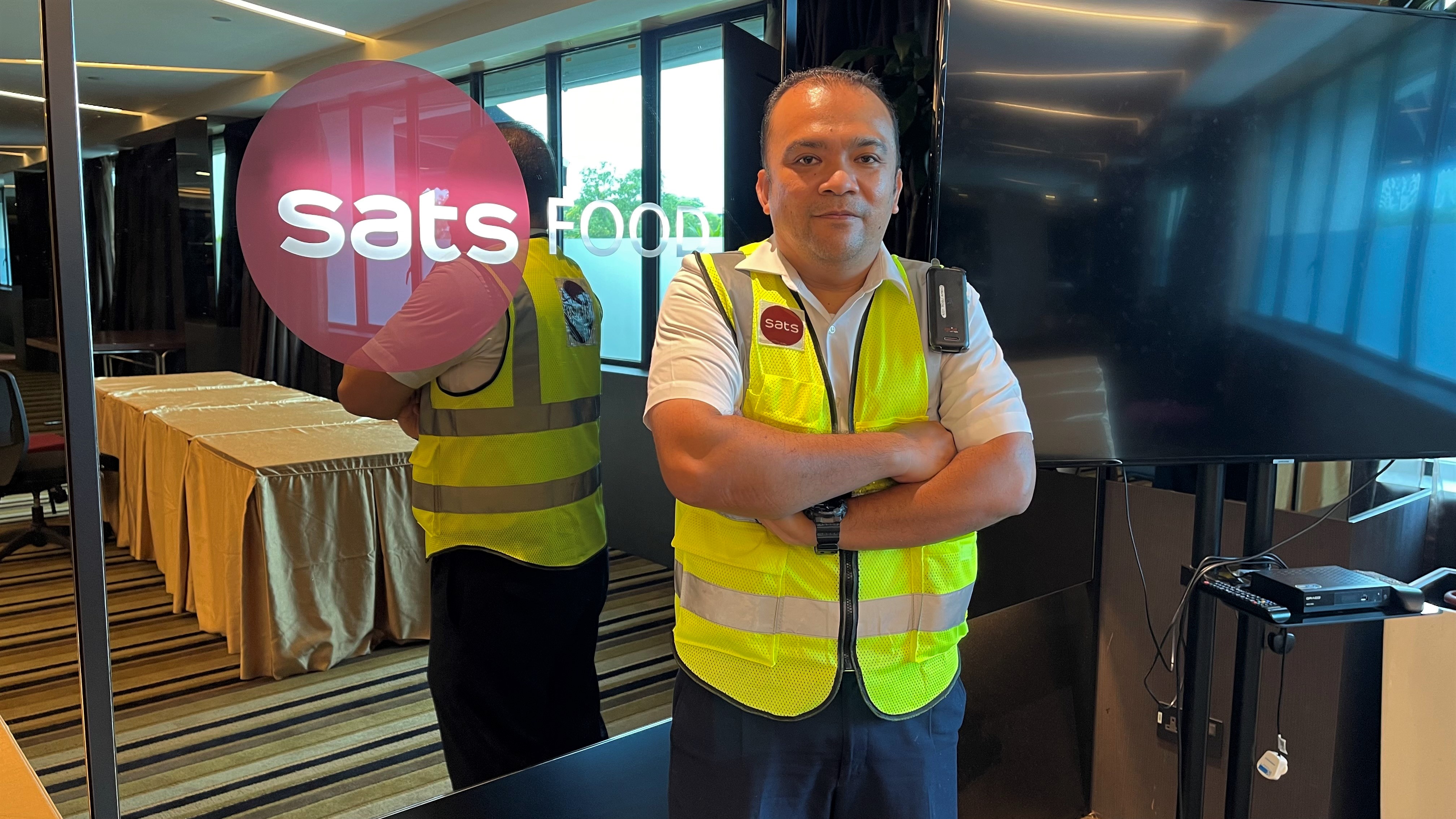 Rosli, who previously worked indoors maintaining equipment, relishes being active and outdoors during his shifts. This was why he jumped at the opportunity to switch to this role eight years ago. "There's more freedom working outside than staying in the room all day," he says.
Not only that, he also enjoys the flexibility that comes with shift work as he can work in the mornings on some days and in the afternoons on others. "I like the freedom of choice," he says with a smile.
Safety precedes all else
Perks aside, his is a job that requires strength and diligence.
As each meal cart can weigh up to 20kg, Rosli has to ensure he is physically strong enough to handle and manoeuvre them safely. As safety is one of SATS' key values, it is crucial that everyone is diligent to follow the safety rules and procedures, he explains.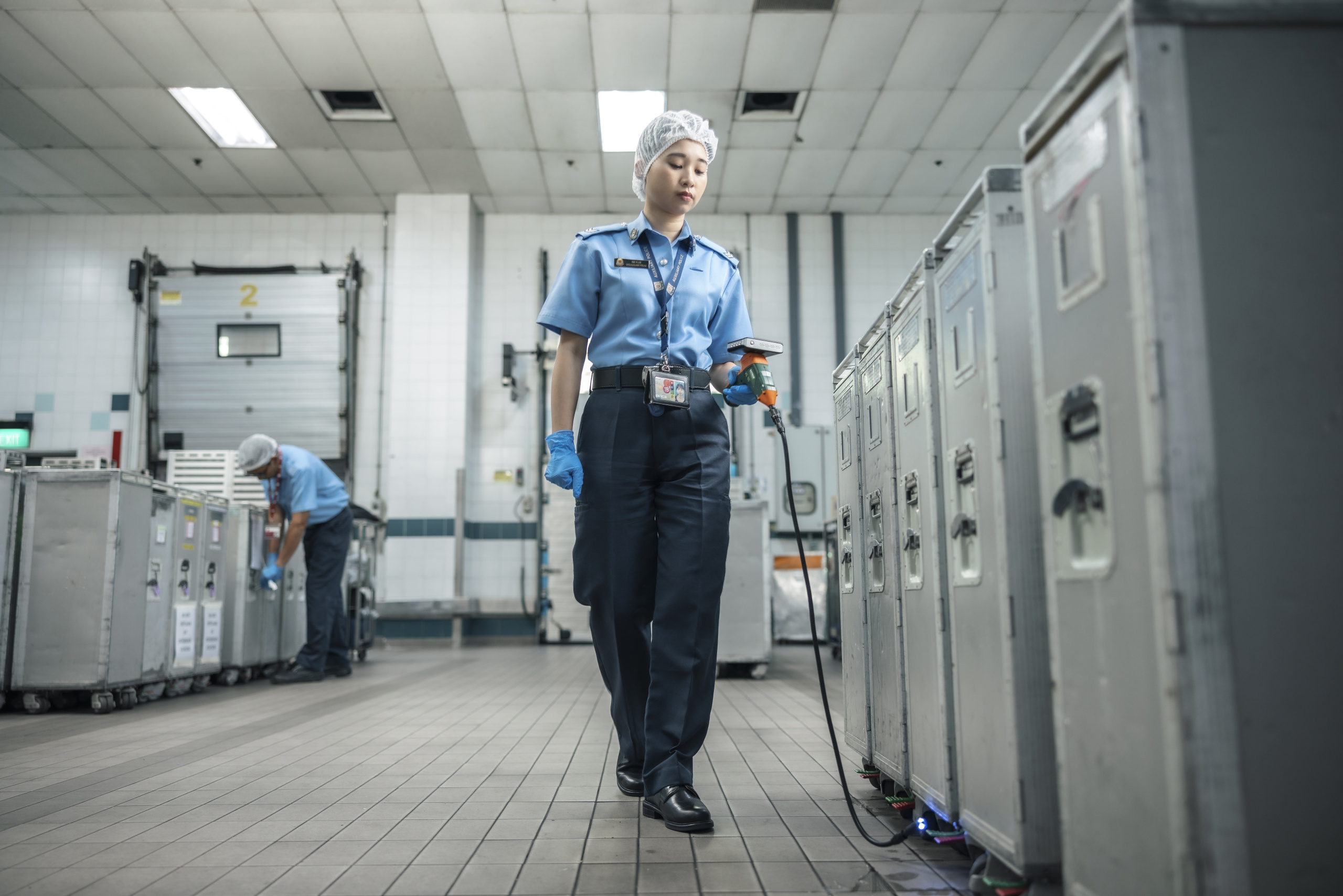 These meal carts, the ones which Rosli helps to transport, are checked by a security officer first before being loaded onto the plane
His cheerful and lighthearted demeanor quickly turns serious when the topic of safety comes up. "Very important – don't over-stack your cart because if you do, you cannot see what's in front. If someone walks past, we may hit them," was his sage advice. "Sometimes the plastic wraps will come loose and get caught in the wheel too. The cart can fall over, so you must be careful," he adds.
Crucial attitudes that will help you go far
According to Rosli, apart from an eye for safety, the most valuable attitude to bring into the job is the willingness to work hard and cooperate with others. This is because teamwork, a core value at SATS, is a crucial part of the job.
After transporting the meal carts from the holding room and onto the Hi-Lift, he accompanies the Loading Delivery Assistant (LDA) to the aircraft. There, the Hi-Lift is elevated to the same level as the aircraft door for loading activities to begin.
It is at this great height that Rosli has to juggle key instructions from his training (that has since become second nature), staying aware of his of his surrounding, meal carts, and more importantly, his own personal safety. This makes communication with the LDA crucial and both depend heavily on the company-issued walkie-talkie to ensure everything runs smoothly.
Mentoring with a heart
As an experienced worker who has been in this role for almost a decade, Rosli has mentored many new hires. Each new employee will shadow him for three months, after which they will earn the right to strike it out on their own.
"The most important thing I always teach is safety. That comes first," he emphasises. "After that I'll teach you how to stack your cart and everything else."
And that was how Rosli himself was taught when he was a rookie trying to figure what to do with the cart. He's since learnt from his supervisors' example to allow room for those under him to be independent.
"My supervisor is good and easy-going," he says gratefully. "When I mentor my mentees, I just guide them along first, so that when they do it on their own, they will know what to do."
Find out what other roles are available at SATS here