My Job at SATS: I stand guard at Changi Airport departures
Airport security is far more complex than you think, especially at a bustling hub like Changi Airport, where millions of passengers travel through each year. Behind the scenes, the SATS Security Services' Auxiliary Police Force (APF), together with the Airport Police Division and other law enforcement agencies, works tirelessly to make sure journeys take off without a hitch.
This time, we shine the spotlight on Police Corporal (APF) Mohamed Badruzamam Bin Shapi'i, affectionately known as "Badru," and his interesting role in airport security.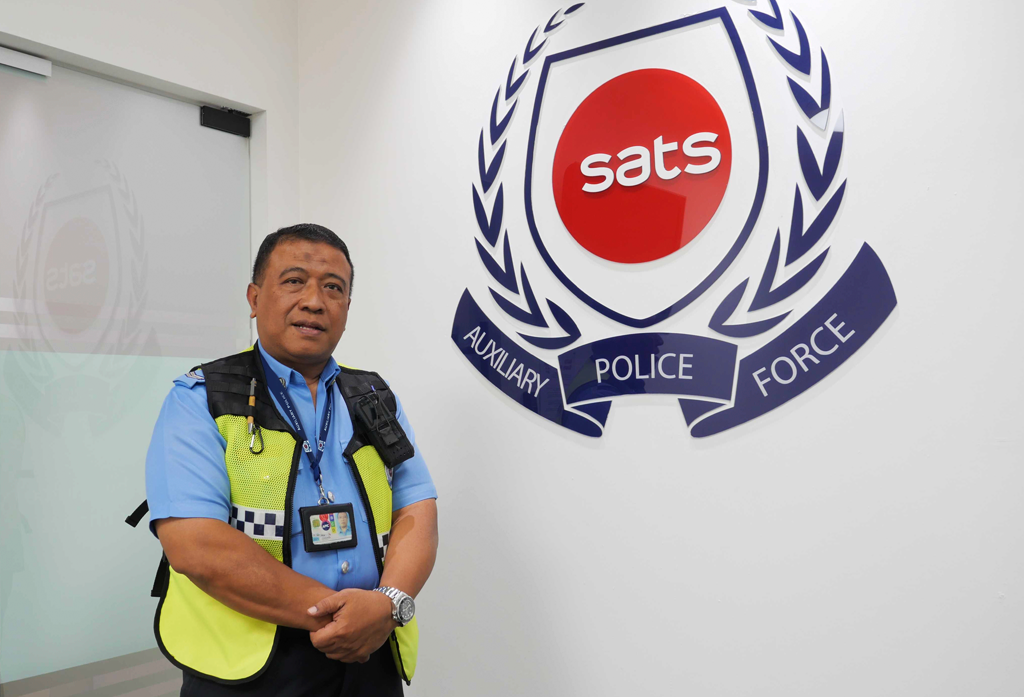 CPL (APF) Mohamed Badruzamam Bin Shapi'i, SATS Security Services
A vibrant career at SATS
Badru's 33-year career with SATS Security Services has been a dynamic journey, featuring various roles within the ever-evolving landscape of airport security. He recounts, "I've been posted to different locations within the airport, but it's always been about keeping the airport and travellers safe."
His initial assignment was escorting inadmissible passengers, followed by a short stint with cargo security screening. Badru then moved to apron operations, where he was directly involved with guarding aircraft during on-ground servicing. He then found his niche in the fraudulent document screening team, where he is currently attached.
Fraudulent document detection
On a typical day at work, Badru oversees six to seven flights. "At the moment, I conduct document checks for passengers heading to Europe, United States of America, and Australia. We need to verify that everyone is a bona fide passenger," Badru explains.
To better understand Badru's role in airport security, picture yourself as a traveller bound for Europe. After checking in and securing your boarding pass, you approach the boarding gate for your flight. Just before the final boarding scan, you come face-to-face with Badru, who greets you with a warm but watchful smile while swiftly reviewing your travel papers.
However, Badru's role is not just a casual glance at your documents. He ensures you are a genuine traveller equipped with all necessary paperwork. Working alongside his team, Badru has honed his ability to spot counterfeit documents and identify potential impostors. Their intuition, profiling expertise, and knack for detail form the bedrock of airport security.
Last line of defence
Badru emphasises the critical nature of their role, saying, "We are the last line of defence. Our goal is to ensure that no passenger is turned away at their destination country due to incomplete documentation."
With years of experience, Badru has developed the ability to discern suspicious passengers even from a distance. But it is not always smooth sailing, as some travellers react negatively to document checks. "Some passengers don't take it nicely when we ask to check their documents," he acknowledges. "Dealing with tricky situations is part of the job."
The vital role in airport security
Auxiliary Police Officers at SATS Security Services play a vital role in Changi Airport's security
Imagine a world without Auxiliary Police Officers like Badru to meticulously verify passengers' documents. Chaos might break loose — passengers without the proper paperwork could unknowingly hop on flights, leading to all sorts of trouble for airlines and countries alike.
Badru's mission extends beyond routine checks; it's about ensuring that every traveller embarks on their journey with the proper documents. It's not about preventing people from travelling; it's about guaranteeing that they have the complete set of documents for the country they're flying to.
Isn't it comforting to embark on your journey with the peace of mind that you have all the relevant papers and the knowledge that the airport is secure? For this, we offer our gratitude to Badru and his equally dedicated colleagues.
Grow your career in security with us at SATS.