My Job at SATS: It takes a team to give passengers the Premier experience at the SATS Lounge
Imagine playing host to a diverse group of people from all over the globe – one from Japan, maybe another from Sweden, all with their own cultures, languages and unique accents. It takes finesse, warmth and incredible dexterity to ensure everyone walks away with an experience to remember.
That's a day at work for Customer Service Agent (CSA) Siti Aishah Binte Misbah and her SATS Premier Lounge team.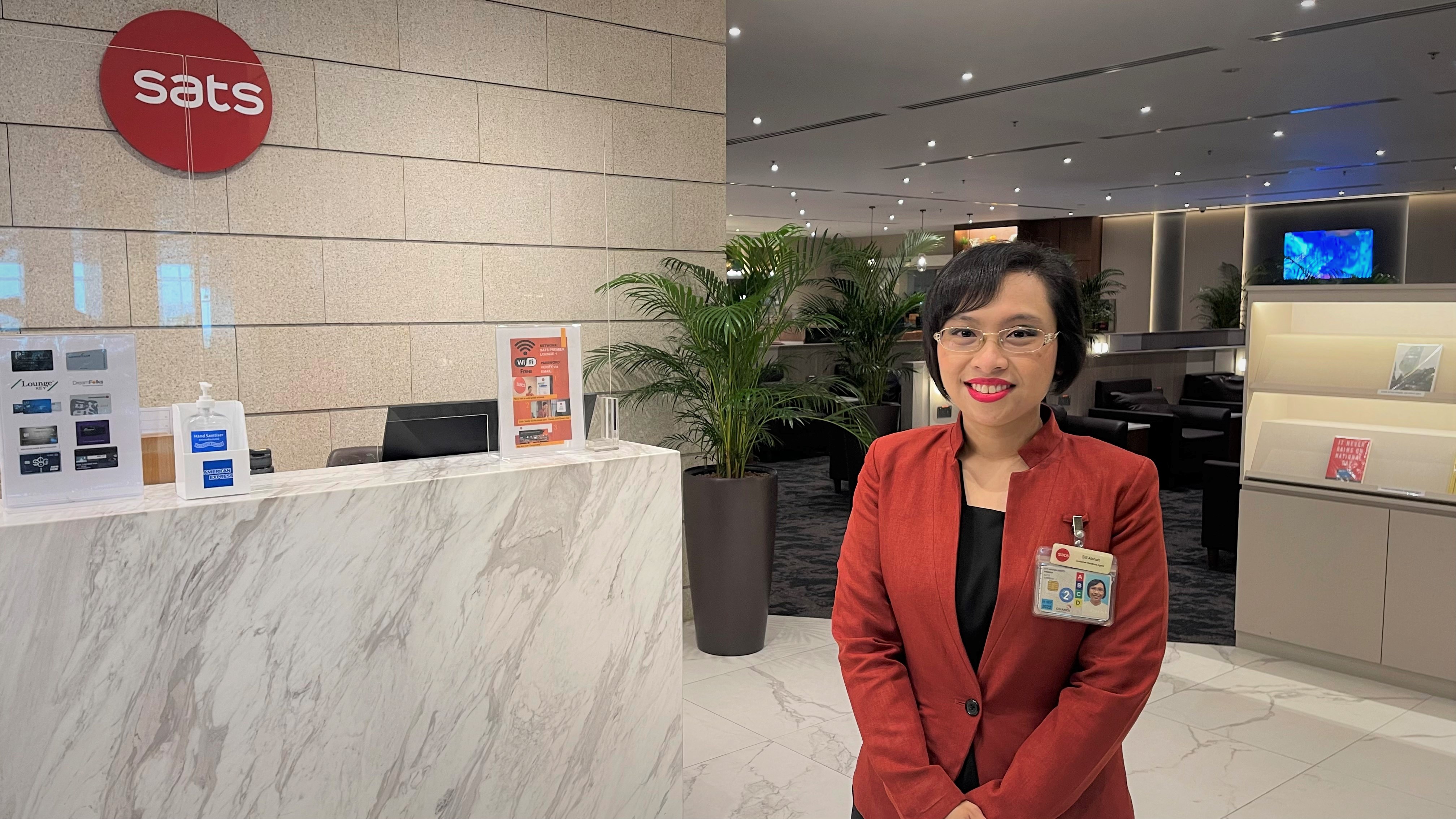 Customer service and…well, food.
Every day, throngs of international passengers transit through Changi Airport, among them are SATS Airline passengers and SATS non-airline partners like Priority Pass or Dragon Pass holders who get to enjoy the benefits of the Premier Lounge.
Siti starts her shift by looking through the flight schedules of the day, so she can be ready at the reception to welcome VIPs. Then, a call to catering, to ensure the food service is running on time, and there are ample delights to serve up for the buffet. In between, with her team of six, Siti keeps the lounge in top shape.
One of her favourite parts of the job is conversing with lounge members so that they feel right at home. "Most passengers are very nice," Siti adds. And the occasional grouch? "They are just hungry," she laughs.
There is a big difference in a passenger's mood once they've had a good meal. So, she often goes out of her way to personally prepare individual portions just for members who are rushing to their next flight.
Going the extra mile
Siti is passionate about delighting the passengers and often goes the extra mile for them, especially those who are caught in long layovers.
Some layovers can last up to 12 hours, which means members are sometimes in the Premier Lounge for as long as six to nine hours. Siti empathizes with how waiting around is never a thrill for anyone, so whenever she can, she keeps a stealthy look out for unspoken needs.
On one occasion, during the COVID-19 pandemic, a German passenger was stuck in Changi Airport for three days due to travel documentation issues. He was frustrated, Siti recalls, and understandably so.
While at the lounge, he requested a brand of drink that they did not carry. To help lift his spirits, Siti went out of the transit area (where the lounge is located), to the terminal's Cheers store, to buy that particular drink for him. He was really surprised and very thankful for her thoughtfulness.
Getting the job done as a team
The rhythm of an airport goes up and down during the week, and Thursdays to Sundays are especially busy. But Siti enjoys them the most because time passes quicker, and her team has to be "really on the ball".
If there is a sudden wave of members and food starts running low, she has to be fast to call on catering for additional support. If they are short on manpower, she will be at the back of the lounge, restocking the restrooms even though it is not her primary responsibility.

The famed SATS laksa from the Premier Lounge
Hiccups will occur but it's the unexpected that pushes Siti and those around her to be united and resourceful. "No matter what, we will always make things happen for our passengers," she adds, "If a problem needs to be solved, we will find a way."
A supportive environment and great supervisors
Camaraderie is very much a part of the SATS spirit, where teamwork and cooperation are celebrated. It also extends beyond the Premier Lounge team and is part of a larger atmosphere at Changi Airport where everyone pitches in and helps out.
It is not uncommon to find a SATS administrative staff, or colleague from another lounge, popping in to lend a hand.
Another vibrant culture at SATS is mentorship. Siti is currently mentoring a new CSA on her team, passing on her knowledge and experience. At the same time, her supervisors are always ready to guide her too. Whenever she is unsure of any aspect of her work, she can always count on their support.
Once, Siti encountered an exceptionally difficult passenger, and managers from another terminal came immediately to assist her. Another time, during a stressful period, her supervisors bought her team tokens of appreciation for their hard work and resilience.
"I love working here, it truly is like a family where we look out for one another and have each other's back," she said.
Joining the Premier Lounge family
To Siti, the SATS Premier Lounge is an exciting place to work, where no two days are alike. Those who thrive on thinking on their feet and solving problems on the fly would enjoy the mental and physical challenges of this job.
But as Siti will always say, it's not just the job, but it's the team that she works with. "I know when I'm in SATS Premier Lounge, I'm not alone."
Find out what other roles are available at SATS here