My Job at SATS: Shift work is never boring when you're a Customer Service Agent at Changi Airport
If you have ever travelled anywhere via Changi Airport, chances are you would have been greeted or helped by Nur Hidayaty Binte Mansol or Yaty, a Customer Service Agent (CSA) who has been with SATS since 2017.
On any given day, she is constantly on the move and can be deployed to any number of sites during a single shift, from airline counters and check-in lines to departure or arrival gates. Yaty will make sure your face matches your passport, check and scan your boarding pass before letting you on a plane, and always, always turn down your request for an upgrade with a genuine smile and soothing tone.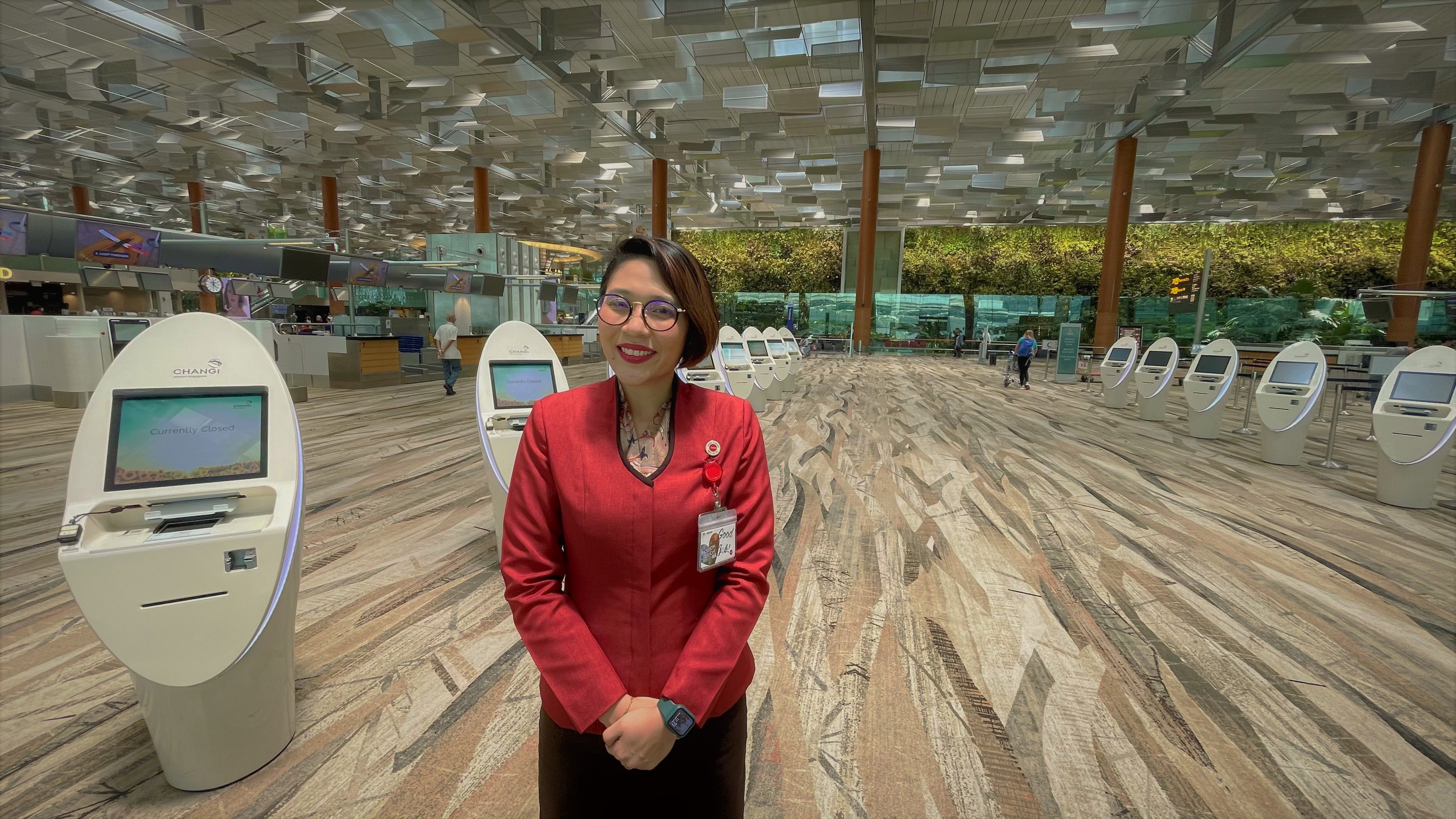 Loving shift work
Shift work might not be for everyone, but for Yaty, it's a big reason why she loves this job. She is quick to point out all the advantages that come from having both variety and a predictable routine.
Top on her list is not having to bring work home. "Once you're done with your shift, you're done," she says. "I work hard during those hours, get to meet new and interesting people… and then I'm free to go home!"
Shift work also does not mean she is working round the clock. Each shift, like a desk job, is only eight to ten hours. "It's also not like we work for 10 hours straight!" Yaty shares with a laugh. "We do take breaks in between." That said, she is never short of things to do during her shift. Working at an international airport, some shifts can be hectic, as they handle multiple flights at once.
Everyone everywhere all at once
Yaty also works with In-Flight Managers to provide Meet and Assist Services, such as accompanying passengers who require additional assistance from the entrance of the airport all the way to the plane. These could be unaccompanied minors, passengers with reduced mobility or non-English speaking passengers. And when it comes to VIPs, Yaty makes sure they know where to head to for a connecting flight or where to pick up their luggage upon arrival.
When that is done, Yaty keeps a vigilant lookout for any lost or jetlagged passengers as she walks through the airport – anyone who needs directions, a kind offer of help or just a warm greeting to lift their spirits.
The key to great customer service is being empathetic to how a passenger is feeling, explains Yaty. "What if it hasn't been a good day for them?" she muses. She makes sure she anticipates their mood and needs, and responds to them with graciousness and sensitivity. It's this human element of interacting with strangers from all over that keeps her job fresh and interesting.
The ins and outs of handling passengers
Yaty stresses that meeting difficult passengers is not very common. Moreover, new joiners are often trained by veteran CSAs.
There is a strong culture of mentorship at SATS that Yaty appreciates tremendously. She has learnt how to handle frustrated passengers from some of her seniors, receiving tips such as "keeping your composure" and picking the right time to engage with passengers.
All of this comes back to trust, a core value at SATS. Part of building trust is having empathy for passengers who are sometimes agitated for good reasons – unfamiliar surroundings, multiple delays or sometimes a language barrier. "You just have to really put yourself in their shoes," she shares earnestly.
And on the rare occasion that a passenger does get out of hand, her managers and the Airport Police are on call and always ready to step in.
You have to love interacting with people
A self-confessed "talker", there's nothing that makes Yaty happier than engaging with people from all over the world and working with colleagues to create a memorable experience for them.
Her secret to excelling at this job lies in being calm and adaptable with both passengers and her colleagues. "You need to be happy-go-lucky and not take things to heart. You cannot be grumpy or be very disagreeable – our job here is to ensure our customers are happy.'"
Yaty's advice for anyone considering becoming a SATS Customer Service Agent? "Get to know the job first, then you will fall in love."
Find out what other roles are available at SATS here