Recipes with SATS: Chef Lim Ah Chye shares his upmarket take on Nyonya Otak-Otak
Chef Lim Ah Chye is an Executive Chef at SATS Food Solutions (SFS). Together with the wider SFS team, he works on menus for airline and institutional catering, including Chinese and Peranakan catering.
Jump to the recipe for Nyonya Otak-Otak Roulade with Lobster here.
He is also a very busy man.
But that isn't anything new for him. Chef Lim started working at the age of 9, training to become a bicycle and motorcycle mechanic. But after stumbling into the F&B industry, he discovered a love for cooking and quickly worked his way up to Executive Chef at York Hotel by the age of 27.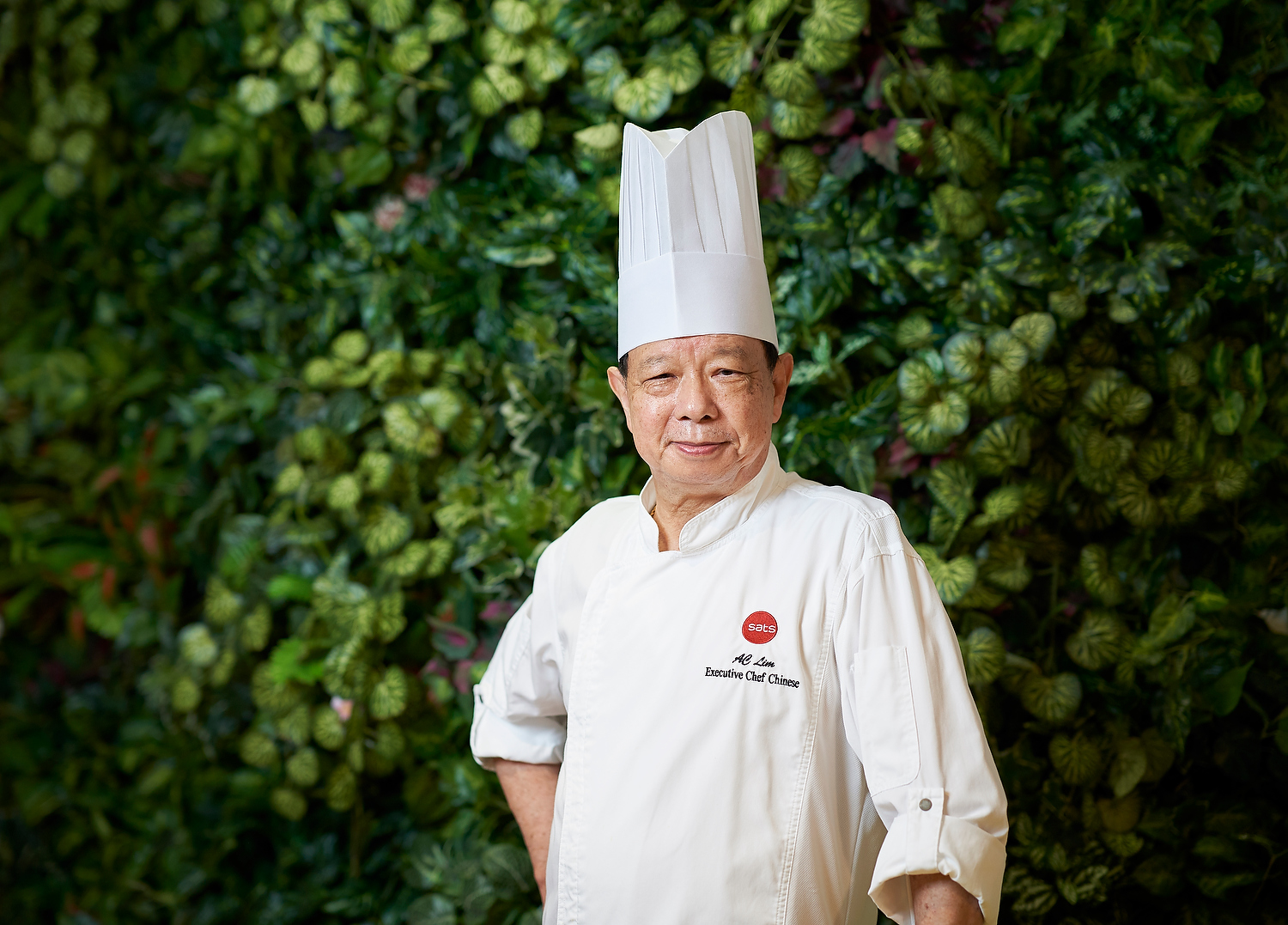 "You work day and night," Chef Lim shared of his earlier years: "I didn't know much about cooking so I had to pick it up on the job, and being in the kitchen, you need to make yourself heard, so I would volunteer for tasks and picked up skills there."
In 1989, with years running several big kitchens under his belt, he joined the SATS family and hasn't left since. Today, at 70, he is still going strong, developing recipes and dishes for catering clients. In a day, Chef Lim could be designing a new Asian menu for an airline, testing recipes for a ready-to-eat meal about to be launched in supermarkets, or coming up with dishes or a menu for companies or institutions around Asia.
The hours are still long, but there is a passion for food and creative muscles that chef gets to flex as he creates new recipes for different projects. Even during his downtime, he visits restaurants to be inspired by other chefs. "I had very delicious vegetarian food the other day at this restaurant from Somerset 313," he enthused while showing pictures of dishes on his phone.
Well-liked and very down-to-earth, he had a friendly word with the many people going in and out of the kitchen as he whipped up his upmarket take on Nyonya Otak-Otak. He was also quick to share tips on how to improve the dish from home.
"You know what makes otak-otak smooth?" He asked abruptly as he used a spatula to place minced fish meat into a food processor. "First mincing the fish meat with a bit of salt." He quickly sprinkles salt over the fish and starts processing the meat. "If you mix everything together all at once, it'll be very rough. The fish meat with salt will give it a bouncy texture," he pulls out a small ball of the mixture and presses his thumb into it to demonstrate.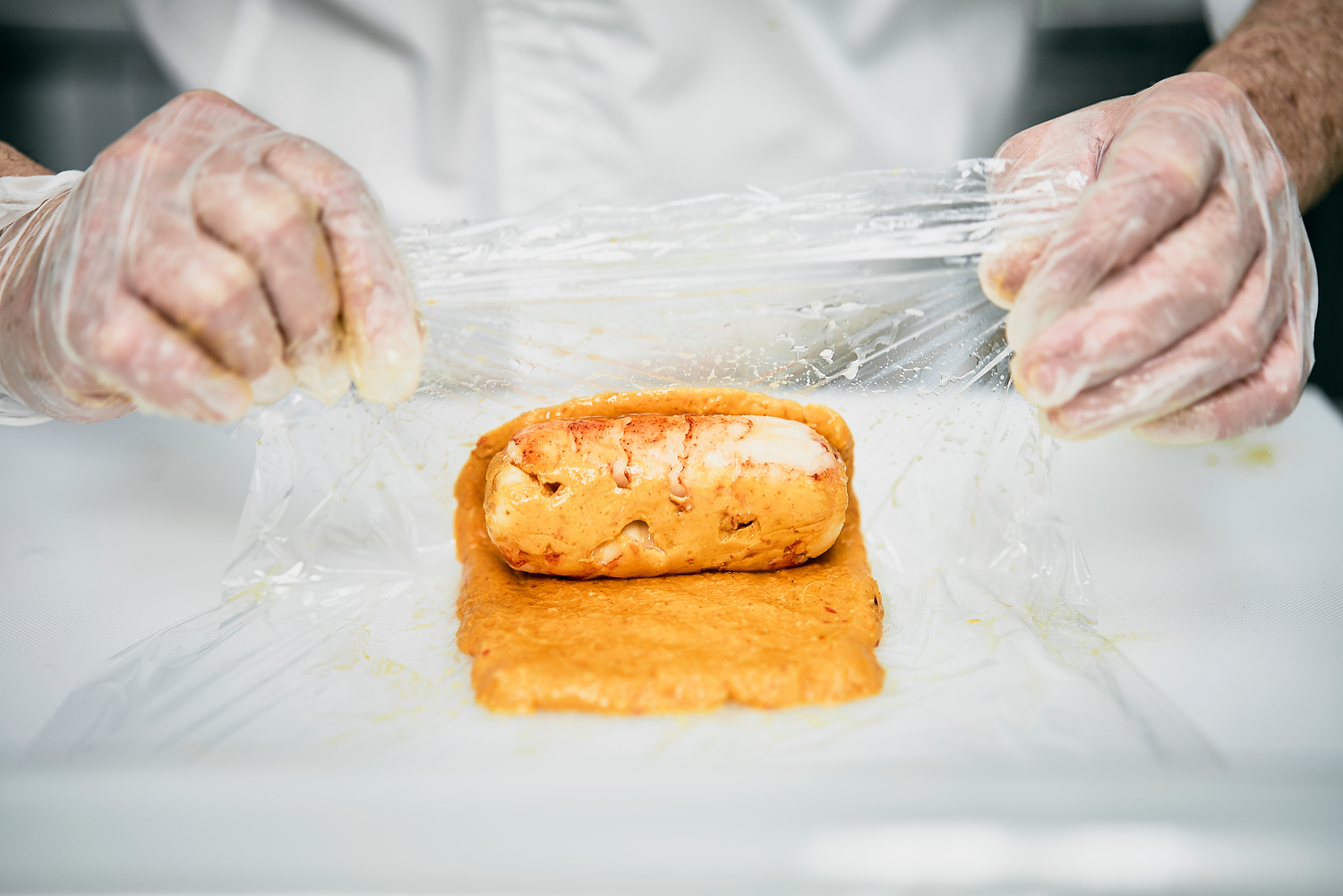 Chef demonstrating how to create the shape of the Otak-Otak Roulade (step 8)
The Nyonya Otak-Otak Roulade with Lobster, is just one of the many creative dishes that Chef Lim has up his sleeves. Together with our team of chefs from around the world, Chef Lim provides a varied and exciting menu for SATS institutional catering and aviation catering clients.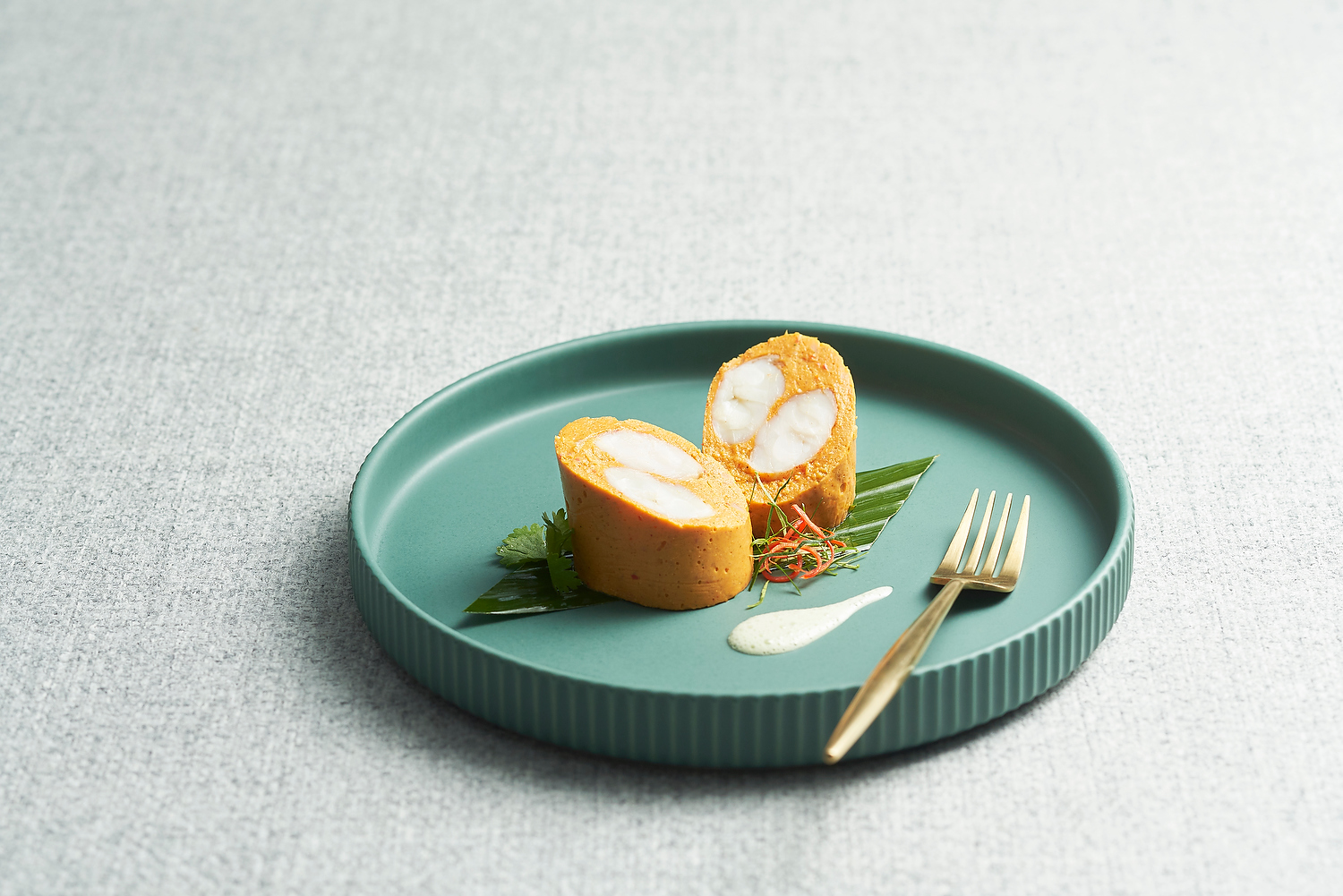 Nyonya Otak-Otak Roulade with Lobster
Ingredients
2 lobster tails, thawed (you can also use slipper lobster or prawns)
Rempah:
50g red chili, chopped
15g blue ginger, peeled
15g candlenuts, chopped
50g shallots, peeled
10g balachan, toasted
30g chilli paste
5g turmeric powder
10g chili powder

other Otak-Otak ingredients:
500g minced fish meat (mackerel, patin or other white fish meat)
6g salt
10g chicken powder
15g sugar
1 egg
300ml coconut milk
Method
Blend the red chili, blue ginger, candlenuts, shallots and belacan with half of the coconut milk in a food processor till smooth. Set aside and add chili paste, chili powder and turmeric powder to complete the rempah.
In a larger food processor, mix the minced fish with salt. The salt will help the minced fish gel together to create a smoother texture. Mix just long enough for the mixture to come together, about a minute or two. The mixture should have a slight springiness to it.
To complete the otak mixture, add the chicken powder, sugar and egg to the fish. Mix till just blended then add in the rempah and the other half of coconut milk. Mix well.
Spread a thin layer of the otak mixture to the flat side of the lobster, lay the second lobster over the first, flat-side down, to create a tubular-shape. The otak will help hold the lobster pieces together.
Roll the lobster in a sheet of plastic wrap about four times to form a tight tube. Twist the ends to tighten. Roll the tube again in aluminum foil tightly.
Steam over mid-heat for 9 minutes.
Once done, remove the plastic and aluminum wraps and leave it to rest.
Use a paper towel to wipe water onto a second sheet of plastic wrap. Then lay out precisely 100g of your otak mixture into a rectangle the width of your lobster roll. Flatten and level the mixture with damp hands – the water will prevent the mixture from sticking to your hands or the plastic wrap.
Place your lobster roll close to the edge. With the plastic wrap, roll the otak-mixture over the lobster. Continue rolling till it forms a roulade – continue to wrap it tightly in the plastic wrap to form a tight tube. Twist the ends to tighten.
Steam over mid-heat for 7 minutes.
Once done, remove the plastic wrap and cut into thick slices before serving.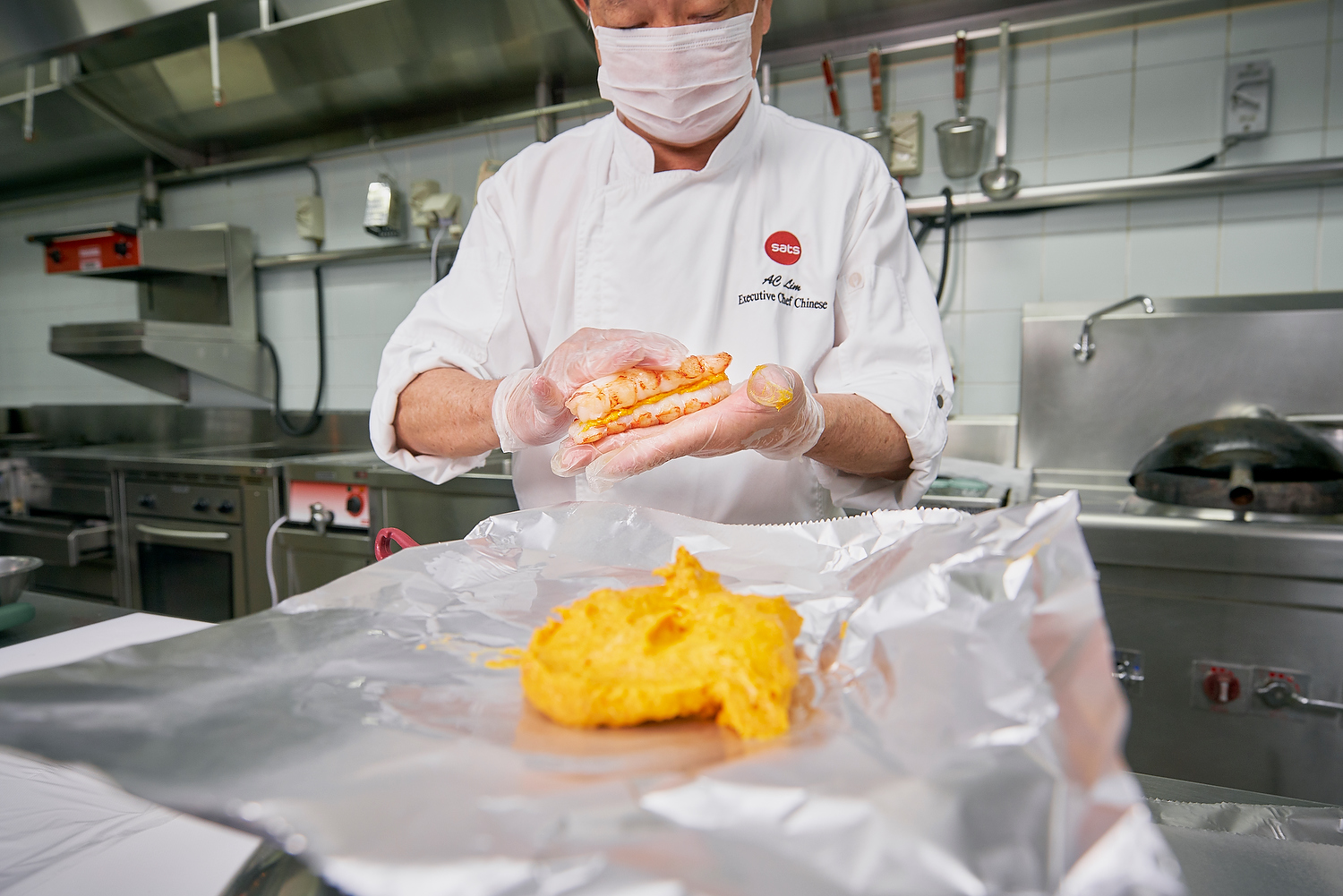 Chef demonstrating how to lay the lobster pieces across each other, held together by otak paste (step 4)
Chef tips
If you can't find frozen lobster tails, you can also use slipper lobster or prawns. Make sure they have been deshelled. Use step 4 to create a tubular-shape with multiple pieces of shellfish.
You can find minced fish meat from yong tau foo stores at supermarkets too.
If you have a steam oven, steam the items at 80 deg C for the same period of time.