SATS Duty Manager Thila shares why she would gladly provide room and board for a stranded passenger again
For Thilagavathi d/o Rajendran (or Thila, as her friends call her) doing her job as a SATS Passenger Services Duty Manager goes above and beyond the standard regulations and processes required of her.
"It's about serving people with compassion," she shares. In her 32 years working with passengers at the airport, she's discovered that you often have to put yourself in the shoes of others to understand what they are going through. That has helped her serve passengers and work with her teammates better.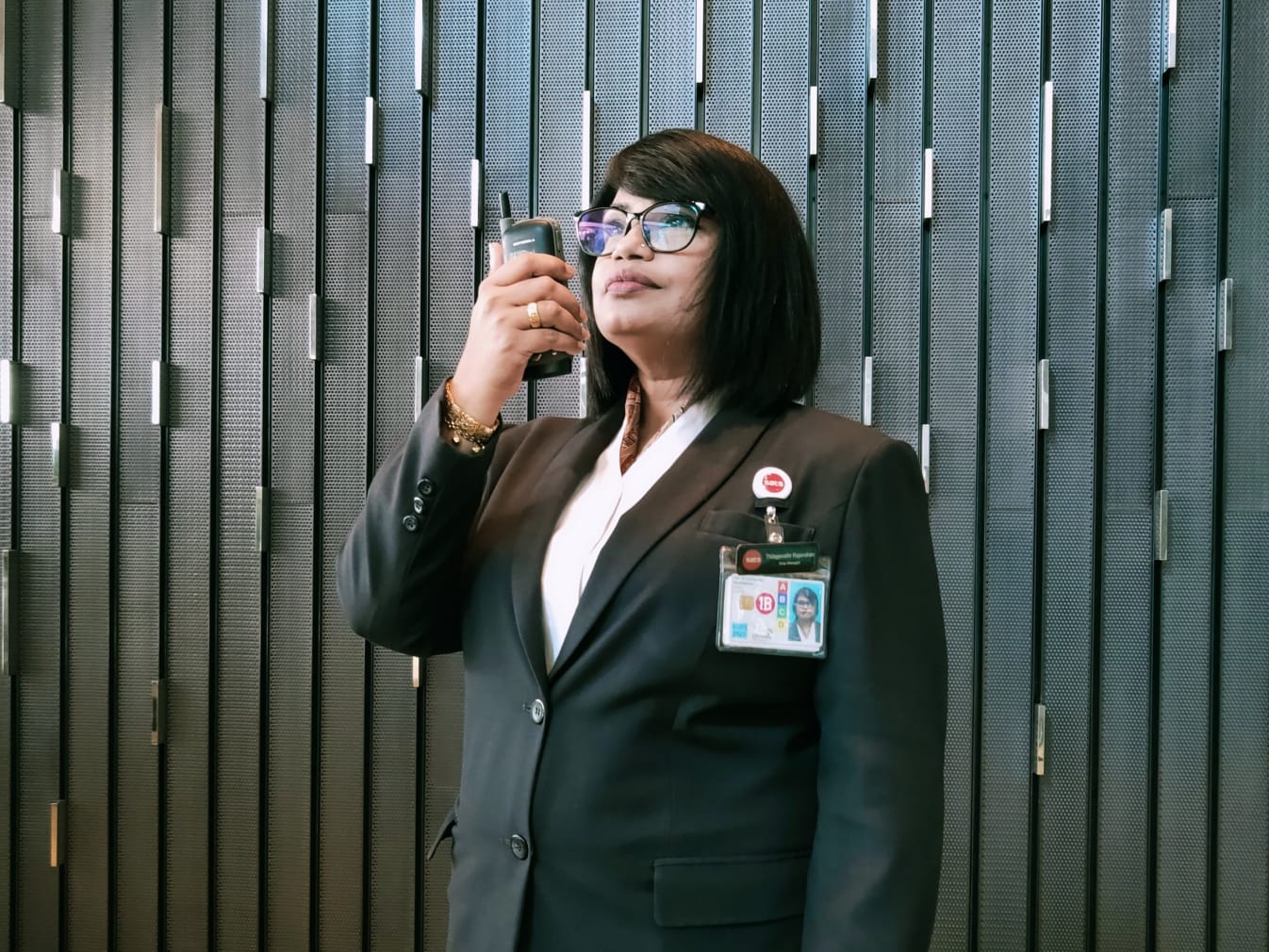 In some cases, this high standard of care goes beyond working hours and into her life at home. Thila's compassionate nature has sometimes seen her extend her hospitality to passengers stranded at the airport and offering them room and board for the duration of their stay in Singapore. Instances include a passenger offloaded from a plane because she did not have the right documentation to take her to her next destination, or in the case of Karina Groth, a then 18-year-old German student who had missed her flight back to Dusseldoff and was stuck in Singapore.
The stranded student
Thila explains that back in 2009, Karina was supposed to come off a flight from Brisbane, transit in Singapore to Abu Dhabi, and then back to her home in Dusseldoff. But even after the flight to Abu Dhabi had left, she never showed. "We knew something was wrong because her luggage had come off the 8pm flight from Brisbane, so we sent out word and many of us started looking for her."
Just after midnight, Thila and her team found a girl who matched Karina's profile wandering around an empty terminal. "There were no other flights and this girl was just strolling around with no sense of urgency - we knew it had to be her and that she'd probably made a mistake with the time." This was no surprise to Thila as people often lost track of time when transiting due to different time zones.
But when Thila approached her, Karina was not only unaware that she had missed her flight, she also did not realise that she was in Singapore. "She thought she was in Abu Dhabi waiting for her 3am flight to Dusseldoff!" Thila exclaims. "She just started crying. She had no money so she couldn't pay for the rebooking fees, had no way to pay for the transit hotel and nowhere to go." Thila shakes her head, "it was quite bad. To calm her down I asked her if she had eaten and she said she didn't even have money for dinner because she thought she was going straight home and could eat on the plane."
Considering Karina's situation, her young age, "this girl was just 18 or 19 years old!" and that the next connecting flight was in three days, Thila offered to take care of her.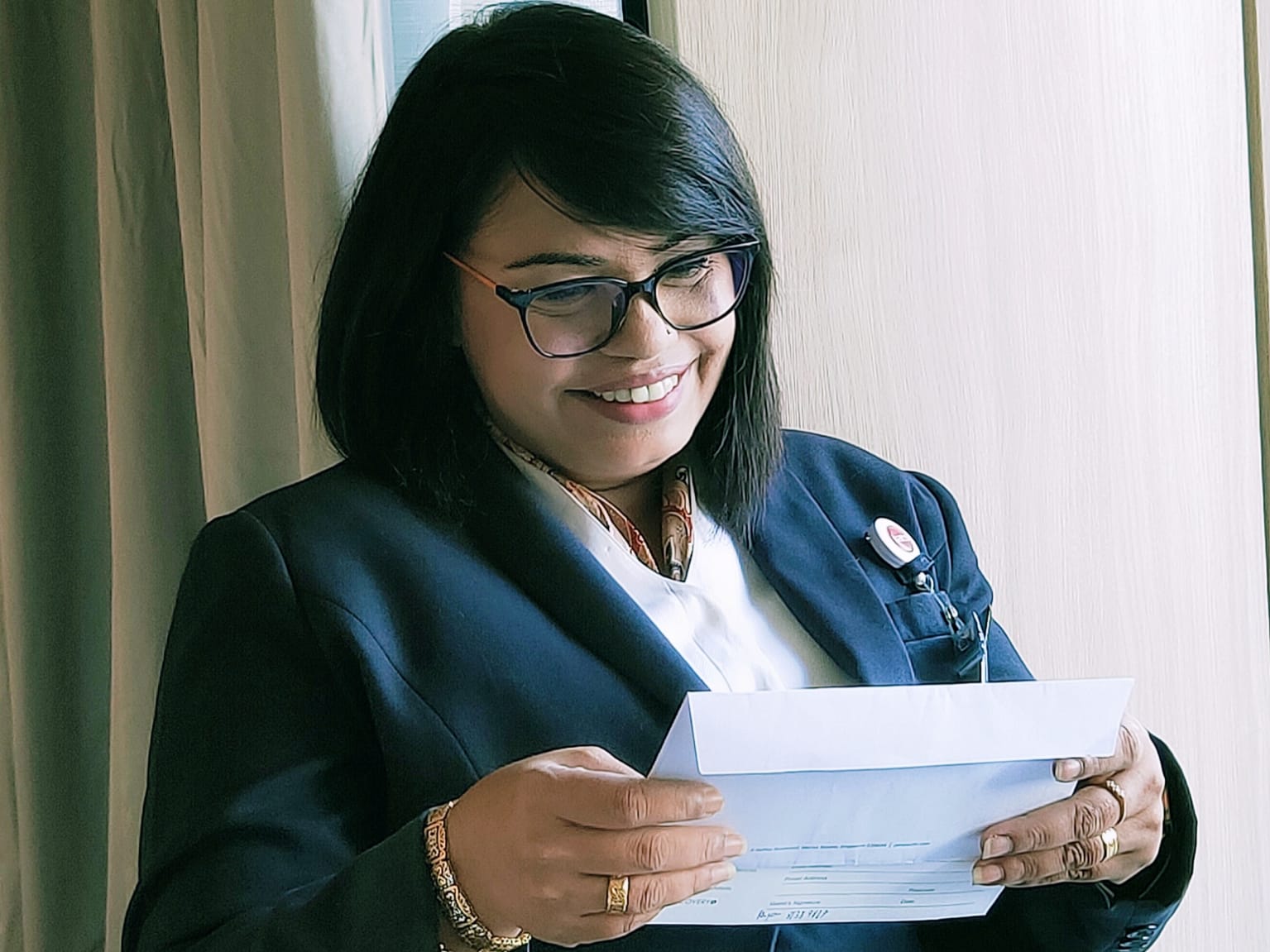 It runs in the family
Looking back fondly on her memory of Karina's stay with her, Thila shares, "she's a very humble, respectful and sweet girl. Throughout the stay she was always very thankful and wonderful company." Laughing, Thila recalls Karina's surprise at having to take off her shoes before coming into the house. "She was very open to learning about Singapore and we enjoyed showing the best parts of our culture to her."
As Thila had to work, she gifted the seasoned solo traveller with an EZLink card and a small allowance before sending her on her way to explore Singapore. On Karina's final day, Thila and her family brought her out for a lip-smacking dinner of local favourites like Chilli Crab. "She liked it! She said she could take spicy food," Thila beams.
Thila's family, her mother and sister, weren't surprised when Karina arrived in their home – it's a common occurrence in the family! "My sister works with an airline and occasionally she brings home stray passengers," Thila says.
Laughing when asked if they do this for as many passengers as possible, she replies, "of course not all passengers! But sometimes you can see when someone in need, I feel like it's in me… in my family, to go out of our way to help people. We're all humans you know?"
They're careful to ensure that they follow all immigration rules and aside from offering shelter, the first priority is to ensure the stranded passenger books their own flight or makes their way to their embassy to get their visas. This was the same for Karina.
Thila also recalls that before Karina left, she wanted to leave Thila an official compliment, but Thila told her there was no need. "I'm happy to have helped her! I just wanted her to get home safe," she adds.
Empathy: cultivated within SATS
Though Thila was commended for this particular instance, she emphasises that she's not the only who goes the extra mile: "SATS staff are all like this!" she exclaims. "we always do what we can for our passengers. It's the culture here to go beyond the call of duty for them and even for our colleagues."
Thila explains that as a Duty Manager overseeing about 15 to 20 people, she, like her managers before her, instils this passion for people in her staff. "This is a SATS value we want to impart to our people - we all learn from each other and share our experiences with passengers to help learn how to solve similar issues in the future."
She advises people who decide to join passenger services to first find the passion to meet and engage with people. "At SATS, it's not just about doing your job. It's also about doing things with your heart."